Lyla Elizabeth Donley Ford
March 10, 1927 – August 14, 2019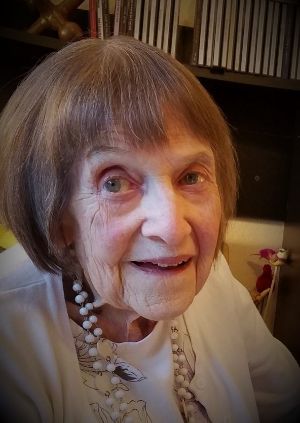 After a short illness, our dear Lyla passed away peacefully on Wednesday morning, as daughter Karen and son-in-law Alan held her and sang Somewhere Over the Rainbow. We are filled with sadness, but also with gratitude that she enjoyed a good life for 92 years, filled with family, friendships and love.
Lyla was born in Pueblo, Colorado, where she and her family resided until moving to California in 1944.  Lyla graduated UCLA with a major in Home Ec and a minor in Engineering—unusual at the time! She went to work at Douglas Aircraft Corp as a drafting proofreader, and it was during this time that she went on a blind date with Paul Ford, whom she married just 6 months later.  The newlyweds eventually moved to Seattle, where they happily settled in and raised their two daughters, Karen and Janice.
Lyla couldn't help but be involved in her community, finding herself an active member of her daughters' pre-school, the League of Women Voters, the UW Faculty Wives Club (yes, this was the 1960s), the PTA, Campfire Girls, the church, etc. Lyla could always be relied upon to help with a carpool or the (non-digital!) phone tree (remember those?). Her many hobbies included cake-decorating, which she and a good friend eventually turned into a business, selling supplies and providing thousands of beautiful creations for weddings and parties during the 1970s and 80s.
With Paul, Lyla thoroughly enjoyed dancing with local square-dance clubs, playing with a Mah-Jongg group, and spending quality time with friends, not to mention traveling all over the world! In addition, she spent many years singing and performing with her close pals in a Sweet Adelines barbershop-style chorus, which she absolutely loved. Thanks to her wonderful group of friends and neighbors, Lyla was able to continue enjoying these and other pastimes, as well as a general camaraderie, throughout her later years, even after losing Paul in 2008 and daughter Janice in 2011. If Lyla were here now, she'd thank you all for every minute!
Lyla will be so missed by her friends and family, including daughter Karen (Alan), brother Cliff (Pat), and numerous cousins, nieces and nephews. We will hold an open-house party for Lyla later in October, which we will announce here. Should you desire, donations may be made to the Janice Ford Natural Dye Garden Project Fund (www.rmweaversguild.org/natural-dye-garden-project/) or the Alzheimer's Association (alzfdn.org/support-us/donate/).
Lyla is pictured here on her 92nd birthday, just 5 months ago, and—yes!—that's her natural brunette hair color!
---
Comments
Such a fantastic lady - kind to the bone. Seattle Shores Chorus is sorry for your loss but our chorus in Heaven has another great bass.
- Karen Stark
---
Karen, My sympathies for the loss of your mom, dad, and sister. Take care, Peggy
---
So sorry for your loss, Betty and I had manny good times with your folks, helping to make the mirrored ball that hung in our square dance for years an also remembering the Christmas times singing, she will be sorely missed and hi to Alan. Roy Johnson and Sheryl Landry
---
Karen, my sorrow is great. My condolences to you and your extended family. Lyla will always be an important part of my life. When I joined Spirit of Sound Singers she was always kind and helpful to me making sure I was comfortable in my life as a fellow base. She was a wonderful and always upbeat person with and ever present sparkle in her eye. We all will miss her.
Barbara Wilso-Bilow
---
Thank you, everyone, for your thoughtful cards and calls, and notes posted here; we so much appreciate your kind words and support.
At last, after a few false starts, we're ready to announce the final details for our Memorial Party for Lyla!
This Memorial Party will be a casual afternoon gathering of friends, rather than a "service." There will be lots of photos and mementos to peruse while we have tea, coffee, and goodies. We'll all have a chance to share stories and memories, as well as enjoy the quartet who has kindly agreed to sing for us, per Lyla's wishes (she would have loved this!).
Saturday, November 16, 2019
1:00 – 3:00
(drop in any time; singing will most likely be around 2:00)
Mountlake Terrace Senior Center
23000 Lakeview Drive
Mountlake Terrace, WA 98043
The Center is easy to find (right on the north end of Lake Ballinger) and is wheelchair accessible. There is ample parking in the big, level lot right outside the building.
We realize that the holidays will be coming upon us by then, and that the middle of November may not be the best time to drive or to travel. If the distance makes it impossible for you to be with us that day, we completely understand.
In lieu of your attendance, please feel free to send to the address below any photos and/or memories of Lyla that you'd like to share. We will be happy to include these in our reminiscences at the party.
Thanks to you all,
Karen Ford & Alan Potter
4338 36th Ave W
Seattle, WA 98199
206-446-3291
---