Paul Bock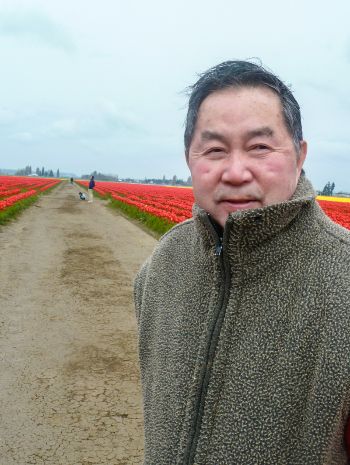 Paul Bock was born at home in Baltimore in 1926 to Ark Sing Bock and Sue Chew Bock and came of age during the Depression, the third of four children of smart, hardworking immigrants who toiled in a Chinese hand laundry, and then a Chinese restaurant.  Bright and mischievous, Paul distinguished himself first as a back-alley urchin with the 35th Street Gang, then as a teen scholar in Polytechnic Institute's elite "A" course. He trained to be a WWII fighter pilot, learning to fly a plane before he drove a car. He then went on to become a hydrology professor, peace and civil rights activist, poet, artist, exuberant athlete, loving husband, involved father, doting grandfather and devoted friend.
In his heartfelt coming-of-age memoir, Immigrant Son, Paul captures the rhythms of street life during the Great Depression, bearing witness as a toddler perched atop an ironing board at his mother's elbow; a young boy playing marbles in the brick alley behind the family laundry; a teen careening with the neighborhood gang; a young man captivated by calculus equations and a call to service in World War II.
A remarkable athlete and intellect, Paul was chosen to be a WWII Navy fighter pilot, finishing his training just as the war ended. Once, while practicing touch-and-go landings on an aircraft carrier at night, Paul mistakenly followed a star instead of the plane in front of him and became lost in a dark sky above a dark sea in a single-engine prop plane with little fuel to spare.
Was the star lucky? Or was it his excellent vision and nerves of steel? Somehow, Paul navigated his way back into formation for the last landing of the night. Nobody noticed his plane was missing. He didn't wash out of the Navy. He lived to tell the tale.
Thanks to the GI Bill, Paul completed his undergraduate degree at MIT (an All-New England lacrosse player) and earned his doctorate at Johns Hopkins University. He married Phoebe Ten Yin Ho, a brainy beauty from Hawaii, and they had four children: Susan Bock (Greg Clark), Norman Bock (Kathy Li), Jane Bock (John Chow) and Paula Bock (Tao Sheng Kwan-Gett); five grandchildren (Doug Clark, Evan Clark, Andrew Chow, Liana Chow and Tia KwanBock) and myriad global adventures during 60 years of marriage preceding Phoebe's death in 2009.
Phoebe and Paul's world travels included Greece, Mexico, Egypt, Turkey, Iran, China, Japan, Thailand, England, Ireland, Switzerland, the Scottish Coast. They frequently returned to favorite bistros in Paris, Italy, and the Netherlands; Phoebe was a pro at finding low airfares and luxury hotel bargains on the web. At 76, they toured Holland on a bicycle-built-for-one, Paul pedaling while Phoebe rode side-saddle on the rack behind his seat, slipping two fingers inside his belt to keep from falling off, and navigating from a map she'd clothes-pinned to the back of his collar. Paul treasured his annual alpine escapades with ski buddy Norman Lau Kee, enjoying leisurely lunches in the summit lodge as much as the sunny, gentle slopes.  Paul also travelled for work, spending several weeks a year in Paris and serving as a consultant on water resources in India, Kenya, Tanzania, Botswana, and China.
During his long career as a hydrologist at Travelers Research Center and as Professor of Hydrology and Water Resources at the University of Connecticut, Paul's research focused on the basic questions: If it rains, how much water runs off? and Where does all this water go?  Initially he studied these issues at the local level, heading out during many a downpour to directly observe storm drains in Baltimore and dam spillways in Connecticut's Farmington River Valley.  In the late 1960s, his work expanded exponentially as he and colleagues pioneered the use of new satellite and remote sensing technologies to investigate similar questions about global water cycles.  During this exciting period, his team developed ways of integrating satellite data with locally collected data—the foundation for methods still used routinely today.
Paul chaired the Committee on Space Hydrology of the American Geophysical Union, served on numerous scientific commissions for the National Aeronautics and Space Administration(NASA), the United Nations Educational, Scientific and Cultural Organization(UNESCO), the World Health Organization, the National Oceanic and Atmospheric Administration, US Geological Survey, and the US Army Corps of Engineers, and authored more than 60 scientific publications.
Paul was a hydrologist by trade but a social activist at heart. He believed in fairness and justice for all; he stood with workers, children, the downtrodden and underdogs. He and Phoebe fired off missives and letters to the editor on a typewriter they packed last and unpacked first whenever they moved.
Paul marched in Selma, the March on Washington, and organized Vietnam Sabbath teach-ins.  In 1988, after UConn football players spat on Asian-American students at a school dance, he protested campus racism by pitching a tent and staging an 8-day fast that garnered national awards for heroism and resulted in two dozen institutional reforms, including UConn's first Asian-American courses, creation of an Asian American Cultural Center and campus-wide diversity training and anti-harassment policies. After retiring, Paul and Phoebe launched Asian American Forum, the first radio program of its kind, hosting national speakers and weekly discussions on Asian American culture, history, stereotypes, and discrimination. In 1990, Paul filed a federal class action complaint on behalf of Asian Americans and Native Americans. In 1993, the U.S. Dept. of Education's Office of Civil Rights found UConn in violation of the Civil Rights Act of 1964 and forced UConn to pay at least $60,000 annually for programs for Asian Americans and Native Americans. In 1995, Paul led activist groups in calling out a racist skit by radio shock jockey Glenn Beck. Their successful protest resulted in on-air and written apologies, a broadcast series on race relations and cultural sensitivity training for the station's employees and management.
After moving to Seattle with Phoebe in 1996, Paul was active in Asian-American and peace communities, demonstrating for justice with huge homemade protest posters strapped to his bicycle. In his 70s and 80s, he advocated for Ethnic Studies at the University of Washington, human rights in Burma, and he protested dehumanizing depictions of Asians by ObaChine restaurant. Even in the delirium of his last days he dictated letters to the editor about the border crisis:  "Find the children . . . and reunite them with their families. Stop this cruel policy. I know you will find it in your heart to do the right thing. Sincerely, Paul Bock."
Paul's love of life and philosophy of living were embodied in several oft-used sayings:
     Enjoy slow
     I love hills!
     TRY
     Question? Curiosity?
     Eh!
     What's real is in the mind
     Why not childlike be? Then our minds are boundless—we are free!
     Celebrate everything!
Paul's youthful soul was matched by his youthful good looks. He sported rosy, unwrinkled skin and a full head of dark, wavy hair until his death at age 92, in December 2018.  (He is 85 in the accompanying un-retouched photo in the tulip fields.) When asked to share his secret, he'd declare, "I have no aches, no pains, no worries, nothing to complain about. Enjoy slow!"
In his last decade, Paul graduated from bicycle to a home-engineered 6-foot bamboo walking pole to walker to wheeled travel chair. Despite short-term memory loss and an increasing need for long periods of sleep, Paul retained his essential character and passions.  He bragged about his grandchildren and loved attending (in person or via video) their concerts, games, and plays. He read their articles and report cards, followed along with their friendships, and was thrilled by stories of their work in Indonesia, Antarctica, Mars, and New York. Paul followed politics, voted for Democrats and women, and bro-lunched every Wednesday with dear friend Gary Hallemeier. Though he relished opportunities to nap, he always remained vigilant riding shotgun while his youngest daughter was at the wheel, gently questioning any irregular maneuvers more than 35 years after first teaching her to drive.
Paul found joy in life to the end. He loved snuggling with the puppies in his monster chair by the fireplace at Cindy & Howards's. He loved strolling/rolling around Golden Gardens Park, where he marveled at drooling babies, clinking sailboats, cavorting children, weed-smoking hipsters, muscled beach volleyball players, barking sea lions, soaring para-sailors, sunning turtles, quacking ducks, ubiquitous Lime bikes, peaceful waves, lingering sunsets, ever-changing skies. He loved visiting with children, grandchildren and friends who traveled from near and far to see him.
We will miss Paul's euphoric spirit whether he was running, biking, skiing, sailing, drawing, crabbing, vacuuming, making Caesar salads, picnicking, composing poetry, helping friends and relatives with home repairs, or hugging grandkids. Thank you, Paul, for teaching us to TRY, ask serial questions, and "Enjoy slow!"
---
Comments
---