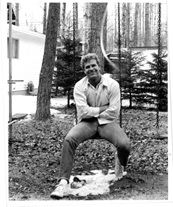 Mark Angevine passed away on September 29, 2014, aged 53.
Beloved by many, Mark was known for his generosity, humor, talent and likability.  He is known by many around the world through his travels and especially in theatre circles around the U.S.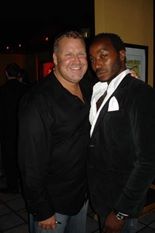 He is survived by his husband, Private Rutherford; his mother, Fran; his father, Wayne; his brother, Bob; and his sisters, Sue, Julie and Kathy.  He will be sorely missed by all.


Mark was well known for his parties.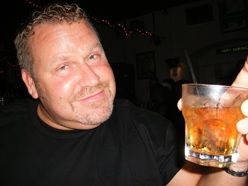 As such, "The Party" for Mark will be held on Monday, October 13th from 5pm-10pm at Elysian Fields, 542 1st Ave. S., Seattle…near Century Link Stadium.  There will be no speeches or eulogies, just a good time had by all and lots of storytelling, just the way he would have wanted it.  Anyone who knew Mark is welcome to attend.
---
Comments
I have known Mark for 30 years, can't believe his energy has left this world. My best to his family and friends. Cheers to Mark, wish I could be with the group. --Jennifer Myers
---
Mark made my transition to Seattle in the early 90s much easier. It was because of him I had a social life. After we both moved to NYC in the late 90s, we also had some fun times. This is a huge loss for the Seattle community, and I send all my good thoughts to Private and the family. --Paul Niemi
---
I just learned of Mark's passing and I was so saddened by this news. Like so many, I first met Mark in a business setting and bought my first copier from him for the law firm I was with at the time. We quickly became friends. Although I no longer live in Seattle, I still have many friends there will sorely miss Mark. My deepest sympathy goes out to his family and Private - I wish I could give you a hug. --John Hegna
---
I met Mark through The Boeing Company, when I was a Buyer for copier equipment and Mark was working for First Choice Business Machines. Mark and I had the opportunity to get better acquainted, on a personal level, at a Copier Trade Show, we mutually attended, in Las Vegas, and one of my fondest memories of that particular trip, was partying at the Betty Boop Bar, with Mark, until 6:30 AM in the morning, and as luck would have it, we both got back to our hotel rooms, just about 30 minutes before we had meetings to attend! Needless to say, we were both very grateful for having an abundance of mouthwash, cologne, perfume, breath mints and visine! Subsequent to this trip, Mark and I became dear friends, versus acquaintances, and we would get together periodically, with or without my two young daughters, and I can say, that every moment, spent with Mark, was always 'beyond' a great time, and 'beyond' memorable! When I learned that Mark had passed away, I literally spent the entire day crying, while remembering what a quality person Mark was, and what an incredible gift Mark had been in my life and the lives of my daughters. There were many local plays, which my children and I attended of Mark's, and we were always in 'awe' at how talented Mark was, as a performer and singer. I was also, always in 'awe' whenever I attended house parties, at Mark's home in Seattle, because Mark was also very talented when it came to hosting and throwing parties! Unfortunately, Mark and I eventually lost contact with one another, when Mark moved to NYC. The last time I spoke to Mark was shortly after he moved back to Seattle, and as usual Mark's demeanor was full blown happy! I can honestly say, that I've never met another person, like Mark, in my lifetime, and that I feel truly blessed to have been afforded the opportunity to have met Mark, when I did, and to also have him in my life, subsequently. I send my sincerest condolences to Mark's husband, Private, to Mark's entire family, and to Mark's entire universal network of friends. I have such fond memories of you in my heart, Mark, and I sincerely thank you, my friend, and ever so much, for being such a wonderful person, who profoundly and positively touched my life and the lives of my daughters, and to so any others, universally. May you forever RIP and may your eternal life be as good to you, as you have been those of us, you've left behind. I love you Mark, and I thank you for being such a kindhearted soul and such a fun loving person, to love, and to be loved by, in return. <3 Treasured in my heart you'll stay, until we meet again someday <3 --Teresa Buettner, Maple Valley, WA
---
I miss you dearly my friend. Your love and laughter that I was blessed to share with you. From the moment we met with that handshake you welcomed me into your life. I bet you are holding court and throwing a huge cocktail party! Love you much! --Yahri (Jamie) Harrigan
---
Mark: God bless you. YOU were the one who encouraged me to date John Brown, and now we're married almost 13 years and with two beautiful children. I miss you tremendously, even though the years have passed. You had a way of lifting everyone's spirits and finding joy in life. All our love forever. Heidi, John, Johnny and Nicholas Brown
---
I learned of Mark's passing through a mutual friend. He was someone who followed his heart - I remember when he left Seattle to chase his dream in NYC. He was so successful up to that point - not many people would leave all that comfort and go off and live his dream. Rest in peace Mark. --Derek Wyszynski
---