Mahlon Pancoast Nichols, Jr.
Jan. 8, 1928 ~ March 9, 2021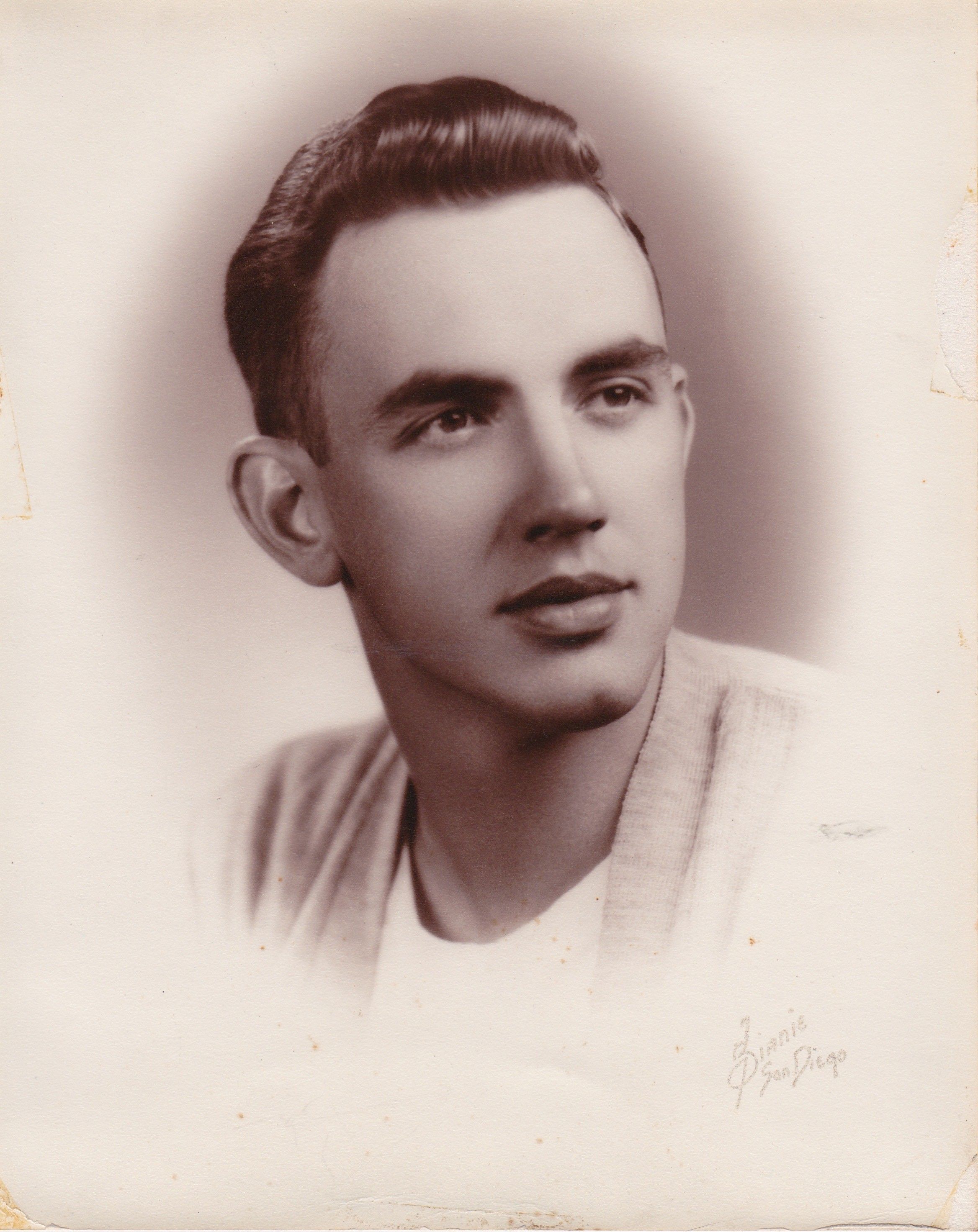 Mahlon ("Nick") Nichols passed away peacefully at the age of 93 after a long, full life filled with friendships and family memories.
Born in Owensboro, Kentucky, Nick was the oldest child of Mahlon & Ellura Nichols. After growing up in small towns in Kentucky, Nick joined the Navy in 1946. While at boot camp, he sang in the Blue Jackets' Choir at the Great Lakes Training Center, then spent an additional year training to become an Electronics Technician.
During his first deployment, Nick served on the USS Astoria in China, helping remove US citizens before the Communist takeover of Shanghai and Tsingtao. He never forgot paying $3 for a glass of milk in China! After the Astoria was decommissioned, he was assigned to the USS Nereus in San Diego, where he played on the base's basketball team. After leaving the Navy in 1950, he attended San Diego State University for a semester before being called back to active duty for the Korean War, serving on the USS Klondike.
After leaving the Navy in 1954, Nick visited Young Life friends in Seattle and saw a picture of Jeanne Eiseman. He arranged a double date to meet her. Three dates later, they knew they would marry. Nick moved to Seattle, and they were married in November 1954. Nick attended the University of Washington, majoring in Electrical Engineering while working as a Bridge Tender at night and selling programs at Husky basketball and football games, where he developed his life-long love for Husky athletics.

Nick joined Boeing in 1962, where he worked as a manager in Human Resources for 29 years. He loved his nationwide business trips recruiting electrical engineering graduates. Nick joined the Boeing Tennis club, and for many years he got up early to play tennis before work.

In 1964, Nick and Jeanne (and their two young daughters) settled in the Wallingford neighborhood, where they lived in the same house for over 55 years. He loved hot weather and gardening. His yard was full of beautiful flowers (especially dahlias) and a vegetable garden that expanded over the years. Nick even built a greenhouse so he could garden year-round. He always shared his produce with neighbors and family, and was especially known for his delicious tomatoes.
Avid readers, Nick and Jeanne led Great Books discussions for over 50 years, starting and developing new groups in the Seattle area. In addition to gardening and reading, Nick loved discussing philosophy, sitting on the porch swing, and body surfing every year in Hawaii. He also enjoyed meeting and talking to people, and developed many good friends over the years wherever he was.
 
Loving husband, father, brother, uncle, friend... he was much loved, and his ready smile, infectious laughter, and gentle grace will be missed by all who knew him.
Nick was preceded in death by his father, Mahlon Sr.; his mother, Ellura; and grandson Seth. He is survived by his wife, Jeanne; two daughters, Karen (Albert) and Linda (Terry); four granddaughters, Emily, Wendy, Noelle, and Celina, great-grandson Spencer; two younger brothers, Hugh (Dee) and Davis (Dianne); as well as many nieces, nephews, and cousins.
The family will have a private memorial on Maui at a later date.
Donations may be sent to
- Northwest Great Books   (https://nwgreatbooks.com/donate/)
- University of Washington -   "Go Huskies!"
- Seattle Cancer Care Alliance
---
Comments
This a very beautiful memorial of your Father. My condolences on the loss of this gentle giant. God bless your family as you meet in Maui to celebrate his life and memory. (friend to Karen)

Sandra Duarte
---
Lovely memories of your dad.  Condolences to your family. 
Susan Zelinsky
---
I have the best memories of Nick- growing up right next door- his beautiful garden, the pool he put up, and my favorite as a kid, the swing he built in the basement. Nick was a cheerful, patient , gentle and lovely man whom I will always fondly remember. My sincere condolences to Jean, Karen and Linda.
 
Zarina Ahmedi Kokkovas
---
He was a wonderful person and will be missed so much. His love of life was a great gift to all who knew him. I am grateful that my life intersected with his in a small way.

Victoria Bozzacco
---
The neighborhood boys who grew up in the 70s and 80s on Sunnyside Street knew this gentle, friendly man with a ready laugh and a broad smile as "Mr. Nick". Even after they grew up and left the old street, our two boys, Matthew and Andrew, as well as the other former playmates on the block, knew if you had a question about gardening? Mr. Nick would know. Burst outdoor water pipe? Mr. Nick had all the gear to fix it. He recruited me and my wife, Marilyn, to join Great Books in the 70s and led us into a community of readers and seekers of knowledge of fiction and science, as well as philosopohy, ancient and contemporary.
What a broad and welcoming view of life and people Nick shared with all he met. We had great discussions with him over books as well as over the back fence. We were so fortunate to have had such wonderful people as Nick and Jeanne for neighbors.
Rest in Peace, dear friend.

James and Marilyn Stark
---
It is a rate thing to find a couple with such authentic and generous hearts. Malhon was an inspiration, sounding board and friend. He will be missed by so many in the Northwest Great Books Community and book lovers across the country. He delighted in the happiness of others. I always was excited to introduce him to family and friends-everybody loved the guy. His kindness will always be with me, thank you Mahlon.
 
Tracy Lewis, Northwest Great Books - President
---