Kenneth Lee Butz
January 18, 1923 to June 4, 2022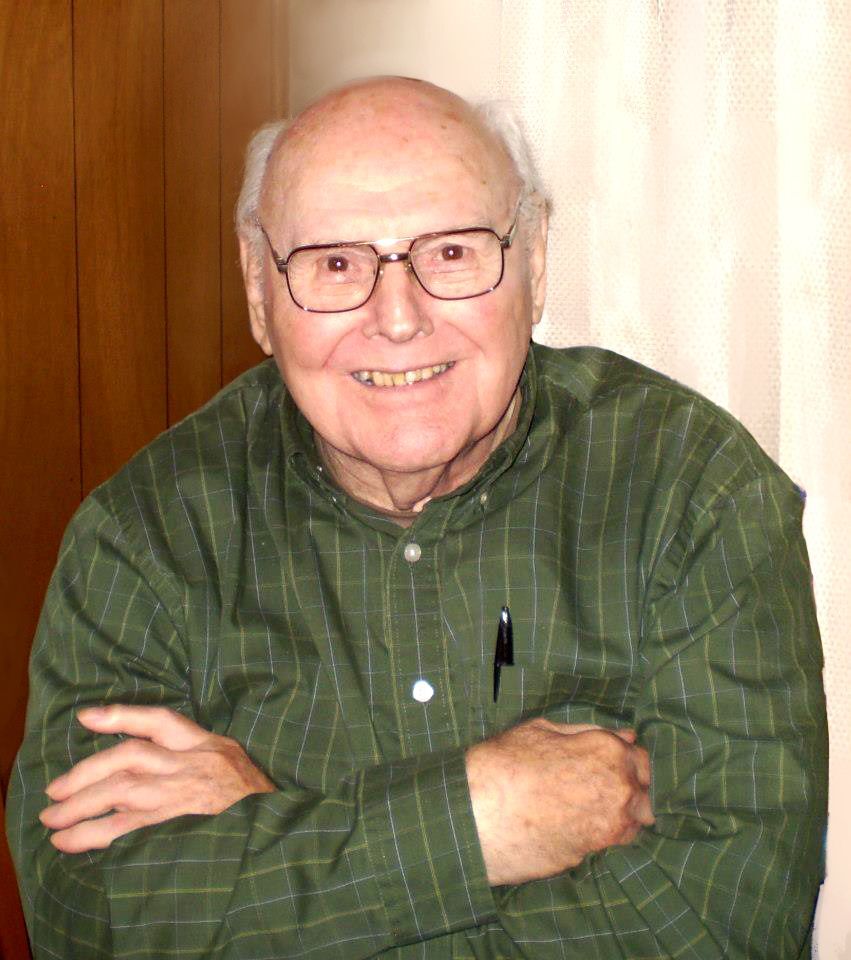 Kenneth Lee Butz was born January 18, 1923, to Alvin and Edna (Briggs) Butz in Oneida Kansas. He was the 6th child and 5th son of 8 children.  He spent his early years in South Dakota, where his family were farmers. During the Depression and Dust Bowl years they moved with several other families to northern Idaho, where there was good farming available. Kenneth attended school until 9th grade, when he was needed on the family farm.
 
When he was 18, he met a cute, spunky girl named Doreen Renshaw, who was 17. They became engaged and on May 9, 1942, the last day of school, they stopped in St. Maries, ID and got married in the courthouse on the way to the class picnic! They moved to Bremerton, WA, where Kenneth worked in a shipyard, expecting to be drafted any time. Their daughter Marilyn was born in March of 1943. 
In December, just before he was to report for duty, his life changed completely. He was diagnosed with Polio. He spent the year of 1944 in the hospital in Seattle, and lost the use of his legs. He learned to walk with crutches and braces. Doreen and Marilyn moved to Seattle where Doreen took a job at Boeing building planes for the war. Never one to let circumstances determine his destiny,  Ken found work with his hands and, like so many of his generation with a basic education, he learned mechanics, electronics and pretty much anything that got his attention. On most weekends he could be found with his feet sticking out from under a car, helping friends and family. He and Doreen had 4 more children, Kathleen in 1945, Brian in 1947, Wayne in 1950 and Martha in 1955.
In the mid-1950s, he went to work for a small electronics company as quality control inspector. As the company grew, by the time he retired he had advanced to a supervisor position. Most people there thought he had an engineering degree.
In 1957, Kenneth committed his life to Christ and was born again. His witness to the power and love of God was an influence on many, especially the high school youth he and Doreen led for many years. By the time he retired he was using a wheelchair, but he kept busy managing the church day care, keeping track of church upkeep, and co-managing a church remodel, using the phone or computer and Doreen driving the van and helping reach things. They made a great team.
In 2011, with post-polio weakening his upper body, he moved to a care center in Seattle. There he kept up with his e-mail, Facebook and phone contacts, read his magazines, and made friends with residents and staff. In 2019 Doreen also moved to the care center and they were able to spend time together there including celebrating their 80th Wedding Anniversary this past May! Over the years his mind stayed sharp, but his body declined until finally he was done. Though we will miss his strong bass voice in family sing-alongs, and his "Boy that supper was good" yodel, now he can sing with his family and leap and dance for joy! 
In addition to his beloved wife Doreen, Ken leaves behind five children, 13 grandchildren, and 16 great-grandchildren. His children are Marilyn (Joel) Hume, their children: Melinda "Mindy" (Paul Drewer); and Devon (Kim Synow) Hume, Devon's children with their mother Robin: Fox and Ivy; Kathleen "Kathie" (Bill) Rus, their children Stacie (Kevin) Pattison; Travis (Leslie) Rus, their children Madison, Joshua and Caroline; Ryan (Stacy) Rus: Camden and Owen; and Curtis Rus; Brian (Danielle) Butz, their children Gideon (Patricia) Garcia, their child Sophia; Sarah McAlpin, her children with their father Randy, Ethan and Dylan; Susannah (Bill) Vetter, their children Valencia, Amalea and Cyril; Wayne Butz; Martha (Stanley) Hanna, their children Galen; Blaine; Garrett; and Morgan (Dan) Wilson, their children Paul, Jill and Sarah. He is also survived by his beloved sister Algene Artiz and brother Richard "Rick".
The family would like to express our thanks to the staff of Washington Care Center for their care of and friendship with Dad.
A memorial service will be held at 1:30 p.m. Saturday, September 10 at Rainier Avenue Church, 5900 Rainier Ave S., Seattle.
---
Comments
Such a wonderful man, smiling & laughing, a joy to meet on Sundays at RAC!!!
We will miss him dearly, but also know he is "Dancing the Heavenly Dance"!!!
Kurt/Bonnie Gustafson
---
Kenneth was a testament to a life well-lived. He will be sorely missed by all of us who loved him. But I know he has found peace & beauty in his Heavenly home. Our love goes with you. -Algene
 
Algene Butz Artiz
---
By the grace of God he surmounted monumental life challenges and maintained his faith and humanity through them all. Now he is at well earned rest in Heaven above. "Until we meet again up yonder" my brother!
 
Rick and Dianne Butz
---
I always enjoyed talking with Ken during the 12 years we lived there, mostly Sunday mornings at church. He knew a lot about a lot and had an interesting way of expressing himself. His love of God and people always shone through!

I am sad that we will be away on an extended trip the day of his memorial service, but our hearts will be at RAC (or RAFM as we knew it) in Seattle.

Emery Grantier
---
My uncle was a very loving man. I always enjoyed the few conversations we had. His family was so blessed to have a father that was a devout Christian . I know he is happy in Heaven with a reunion with many wonderful believers. He will still be greatly missed. Thank you God that he was my uncle.

Nora Lukas
---
When I moved back to Seattle to go to college, Ken was one of the few people at church who had known my parents when I was born. He helped a new church and city feel like home. I remember his hospitality in many forms, including helping make sure the church facilities were taken care of, offering apples from his tree, and donating a djembe drum that was used for young adult worship services.

Christalyn Grantier
---