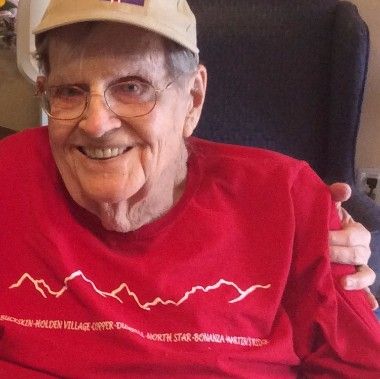 A kind, gentle man was called home by God on January 1st, 2016 while surrounded in love by family. He is deeply missed but lovingly remembered for his constant faith, dedication to family, the gift of listening and healing as a family physician for 40 years, and his kindness and generosity shared with so many throughout his life. Jim loved the out of doors. He led an active, full and adventurous life. His passions for the wilderness included hiking, skiing, sailing, horseback riding, hunting with his beloved dogs, and traveling to many parts of the world. 
Jim was born March 20, 1927 to Herbert and Leda Gamrath in Detroit, Michigan.  His sister Susan (Roland) was born when he was 12 years old. He was baptized and confirmed in the German Lutheran Church. He graduated from Wayne State University in 1948, then served in the Navy as a medic. He was accepted into medical school at Chicago School of Osteopathic Medicine, and received his M.D. from University of California, Irvine. He was a member of the American Academy of Family Physicians and the King County Medical Society. He loved taking care of many families in his practice, and he enjoyed the duties of a general practitioner, which in those days included pediatrics, obstetrics, sports medicine and even housecalls. He had a true gift for taking care of people.
He met Ellen Fackler on November 27, 1948, and that was the beginning of 68 years of wonderful, rich togetherness. They celebrated their 65th wedding anniversary last June with great joy. Jim is survived by his wife, Ellen, and 3 children David (Lisa) Barbara (David) and Linda (Tom), and five grandchildren: Claire, Carly, Abby, Jason, and Alicia. He always said his favorite part of any day was "being with the family" and nothing was more special than his grandchildren. 
Jim and Ellen traveled to many parts of the world together, but one of their favorite places to visit was Holden Village, up Lake Chelan. Holden Village had a special place in his heart, and he had a special place at Holden. They first went to the Village in the early 60's and have managed at least one trip there nearly every year since. Many lifelong friendships were begun and kept there. A huge blessing, time and time again!
Jim and Ellen lived for 20 years in Renton in a friendly neighborhood surrounded by young families, then moved to Mercer Island for the next 30 years, where he and Ellen enjoyed many water activities and the beginning of retirement. For the past 6 years they have lived at Mirabella, a retirement community in South Lake Union. Even when times were rough and Jim needed a wheelchair to get around, there was much joy in trips to parks around the area, where he could be in nature and feel the breezes off the Lake or Puget Sound. Jim loved nature and God's wilderness! One of our favorite images is at the top of a mountain pass with Jim lifting up his arms to the refreshing breeze and exclaiming, "AIR!!!" 
The past few years had their struggles, but Jim was able to find joy in every day, through Ellen's touch, a grandchild's visit or musical gift, a savory meal shared, a good, rich cup of coffee. So many simple pleasures were relished. As times got more challenging, the joys were more pronounced. 
Jim loved Jesus and was willing to answer when God called him home to be with loved ones gone before, most dearly his sister Susan and other saints who predeceased him. His faith was steadfast and strong, and he was often the one reassuring us this past month with his quiet acceptance and grace. We celebrate his life and will miss him greatly.
A memorial service will be held on Saturday, Jan. 9th at Immanuel Lutheran Church, 1215 Thomas St, Seattle, WA 98109 at 2:30 PM with reception following
Memorials may be made to:
PO Box 17061
Baltimore, MD 21298-9832 
HC 0 Box 2
Chelan, WA 98816-9769
1215 Thomas St
Seattle, WA 98109
---
Comments
---