June Eleanor (Christensen) Wittman & Elmer Harold Wittman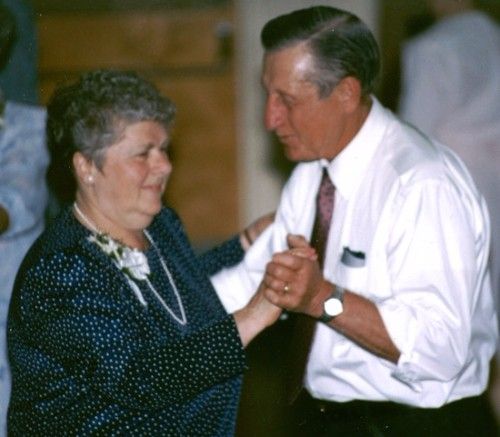 June Eleanor (Christensen) Wittman was born June 17th 1925 and passed away June 3, 2017, at age 91, two weeks shy of her 92nd birthday.  
Elmer Harold Wittman was born December 23rd, 1924 and passed away unexpectedly on June 5, 2017, from heart disease that caused a fall, at age 92.
June was the only child of Danish immigrants Oskar and Eleonora (Fischer) Christensen.  Her parents were childhood neighbors in Copenhagen who reunited in their early 40's and married.  June was born the following year.  She lived the first few years of her life in downtown Seattle on Howell Street.  At age five, the family moved to Burien, where her father started the Danish Bakery on 152nd in Olde Burien.  Raised during the Depression, her childhood years were spent working long hours beside her parents, living in the house behind the bakery.   She graduated Highline High School in 1943 and went on to get a degree in Nursing.   While working at Harborview Hospital on Christmas Eve 1949, she met her future husband, Elmer Wittman.  They were married on June 17th, 1951 and moved to West Seattle.        
After marriage June "retired" from nursing (and baking) and had 3 children in 4 years.  Together Elmer & June raised their children in West Seattle starting in a one bedroom house on Gatewood Hill, then a house nearby that Elmer built himself, and finally in their "temporary" home of 56 years at the base of Genesee Hill.  She spent the next few decades being a Boy and Girl Scout leader, chauffer, chore enforcer, and consistent attendee at her children's activities.  June possessed the special courage required to be a police officer's spouse.  She loved entertaining, sending cards, talking on the phone, reunions of any kind, and keeping her family in line.  June was loving, funny, direct (in that Danish way), thoughtful, and a great cook.  She was passionate about Childrens Hospital, Law Enforcement, anything Danish, and Thank-You Notes (not necessarily in that order).  
June lost both of her parents by the time she was 30.   She was followed in death, two days after her own, by her husband Elmer. 
Elmer was the second of seven children born to Alexander and Amalia (Schneider) Wittman.  Elmer was born and raised in Bazine, Kansas, so he was able to enjoy both the Depression AND the Dust Bowl years.   He walked 5 miles uphill both ways to school every day and graduated from Bazine High School in 1942.  He worked with his father doing carpenter work until he enlisted in the Navy on his 18th birthday.  He served in the Pacific Fleet during WWII on a Destroyer Escort (USS Connolly) surviving both a kamikaze attack and a typhoon.
In December of 1948 Elmer moved to Seattle.  He found work as a carpenter until 1950 when he joined the Seattle Police Department (Serial #1145).   His assignments included motorcycle, accident investigation, polygraph, fugitive, robbery, and homicide, before retiring in 1978 as a Sergeant.  After retirement he was the go-to guy for any friend or family member who needed a house constructed, kitchen remodeled, deck built, or any sort of carpenter work done.   He pounded nails on rainy days and golfed on sunny days. 
Elmer was scoutmaster during his sons' scouting careers and long after they lost interest.   He was active in retired police organizations, Kiwanis, and was an honorary member of the Danish Brotherhood.  Everyone loved Elmer.  He was kind, wryly funny, McGyver-like, and he would be horrified at what we paid to run this obituary.   
For health reasons Elmer & June chose to move to Providence Mount St Vincent in 2015.  The family would like to thank the Assisted Living staff for showering our parents with love and attention.  We'd also like to thank the 4N Neighborhood Skilled Nursing, Spiritual Care, and Hospice teams for their loving care and patience, helping us guide our mother through her journey with dementia.
Elmer & June will be missed every day by their three children:  David, Ann (David Smith), & Mark (Douglas Durbin); four grandchildren:  Christopher Wittman & Melanie Wittman, along with their mother Mary P. Wittman; and Scott (Kelsey) Smith & Riley Smith.  They also leave behind June's cousin Lise Wilber, David's girlfriend Maya Padilla and Elmer's siblings:  Violet Black, Robert Wittman and Arlene (Marvin) Davis.  Elmer was preceded in death by his parents and siblings:  Florene Ummel, Edna Ummel and Leroy Wittman.  
In lieu of flowers, the family requests all remembrances be sent to Seattle Childrens Hospital (seattlechildrens.org).
A joint faith service will be held for Elmer & June on what would have been June's 92ndbirthday and Elmer & June's 66th wedding anniversary on Saturday, June 17, at 10am at First Lutheran Church of West Seattle, 4105 California Ave SW, followed by a celebration of their lives at West Seattle Golf Course 4470 35th Avenue SW from 11:30am to 1:30pm.  
---
Comments
Dear Ann and family, you have my deepest sympathy for the loss of you mom and dad. You are all in my thoughts and prayers. Through the sorrow there can be the quiet comfort in knowing they are now together in God's light.
Ellen Lindsay (Dunbar)
---
Two beautiful American friends. Had so many wonderful years of going back and forth visiting and golfing. John and Elmer met in 1964 through the exchange with Seattle PD and Vancouver PD. We have wonderful memories
John and Eunice Catterall
---
Sorry for your loss they were great people and will be greatly missed.
Dean and LaVonne Ummel
---
A lovely tribute to two wonderful people who wouldn't have known how to go on without each other. Together again for eternity and smiling down upon their family and friends.
Sandy Larned
---
A wonderful obituary for two beautiful and very special people in my life, and countless others' lives too. Your love truly shines through in every word!! We are sending our love and big hugs to you kids, and all of the extended family. We feel the pain of your loss and we're here for you. (We also feel your pain for the hundreds of thank you cards you will be writing in the coming weeks.) We love you!!
Karen, Derek and Kyle Langridge
---
My deepest sympathy for your loss. This must be especially difficult for you. Your love for Elmer and June is a reflection of their love they had for each other, and all who were in their lives. Our Heavenly Father has lovingly promised to undo death and to end all our suffering as well. (Rev. 21:3-5; John 5:28, 29) May His promises be a comfort and a soothing balm during this difficult time.
James
---
What a beautiful way to sum up two amazing people. They lived their lives with such grace, humor and dignity. They were respected and loved by everybody. One of my Fondest Memories from the " birthday parties" was my dad and Elmer talking and laughing together. I was so proud of them both being Seattle police officers. Although I haven't seen them much over the years, they were such a presence in my life growing up. I will miss them both. Love you all!
Kathy Honz
---
A loving tribute worthy of two very loving individuals. My childhood summers visiting my grandparents were peppered with interesting and funny moments in part provided by their friends and neighbors, Elmer and June. She taught me how to crochet, and he told me about the troll under the shed in the backyard. They touched many lives and live on in good memories!
Lisa
---
I am still stunned by the loss of both of your parents. I have been looking at some of my moms old recipes and found a Danish cookbook plus individual recipes from your mom and 1 from your dad for Kahlua. I know my mom and your mom loved sharing their recipes. Love Trish and Phil.
Patricia Welch
---
I am sorry for your loss. They were both very special people. Elmer was the kindest man I ever met. While doing my kitchen he chided me for feeding him "like a field hand." He and June loved and were very proud of all their children. I truly believe they left us better by who they were. Harriet Benjamin
Harriet Benjamin
---
This wonderfully written obit made me smile and well up at the same time. Mark, you now I spent a lot of time with June and Elmer over the last few years and this past couple of weeks have been hard because I wish I would've been able to see them one last time. But this tribute to them made me think of all the fond memories that I will keep with me forever, your mom always wanting to see pictures of the kids and your dad's infectious smile. My thoughts and prayers are with you and your family, God Bless.
Gabe Medina
---