James Alexander Gow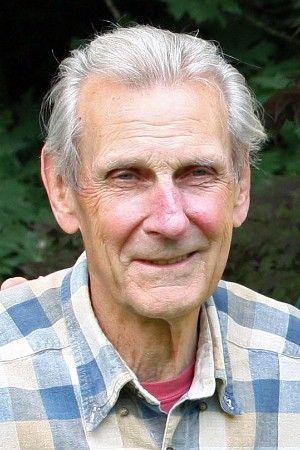 Jim passed away peacefully at his residence, Bayview Retirement Community, Seattle, from complications of Alzheimer's Disease, on December 7, 2017.
Jim was born in Seattle, on May 12, 1937, to Alexander Neil and Nell Lodica (Smith) Gow. He attended Franklin High School and the University of Washington, and later graduated from Seattle University. Jim served in the army reserves, and then ran the family business, Alexander Gow Fire Equipment Company, until he retired in 1991.
Jim was a talented watercolor painter and loved spending time outdoors, fishing, gardening, and picking wild blackberries. He also loved hunting in Eastern Washington with his life-long friend, Mike Griffin. Jim was a member of Prospect Church in Seattle.
Jim was preceded in death by his first wife, Jane (Talbot), and his sister Janette. He is survived by his wife Carolyn Urban, son Pete (Margaret), and grandson Alex Gow; by his brother in-law Dick Rodbury, nephew Steve Rodbury, and nieces Lynn (Rodbury) Matthies, Elizabeth (Doty) Brown, and Jennifer (Doty) Baxter; by his step-son Brian Threlkeld (Patricia Hswe), and step-grand children Julian Threlkeld and Lydia Hswe; and step-sons Craig and Todd (Anne Stevens) Threlkeld.
The family will hold a service for Jim on January 6th 2018 at 2:30 at Prospect Church, 1919 E. Prospect St. Seattle, Washington 98112. Memorials can be made to Prospect Enrichment Preschool, addressed to the church.
---
Comments
Jim was the perfect partner and husband for our mom, and we are grateful for the 36 years they had together. He was an intelligent, kind, gentle, and generous man. He was quiet, but very funny. Patricia will miss the delightfully witty custom-drawn Valentine's Day cards he sent her every year — and which made her laughter fill the room when she opened the mail. And we are grateful for what a wonderful (additional) grandfather he was for Julian and Lydia, and that they had the opportunity to know him as they grew up. We were fortunate to have the chance to enjoy Jim's company one last time, during our visit to the Northwest this summer. We all loved Jim, and miss him deeply.
    
Brian Threlkeld
---
Susan continues to "sing" your praises, Jim, in a big way. She knew you better than I as a close friend, fellow painter, and sensitive man. Both of us shall miss you and will no doubt see you in all things of this natural world which you cared for deeply.
Thank you for making our lives a bit richer,
Bink and Susan Owen
---
Jim was a caring, funny, and creative friend for so many years starting with youth church camp. I have sweet memories of going blackberry picking which produced his wonderful (famous) pies. He gave generously helping others. What a wonderful example he was of a loving human. thank you, Jim.
Mary Liz
---
I adored Jim. He made Carolyn happy. They were a beautiful team together - truly soul mates.
For about 7 years I lived a few blocks from Jim and Carolyn. On Jim's daily walk he would go by our townhouse and often I would catch a friendly wave from him as I stood at the kitchen window washing dishes. It made me so happy to see him. During that time I went through a rough spell in life and in Jim's gentle way, and without spending energy on a lot of words, I felt his support and love for me. He had a way of letting you know he was right there and that he knew how you were feeling.
Jim was also humorous sending his anonymous Valentine's cards that were goofy and brought joy (I see from Brian's Patricia above that he wasn't just my secret admirer!). I will greatly miss my card this year ...
And he was giving and kind. Struggling with snipping one of the many bunches of flowers that Carolyn would bring over, he gave me a little pair of gardening snippers that were his mother's. I have cherished those snippers for years now - I use them constantly and every time think of Jim and how he too loved to work with his hands and to love things old and dear.
Jim and Carolyn will always be two of my favorite people in the world - loving, kind, giving and two people who know the simple pleasures of life and help you to remember what matters. Jim will be dearly missed by Eric and me.
    
Nadine Fabbi (& Eric Finke)
---
This goes back a ways, but JIM had a very positive influence during my younger days. I had the honor of working for Jim, at Alexander Gow Fire Equipment CO. This was from 1973 -1976 in the small office and service building on 2nd Ave. he was exemplary as an owner and boss. Always fare and a quiet since of humor. I remember buying a yellow Fiat, just after getting my job. I think JIM was driving a blue one. Anyway it didn't take me long to figure out maybe I shouldn't be driving the same car my boss was driving! I eventually was hired by Western Airlines as a flight attendant where I flew for 39 years. My wife and I live on the Kitsap peninsula, in the town of Hansville. I will always remember those early years and what a great crew we had. I remember Mac and Another JIM as supervisors, and working with Dave, Dave, Ron Ackerman, and I believe Linda was the secretary. Anyway just happened to see JIM's Obituary by chance. My condolences to all the family and friends. And thanks JIM for getting me started on a great work ethic and how a small business is suppose to be.
    
Ed Dewing
---