Claudine M. Erlandson
1938-2022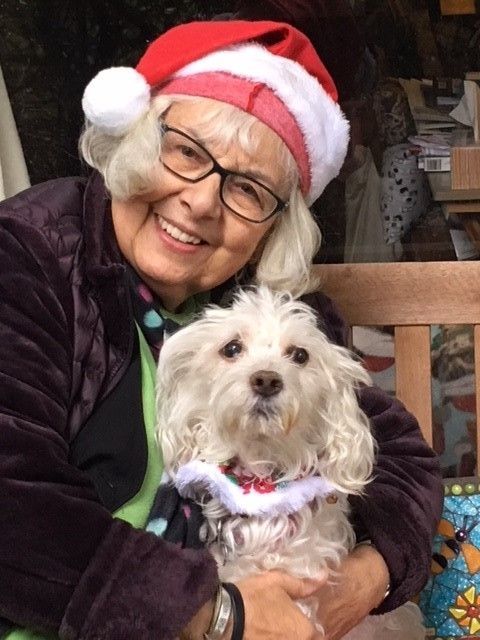 Claudine, 83, of Shoreline, WA died peacefully on February 7, 2022. Born in Paris, she immigrated to the United States to marry Jack Erlandson in 1958 and they were married for 56 years. She eventually became a US citizen and was very proud to be a UW graduate with a degree in English. She worked for many years at UW Suzzallo Library as well as founding a second-hand store called The Last White Elephant for the benefit of animals.

She was an avid follower of women's basketball supporting the UW Huskies and the former Seattle Reign; she was also a founding member of the Seattle Storm and celebrated their four national championship wins.

Queen Claudine, as she was known by her many friends, was a devoted activist for many causes. Over the course of decades, she was a passionate advocate for animal rights, circulating petitions, participating in protests and writing letters to editors. A highlight of her activism and devotion was working as a volunteer at Sanaga-Yong Chimpanzee Rescue in Cameroon.

Claudine is preceded in death by her husband Jack, her sister Lydia and all her furry friends rescued over the years. She is survived by her son, Marc John Erlandson (wife Gail), her daughter Anne Lydia Erlandson (husband Allan and her grandson Aidan), her many nieces, nephews and wonderful friends. 

Donations in Claudine's honor may be made to your favorite animal organization. To sign the online guest book please visit www.funerals.coop. A celebration of her life will be held this summer. 

Claudine was a one-of-a-kind spirit who inspired many. She will be dearly missed and will be forever in our hearts.
---
Comments
What a force, what a wonderful compassionate human. We shared our love of our companion animals, fellow travelers on this earth. And sometime I would come by the store and share poetry. From my first day at PAWS to my days defending and working with protestors she made me feel welcome. The world has lost a great soul
- Marc Mayo
---
Claudine was a wonderful person & a true advocate for animals.
I first met her at the Fremont Street Fair where she and another friend had a booth helping educate people about feral cats. At the time, I didn't know anything about feral cats but was inspired by her to learn about them and start volunteering for the Feral Cat Spay and Neuter Project.
She was a true inspiration and helped many people and organizations in the animal rescue community.
We'll all miss her more than I can say! I'm thankful to have known her and to have been a small part of her life.
I know she's crossed the Rainbow Bridge with all the animals she loved and helped and that they're all happy and healthy.
Bless you, Claudine, for everything you did. I'll miss your great smile.
 
Beth Schlansky
---
Beautiful hearts inspire others and Claudine was certainly an inspiration within the animal rights and animal welfare community. From her work on banning exotic and wild animal acts to helping change the status quo for feral cats in shelters, Claudine was savvy and committed to improving the lives of animals. She also had a delightful sense of humor and was always fun to spend time with. Claudine, wherever you are - I hope Brenda is with you and that she will finally let you pet her!
 
Diane Venberg
---
Truly an inspiring and compassionate person. She was a mentor for me without even knowing it I think. Starting back in 1984 with Paws action- joining her anti fur committee. And all the years that followed, intermittently crossing paths. I am thankful for knowing her just a little bit over the past few years. She will be and is missed .

Sheila Markman
---
I met Claudine in the early 80's through Animal Rights Action Committee, which preceded both PAWS Action and NARN. Claudine was active in all three. I cannot think of anyone more beloved in the animal community. Claudine had a zest for life and a true generosity of spirit, always giving to others. I don't think Claudine had a clue what a special person she was and what she meant to so many people. There was nothing that she would not do for the animals. The world is a better place because she was here. I am so lucky to have known and volunteered along side her for so many years. She will be deeply missed by so many.

Karen Baker
---
Claudine was a shining example of consistency and commitment in all of her activism in that she always understood and honored the value of each and every life, no matter the species, gender, race, and all the myriads of ways all creatures can be. I am honored to have been on the planet at the same time as this quality human. Merci, Claudine!

Veda Stram
---
At The Last White Elephant, Claudine Erlandson's wonderful thrift store, Claudine kindly loaned me a humane trap in the summer of 1994 to capture 11 cats who were stranded when their caregiver died. From August to late November six kittens and five cats were fed twice a day at a feeding station maintained by a kind neighbor. while I systematically trapped them with tuna fish and took the kittens to a shelter and then found good home for four of the adult cats. The fifth adult cat would not be lured by tuna fish; it took sardines to lure him; he I named Archie and he lived a food-centric life until 2008, with his Vet asking me regularly if I could get him to lose two-or-so pounds...
Claudine's encouragement and loan of her spring-trap cage remains one of the richest experiences I've had; the memory of Claudine and Archie is an enduring one for me.
Penelope Burke
---
Claudine was a fearless and beautiful person. I met her through PAWS in the early 1980s and had the pleasure of joining her in many tabling events, protests and then n helping animals. Decades later it was a privilege to have my young daughter join Claudine at her KFC protests in my neighborhood. I hope Claudine is surrounded by the love of all her animals, her husband, and other activists who passed before her. She will be missed beyond measure.

Darcelle Devereaux
---