Allan Blackman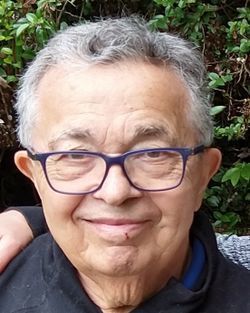 Allan Blackman, beloved uncle and friend, passed away at his home, as was his wish, in Seattle, Washington after 85 full years of life. Allan was born April 7th, 1936 in Philadelphia, Pennsylvania to Rebecca and Samuel Blackman. Allan was the youngest of four children. 
Allan grew up with his brother and sisters in Philadelphia. The family lived above their family-owned deli and ice cream store, "Blackman's," famous all over Philly for the "Blackman dip", the huge scoops of ice cream they served. After graduating from high school he attended Reed College in Portland, Oregon. After receiving his bachelor's degree, he moved to California where he went on to receive a Master's Degree in Urban Planning from the University of California at Berkeley. While at Berkeley he served as President of the Berkeley Core Congress of Racial Equity.
Allan was an enthusiastic cyclist and owned a custom bike which he rode nearly every day of his adult life. He helped lead cycling tours in New Zealand and met many friends over the years by taking reservations as a representative for New Zealand Pedal Tours.
Allan was always seeking the best pastry and had his favorite bakeries in both Seattle and New Zealand that he loved to share with friends and family. He loved his house and garden in Seattle where he had a wonderful view of the entire city. 
Allan is the author of Face to Face With Your Draft Board, published in 1969 by the World Without War Council and widely used by conscientious objectors and their counselors. In collaboration with his nephew, Neil, he also wrote A Thoughtful Conscience: Questions and Answers About Objecting to War, a book of the correspondence between his nephew and himself. Allan counseled Neil on becoming a conscientious objector to the Vietnam War. 
The majority of Allan's professional career was at Group Health in Seattle as a planner. Allan was also instrumental in the creation of the Master of Health Administration graduate program at the University of Washington's School of Public Health. Allan served as the Program Director in the graduate program for the 314A and 314B programs in planning.
Allan was also very proud to be a part of the ACT Study, a collaboration between the University of Washington and Group Health (now Kaiser Permanente Washington Research Institute). The study aims to find ways to delay or prevent dementia and declines in memory and thinking. The study, which has been continuously operated since its start in 1986, is the longest-running study of its kind, and Allan had been a participant for many years. Of the approximately 6,000 participants, only 800 willed their brain to be autopsied by the study. Allan was very proud to be among those 800.
Allan was preceded in death by his siblings Rosalie (Herman) Robin, Edward (Ada) Blackman, Evelyn Blackman and nephew, Neil Blackman.
Allan is survived by his nephew, Steve Blackman, niece Star Place, grandnieces Natalie Blackman and Brittany Blackman, and dear friend Denise Klein and her children Dan, Pearl, and Amanda. 
In memory of Allan, please consider a donation to the Major Taylor Project at Cascade Bicycle Club, which empowers youth through bicycling. Allan was a member of the Cascade Bicycle Club for over 20 years and served as the Chair of the Cascade Bicycle Club Advocacy Committee.
A private gathering for close friends and family will be held at a later date. Please contact Natalie Blackman at nataliesblackman@gmail.com for information.
---
Comments
Will, Allan, guess you are pedaling away on your new journey. :)
I believe I started working for Allan when I was 30-31. I am an old lady now, so; a very long time.
Allan always treated me like a Human being, rather then just someone working for him. That! I truly was so grateful for. Allan had a dry sense of humor. One that matched my sense of humor. A little off, perhaps a little weird, but worked for me. I can remember 3-4 years ago after his hospital stay for an issue, one day he said to me, 'when I croak and you find me dead here at home, will you take my cat Ziggy'? I burst out laughing and stated, sure, telling Allan, 'will I hope it is not me that finds you'. We both started laughing, but there was a look on Allan's face as if to say, 'you will be the lucky one'. :) I knew in the last 5 months it was getting to be Allan's time. Therefore, I graced him every Monday with a smile and a laugh, did more for him to keep him in his home and lived life the way it should be until the end of this journey. See you in the next journey Allan!

Deborah Marlott
---
Allan was one of the intellectual beacons in the early days of regional and statewide heath planning in the 1970s in Seattle. He had a wonderful sense of humor to go along with his intelligence.

Robb Menaul
---
Alan was a wonderful man, a great teacher and my friend. "Why don't you take up Social Work" he said when, uninvited, I showed up for an interview at the Masters in Health Administration (MHA) program at the University of Washington. He went on to interview me and talked about Health Care Planning which I knew nothing about. He was among the first to pursue that field of study. In fact, he helped create it. Over the years we remained friends. I miss him.

Mary Richardson
---
I remember Allan as a smart and funny collaborator. I remember him smiling as he walked down the halls at Group Heath.

Kate Sayers
---
I remember my mom's fondness for Allan well. I'm sorry they lost touch over the years (politics are really a thing), but I'm grateful they had some wonderful times together.
I'm glad they both were members of People's Memorial.
Peace to your family, Allan. Go ride bikes with my mom.
 
Noelle Royer Lindenmann (Ollie's daughter)
---