Richard Wayne Jernberg
1952-2016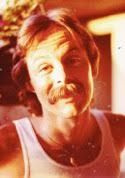 Wayne was born on July 22, 1952 in Ephrata, WA to Ken and Margaret Jernberg. He spent his youth in Sunnyside, but called Seattle his home. Wayne has lived on the Hill for more than 40 years. He was a dedicated, and loving son. The most meaningful work that gave Wayne the most pride was working in an AIDS clinic in the 80's. Wayne loved people. Despite no children of his own, Wayne took great care for  people, and was invested in making their lives better in whatever way he could. He had a tremendous heart. And a salty sense of humor. Wayne's tenacity and will fostered a life that beat the odds, and his optimistic realism has left an inspiring mark on most. 
Wayne's delight were his cat and parakeet. The two were great friends and took excellent care of Wayne. 
Wayne is survived by his mother Margaret Jernberg, sister Kay Godefroy (Jane), and brothers Ken and Jim (Mary Jo) His friend and brother Patrick Gordon (Dawnelle and sons Gavin and Ryder), and his loyal friend Kenny Carlson, Nephews Sean, Guy, Andy and Travis and Niece Karyna. He also had 8 great nieces and nephews and many, many friends.
A celebration of his life will be held Thursday, June 2, 2016, 6:00 P.M. at Tutta Bella, 2200 Weslake Avenue, Seattle.
---
Comments
Margaret - I just wanted you to know that Wayne has always been in our family's hearts. Thanks to Gay Dorsey, I felt that I could follow his life in Seattle and share some of his ups and downs, especially his health issues. Wayne was a remarkable friend and inspiration to many. He will be missed!
Rose Filicetti
---
I am so glad we became Facebook friends for the past couple years, having met Wayne about 40-45 years ago. I'm sorry I never got to visit to see my cousins on the left coast. I certainly enjoyed Wayne's sense of humor and political views.
Susie Jernberg
---
Wayne was a wonderful person, I met Wayne in 1979, & stayed friends since. He & I worked shared at a dental office, he would always call & ask about my grandkids or before them my 2 girls. He was a very caring & giving person. With all his medical problems he always had a positive attitude. I will miss you Wayne. Godspeed
Terri Saxlund
---
Wayne was an amazing, and very giving person. He was always there to help others and always had a great smile and kinds words for everyone.
John F. Filicetti
---
Wayne and I became friends at the UW internal medicine clinic.For many years I helped him care for his IV port. We spent much time sharing stories of families and friends. He loved his mom dearly and often talked of spending time with her. He was so proud of Patrick and loved his nephews Gavin and Ryder. Wayne loved sharing pictures of his sweet niece and nephews. I loved Wayne's crusty and honest personality and sense of humor. He was a good man and I will truly miss him.
    
Jane McNulty, RN
---
Wayne was funny, smart, courageous, and often sentimental, and he had a memory that constantly amazed me. Always upbeat and optimistic, he taught me a few things about appreciating life and the opportunities given. I have friends who've never even met Wayne who consider him an inspiration. He was my friend longer than any other (since 5th grade) and I hate knowing he's not just a phone call away. I'll miss him. ~ Love you, Wayne.
    
Cindy Clevenger
---
Wayne was one of my oldest friends--since 7th grade. (Cindy has me beat by 2 years). He worked hard at maintaining his friendships: always calling, keeping in touch, asking about my family. He met all his physical challenges with courage and positivity, and he made the best of every situation. He could talk politics for hours. He kept up on all the news and had strong opinions about all the current events. I'll miss his phone calls (long), his political rants (strong), and his care and love (endless). RIP Wayne. We'll never forget you.

Gay Dorsey
---
I met Wayne in business school - ITT Petersons School of Business to be exact - we were in a Hotel/Motel Management course together. We remained friends long after school was over, losing contact in the late 1970's. My sincere condolences to family. I know he will be missed. I know this is late, but I just found out today of his death from another mutual friend. Rest in peace old friend.
Jeff Crosby
---
Wayne was one of my biggest fans during my days as an artist on Broadway when I had a small kiosk in the Broadway Market. He would buy mine and others work and adorn his place with the colorful glass art. He was the embodiment of color and character. I'm sad to be writing this memory a year after his passing. Over the years we didn't see each other as often as we'd like, but about once a year I would call him up when I was in the neighborhood to make a visit. The last visit I had with him was about a year and some months. He told me about some of the recent health scares and though it was scary, he took it all in stride, with his sarcastic wit and ever jovial spirit. I'm going to miss this friendship very much. I'm so sorry I had to google his name to read about his passing a year ago. Now I know why my messages were never returned. To all who knew Wayne, we've lost a lovely, supportive friend. My sincere condolences to his mother whom he adored and to his sister and extended family that he shared many stories to me about. Thank you Patrick for being his dear friend over the years.
David Johansson seattle
---