In Loving Memory
August 5, 1927 ~ July 17, 2015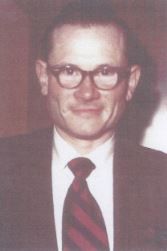 Phil passed away peacefully, to be with the Lord, July 17, at Queen Anne Manor from Alzheimer's disease. Phil is survived by his wife, Elaine, married 58 years, they had no children. Phil, an only child, was born in Wenatchee to Marcques Phillip Davis and Phyllis Mildred Davis. They moved to Seattle soon after Phil's birth. The Davis' were long-time residents of Magnolia. Phil attended Queen Anne High School during WW2 and was enrolled in the V12 program. He was interested in electronics and joined the Navy, training at the Great Lakes facility in Chicago at the end of the war. He continued on in the Navy Reserve for 36 years. Phil enrolled at the University of Washington and belonged to the Theta Chi Fraternity. His education was cut short when his father was diagnosed with an illness and accident requiring Phil's help to his mother.
He returned to Seattle after the Navy training to work in engineering for KRSC radio. It was bought out by Mrs. Bullet to form KING TV. Those were the exciting days of his life, being in on the ground floor of TV. But he needed more challenges and went to work for Boeing, in the Facilities, the Acoustics Lab, and finally in Wind Tunnel instrumentation. Phil mentored many friends along the way. He was always generous with his knowledge. Phil was a life member of the Seattle Yacht Club and at one time had a sailboat. He was also interested in computers, belonging to 2 clubs in the past. Phil and Elaine shared a love of music, dancing, Broadway Musicals, and theater. Phil loved the water and lived on a houseboat for all of his married life. He was always generous with his time and talent to help his neighbors.
A service for Phil will take place on August 8, 2015, at 1 P. M. at St. Luke's Episcopal church in Ballard, 5710 22nd Ave N. W., Seattle. In lieu of flowers, a tax-deductible donation can be made to the Phil Davis Scholarship Fund at QAHSAA, PO Box 9128, Seattle, Washington 98109-0128.
---
Comments
---