Edwin B Gillispie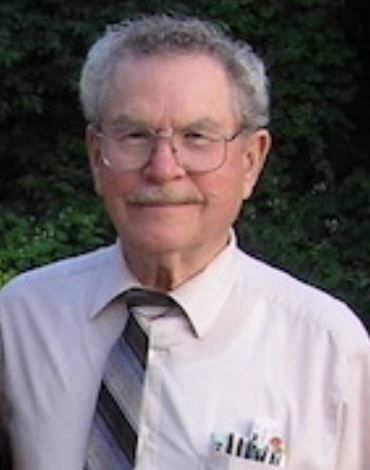 Edwin B Gillispie passed from this life on June 22, 2022, at Valley Medical Center, Renton, Washington, at the age of 92, with his wife of nearly 70 years by his side. He was born in Roger Mills Co., Oklahoma, on September 12, 1929, the first child of Delmar B and Rosalia May Gillispie.
In 1944 he, with his parents and four younger sisters, loaded their belongings into their car and moved to Medford, Oregon, where his youngest sibling was born. Edwin graduated from Medford High School, going on to work his way through Oregon State College (now Oregon State University) earning a Bachelor of Science
degree in Manufacturing Engineering in 1954.
Edwin met his wife, Claudia Cooper, on a blind date arranged by his sister. They married the following year in July and moved to Corvallis, Oregon, where Claudia supported them for Edwin's final two years at OSC. They then moved to the Seattle-Renton area where Edwin worked for The Boeing Company for 35 years, retiring in 1990.
In 1958 the couple bought a new house in the Renton Highlands where they remained, though updated the house in 1993. They had four children, three of whom graduated from Hazen High School and are now retired. Their fourth child, David, died at age 6 and was buried in Greenwood Cemetery where both Edwin and Claudia will eventually be buried beside him.
The couple were founding members of First Christian Church in Renton, which became United Christian Church located in the Cascade area of Renton. Edwin served in a variety of roles at the church, mainly those concerning the building and grounds . He used his skills to meet practical needs of his home and church. He was always "on call" for help needed by his family, his church and his neighbors.
Edwin is survived by his wife Claudia; his son Steven Gillispie, Seattle; his daughters Suzanne (Marc) Nilsen, Bellevue; and Jane (Ripp) Brammer, East Wenatchee; seven grandchildren: Del (Melissa) Brammer; Tate (Sonia) Brammer; Evan (Hayley) Brammer; Kase Brammer; Elizabeth Nilsen; Aaron Nilsen; Ben (Serena) Nilsen; siblings Ruth Keen, Battle Ground, WA; Maxwell Gillispie, Medford, OR; and eight great-grandchildren. He is preceded in death by his sisters Mayola Watson, Alverna Biggs, Leora Guthrie, and by his son, David.
Edwin enjoyed fixing things and visiting with friends and family. In his younger years he was involved in outdoor Scouting and Campfire activities of his children, and later he and Claudia went camping and backpacking by themselves. After he retired they traveled the country in their RV, searching out ancestors and relatives and visiting living family.
A celebration of his life will be held on July 9, 2022, at 11:00 am at United Christian Church, located at 15509 116th Ave. SE, Renton WA 98058. Masks will be required in the church.
---
Comments
Edwin will be deeply missed by myself and my daughter Kimberly. He was a dear man and a charmer.

Audrey Steele
---
Edwin was always the smiling, gracious presence at the door at the United Christian Church of Renton, the spiritual home for he, Claudia and the family for so many years. Always made members and visitors welcome and checked off your presence in his notebook. He and Claudia were always a pair: together in their interests and their church and community service. He certainly will be missed! "Well done, good and faithful servant, enter into the joy of your Lord." Blessings and peace to Claudia and the family.

Rev. Marvin Eckfeldt
---
Edwin was a quiet presence but full of laughs and good hugs once he had checked you out. He was easy to talk to had positive remarks to share with all. I will certainly keep Claudia and all who loved him in my prayers.
Well done good and faithful servant!

Regina Morton
---
Few men can live up to Grandpa Edwin. Alone, his 70 year marriage was an exceptional accomplishment: providing, protecting, loving Mamere and keeping them safe on the road and in their forever home. Within that storied marriage he raised good, kind children, with gracious hearts and inquisitive minds who've accomplished great things! We could stop there, and that would be more than most men could claim. But, I am his grandson, and I have more to say.

First and foremost, he taught me to look deeper, and fueled my fascination for engineering, and eventually computers and IT, which is how I provide for my family and fund our retirement. He gifted me my first tool set, which had a wood saw and a hammer, probably too dangerous, but I couldn't wait to use it, and my dad was happy to show me how. In my late 20s I acquired his 40+ year old radial arm saw(HUGE); I don't think I'll ever part with it.

Grandpa Edwin showed me his intricate method for starting campfires and how to toast the perfect marshmallow for s'mores. He taught me that a single door cannot have too many locks. He taught me the importance of leveling the RV, so the bubble was between the lines… Mamere and Grandpa's love for nature, history, and respect for all things living was never lost on me. I'll never forget how he cut our orange flavored vitamin C pills in half as kids, or the spoonfuls of cod liver oil, always making sure his grandkids were strong and protected from a changing, dangerous world. Oh, and he always had his pocket knife.

I can't say that I had many long talks with Grandpa Edwin, but his presence was always felt, and warm, and comforting. The few words we shared held weight and guided me along my path to manhood and fatherhood, and eventually I will look to his memory as I sit amongst my grandchildren and reminisce, telling tales of the best Grandfather a boy could have: Edwin Gillispie.

Edwin is my middle name; We named our son Edwin. I'm grateful that Eddy got to meet his Great Grandpa Ed before he passed. My lil Edwin may not remember it when he is older, but we will tell him stories and share his legacy so that he can pass it on to his family for years to come.

Grandpa Edwin will never be forgotten in the Brammer house. I will miss him, and remember him fondly, and do my best to honor his name as my own, and my son's.

Evan Edwin Brammer
---
Edwin always had a smile on his face. He was a hard worker at UCC. He took good care of the fountain and made sure that the candles were always filled. I enjoyed his friendship and he will be missed. My condolences and prayer for Claudia and the family.
Bill Utterback
---