Gerda Middleton
5 December 1932 – 16 September 2023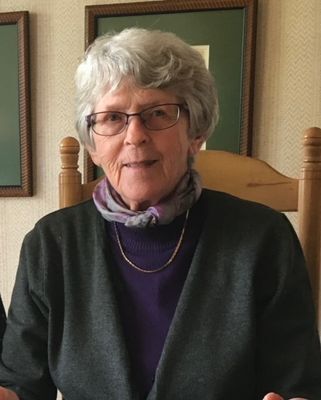 Gerda Middleton's life was a grand tapestry; admirable from a distance for its beauty and scale and equally awe striking up close for its neatness and detail. She wove together the lives of her family in Denmark with the family and community she nurtured and expanded in the Seattle area. A warm ethic of hospitality and comfort suffused her life and enriched the family and friends fortunate enough to spend it with her.
Born (Gerda Olsen) in Bindslev, Denmark on December 5, 1932, Gerda was the eldest of four children of Thomas and Ragna (Larsen) Olsen. Gerda was considered the adventurer of the family and trained as a nurse.  After working in various hospitals in Hjorring and Copenhagen, Gerda set her intrepid sights on further adventures, working in hospitals in Norway and England before landing at Swedish Hospital in Seattle as a labor and delivery room nurse. In Seattle, Gerda connected with other Danish nurses, and they would attend the folk dances offered by the Danish men who lived at Washington Hall. Those friendships were cemented and have remained all these many decades later. 
One night at a party, she met a handsome English widow who was working as an engineer at Boeing. She married Robin Middleton in August 1962 at St. Thomas Episcopal church in Medina, WA. Robin brought the gift of his daughter, Sally, to the marriage. Soon a daughter, Jane, and a son, Chris, were born. The Middletons bought their home on Clyde Hill and started to build their blended European traditions as they raised their family. 
The group of immigrant families, known collectively as "the Danes," gathered for annual camping trips to Kalaloch and Mt. Rainier. They celebrated Thanksgiving and the Fourth of July together every year. Well into her 80s Gerda gracefully hosted more than thirty people for Thanksgiving each year. "The Danes" and their spouses and children and grandchildren gathered around a gorgeously laid table as she flawlessly directed the potluck.
As the kids grew up, a constant stream of friends, neighbors, and schoolmates were welcomed in Mrs. Middleton's kitchen where there was always lunch for one more at the table or a treat of homemade bread served with homemade blackberry jam or marmalade. The kids recall her teaching them traditional crafts like folded white paper stars for the Christmas tree. Summers meant she was tending her favorite blue hydrangeas and her vegetable garden. Her homemade pickles are legendary.
She was a source of support to her children even when it meant the garage was displaced for Chris's car projects or a pack of high schoolers started brewing beer to make sure their drinking was stationary and supervised. 
When her youngest was in middle school Gerda began to study for her state nursing boards and eventually began a new career as a pediatric nurse at Pediatric Associates in Bellevue, and then at Children's Hospital Allergy Clinic. Gerda's retirement (well into her 70s) allowed her time to continue her lifelong passions of knitting and gardening, traveling, and watching her grandchildren grow.
The children in Gerda's life were treasured from the moment they joined the extended family. She knit and sewed clothes and crafted toy bears for baby gifts. Tiny sweaters flew off her knitting needles and dresses, blankets, and other handmade essentials welcomed the newest members of her growing circle. She stood behind these gifts like any exceptional craftsman; in one case she repaired Teddy's nose and footpads 48 years later. 
Her devotion to detail is further exemplified in her embroidery work for the communion kneelers at St. Thomas church. Her work on the altar guild added reverence and dignity to the worship space. She thought nothing of bringing home 40-some choir robes to clean, tailor, and repair. 
Gerda is survived by her husband Robin, daughters Sally (Jeff), Jane, and she preceded her son Chris ( Deirdre) by exactly one week.
She is survived by grandchildren Brendan, Bryce, Kyle, Conor, Lara, Pelly, and Henry. Great-grandchildren Dominic, Florence, and baby Elowen. She is also survived by her two sisters, Edel and Grete, and many close relatives in Denmark. Gerda was predeceased by her brother Erling.
Gerda and her son Chris (58) were both diagnosed this year with pancreatic cancer three months apart. Chris passed exactly one week after his mom at nearly the exact time, so it is fitting that we will celebrate their lives with a joint service on Saturday, October 21st at St. Thomas Episcopal Church in Medina at 2pm.
In lieu of flowers gifts in memory of Gerda may be made to the St. Thomas Episcopal Church music program, or Cancer Lifeline.
---
Comments
Oh my, such sad news. I'm an old friend of Sally's and had the pleasure and much fun of celebrating Gerda and Robin's 25th wedding anniversary in Denmark. As I recall it was an all night party and lots of fun. As Gerda and I were both nurses when together we would talk "nurse talk". I was so very sorry to hear this news. My deepest thoughts and sympathies to Robin, Sally and Jane and their families. It's just unthinkable to lose both Gerda and Chris so close together. My heart goes out to you all
Janna Pekaar
---
I met Gerda when I was hired on at Pediatric Associates as a new RN in 1998. She mentored me and taught me so much. I learned all about allergy shots, spirometry and exercise tolerance testing. I remember her last exercise testing . She had a patient running laps outside in the parking lot and then Gerda slipped and broke her wrist. That was the end of that. Gerda was so kind and had a great sense of humor. I also remember making Christmas crafts at her home with the other great PA nurses. Rest in peace Gerda. You lived a great life and made the world a better place.

Julie McCallum
---