Larry Lee Larsen
12-18-40 - 2-14-19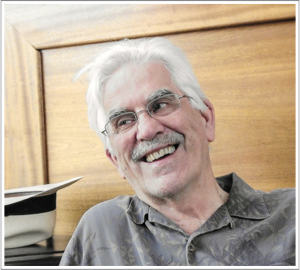 Photographer, painter, ceramic sculptor, boilermaker, bon vivant, iconoclast, Larry Larsen passed away peacefully on Valentine's Day in Seattle.  Born in Billings, Mt., to Oscar Larsen and Ethelyn Hines, the family moved to Powell, Wy. in 1947.   After high school graduation, Larry left for Minneapolis and then San Francisco.  
Larry married Sharon Backstrom in 1960 and had daughter, Dana.  He graduated from San Francisco State in 1965 with a degree in Fine Art.  An anti-war resistor and activist, Larry was involved in a police brutality riot in 1967 where he was beaten and arrested along with 6 others.  What became known as the Mission 7 trials ended in suspended sentences for all defendants after a 20 month slog through the courts. https://48hills.org/2016/01/police-riot-1967-echoes-today/ 
 
He married Leslie Boles and had two sons, Eric and Chris. For 30 years Larry worked as a Boilermaker welder, but always made art in his free time  A true perfectionist, he worked steadily on the restoration of his 1917 Wallingford Craftsman and garden.  He had several notable early trips to Europe, India and Japan as an adjunct to his art and design interests and spiritual questing.
As a painter, Larry exhibited at the Kirkland Art Center Gallery ('93),  the Bellevue Art Museum ('92 Pacific NW Annual), and the Center on Contemporary Art ('90 NW Annual, Best of Show award).  He worked as a ceramic artist between 1966 and 1990.  He was always influenced by the vast emptiness of the spaces where he grew up, a constant theme throughout his artistic career.
With his partner of 20 years, Ruth Quinet, Larry traveled around the world several times, going to most European countries, Russia, China, southeast Asia and Africa, and to many of their favorite US cities.  He was a connoisseur of art and photography, jazz (but with an uncanny memory for 50's and 60's pop lyrics), orchids, and bamboo. Larry was also an excellent cook. Larry and Ruth hosted countless dinners for friends and family, with Larry preparing complicated main course extravaganzas.   Larry was involved in several neighborhood efforts over the years to calm traffic, ease parking and high density issues, and was an involved Democrat.  
Beginning in 2008 Larry focused on his photography, exhibiting in numerous gallery shows:  Blue Sky Gallery and 23 Sandy Gallery, both in Portland, Photo Center NW's 16th and 17th Annual Exhibition ( Merit Award in 2009), Wall Space Gallery (Merit Award), Vermillion Gallery, Globe Gallery, The Mighty Tieton Warehouse Gallery, Kent Summer Art Exhibit (Kent City Hall), The Art Study, 38th National Photo Exhibition in Yakima, and Gallery One, among others.  He self-published a book of selected photos in 2013 called Street Light which is available on Blurb: http://www.blurb.com/b/3493970-street-light. Much of his work remains on Flickr at: https://www.flickr.com/photos/larrylarsen.

Larry leaves behind his partner, Ruth Quinet (her son Derrick Quinet), daughter Dana Vermilion (Mark) of Kent, Wa., sons Eric (Tarina Yasmoothr) Larsen of Fairfax, Ca., and Chris (Meg Cary) Larsen of Seattle, his grandchildren, Megan and Lauren Vermilion and Cyrus and Alma Larsen, his sisters Jean Paul (Ernie) of Powell, Wy., and Paulette Johnson (Terry) of Ogden, Ut., and many other family members and friends. Good friends Dean Forbes and Kevin Purcell will miss their bi-weekly "chinwags" at the Elysium with him.  Always a radical, Larry lived life on his own terms until the end.  He was an introspective, thoughtful and well-intentioned man, and we are very happy to have been a part of his life.  
To celebrate his life, there will be an exhibit of Larry's work at Globe Gallery with a reception and gathering for friends and family from 5 to 8 pm on Saturday, June 8, 2019.   Globe Gallery is in Pioneer Square at 105 S. Main Street, #100, and we would love to see you all there.  If you can't make it that evening, Larry's work will be on display through July.
---
Comments
What a wonderful life! May light perpetual shine upon Larry. Blessings and comfort to his loved ones and friends.
    
David Stewart
---
Larry and I each made our way to San Francisco as young adults, after childhoods that involved rural isolation. We met as co-defendants (part of the Mission 7) after a police assault on a draft-resistance fund-raising party. We were on felony trial together for three weeks. In the twisted logic of repression, Eric was convicted and did the jail time – over seven months – for acting responsibly in facing the police. Five, including Larry and me, got hung juries and faced retrials. In the end, we prepared to act as our own attorneys and built our case on the 2,000-page trial transcript, riddled with inconsistencies in police testimony. Ah, San Francisco in the late 60's! And our saga, all but forgotten: a dissonant chord next to the well-known Summer of Love refrain.
Larry and I reconnected over the last 15 years, during my frequent visits to Seattle from the Bay Area, after both of us had retired from work in the metal trades. As I first approached his house, the ersatz and whimsical objects in the front let me know that an artist lived there. Walks around Green Lake, long talks over coffee about the old times, the new times, our children, politics, travel and Larry's photography. On February 17th, I pulled into Seattle on Amtrak; Larry and I had planned a lunch get-together for the 18th or 19th, but I learned he had died on the 14th. The photo in this obituary captures a lot of what I'll miss about Larry!
    
Steve Morse Oakland, CA
---