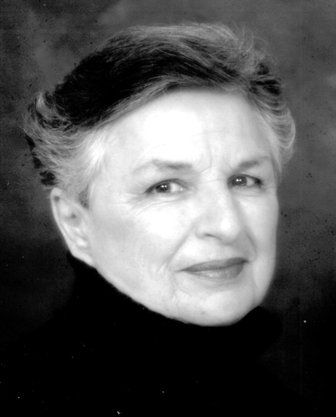 Barbara Louise Allan, passed peacefully on November 7, 2014.
Barbara was born in Seattle in 1927, graduated from the University of Washington and was a member of the Kappa Delta sorority.
When architects in Washington needed information about accessible design, they called Barbara Allan. Barbara's passion for design that empowers people of all abilities left its mark on the hundreds of accessible public and private buildings in Washington and around the nation. Her decades of effort in accessibility advocacy and education earned her national recognition and accolades for her pioneering work in accessibility design, advocacy, education and legislation. She was a humble leader in the movement towards a "culture of accessibility."
Barbara became involved in barrier-free design concepts beginning in the early 1970's. A spinal-cord-injured paraplegic originally trained as a graphic designer, she applied her experience as a wheelchair-user to understanding and advancing key notions of universal design and accessibility. Products of her effort include well-executed and influential publications that captured public and professional attention, including several editions of Accessibility Design for All, An Illustrated Handbook. She regularly spoke to and taught public, professional, and student groups, over the years garnered the respect of architects and design professionals throughout the US for her knowledge, understanding, determination, and continuing commitment to accessibility.
She worked alongside design professionals in hammering out regulations that support the values of accessibility. Washington governors appointed her to a series of key positions on the State Building Code Council and to the Governor's Committee on Disability Issues and Employment; in 1992, a Governor's Proclamation recognized her distinguished contributions. In large part due to Barbara Allan's efforts with the Easter Seal Society, Washington was the first state to have its regulations certified by the US Department of Justice as equaling the accessibility requirements for the Americans with Disabilities Act of 1990. For her accomplishments, Barbara Allan was recognized by The American Institute of Architects (AIA) National, AIA Washington Council and AIA Seattle as an Honorary Member.
Barbara downplayed any of these accomplishments, preferring to believe that if designers could see and understand the reasons for the regulations, they would make better design choices that would be more inherently accessible. She recognized that designers were visual learners and developed various graphic tools, including Accessibility Design for All, An Illustrated Handbook, to illustrate how and why of the accessibility regulations. This book became the leading guidance and a well-thumbed reference book for architects in Washington. She was a well-respected resource on many significant local projects, thoughtfully balancing her recommendations with real-world understanding of cost, constructability and the needs of people with disabilities. When the ADA regulations were just coming into play, Barbara was a great advocate for reasonable accommodation and helped the design community understand what that meant. In her many years she was with The Easter Seal Society she worked tirelessly with architects and developers to come up with solutions that worked for everyone.
Everything Barbara did, she did with grace and kindness.
 
Barbara will be greatly missed by Kathy Mayfield her lifelong and dearest friend of 54 years. Barbara is survived by her sister Virginia Smith of Folsom, CA; cousin Greg (Sally) Fenton of Bainbridge Island, WA; cousin Hap (Pat) Myer of Boise, Idaho; niece Linda (Marvin) Harold of Yuba City, CA; newphew Kenneth (Gayle Elledge; niece Valerie (Brian) Martell; Scott Elledge and many other dear nieces & nephews. Barbara was predeceased by her sister Lucy Bradley and her parents, Mabel Uden Smith and Donald Allan (Seattle pioneers).
A memorial service has been planned for Sunday, January 11th, 2015 from 1:00 - 3:30 PM at the Northgate Community Center, 10510 5th Avenue NE, Seattle, Washington 98125.
---
Comments
I was blessed to meet, laugh and enjoy the company of Barbara prior to her passing. She was a delightful woman and I shall miss her! I will always be here for you Kathy should you need anything! I love you and remember "earth has no sorrow that heaven can not heal" Be blessed --Pam Brown
---
I will miss Barbara very much. Her professional life is a huge accomplishment and has improved the lives of countless people without them even knowing it. The Barbara I know and was blessed to call friend was humble, gracious, and kind, as mentioned above, but so much more. She was a punster, a poet, a hostess, a storyteller, the woman whose infectious laugh brought herself and the rest of us to tears on many an occasion. Although teased about her culinary activities, she was always willing to make Kathy a Sunshine cake for her birthday or bake brownies. She was the first true chocaholic that I ever met, but she also had the discipline to only eat the best and show that it only takes a square if it is premium to do the trick. She shared her love of the things she read and studied and I thank her for helping me learn more about God in my life. Every time I sing Happy Birthday I will miss her harmonizing,every holiday I will miss her special touches, but most of all I will just miss my smiling friend. Wherever you are now, Barbara, it is a better place for your presence. --Denise Lefebvre
---
I had the good fortune to meet Barbara during my first visit to Kathy and Denise. Barbara sparkled, laughed and teased throughout that meal and I knew that my life had been touched by a remarkable person. It is also a blessing to witness the close and special love between Barbara and Kathy. A love like like cannot fail to make the world a better place. Thank you, Barbara and Kathy. --Lynette Lindahl
---
Barbara has been a special friend of mine for 40+ years. She was always such a pleasure to be around -- her smile, her love of a silly joke, her in-depth knowledge of barrier-free design, which had such a positive impact on all of us in the disabled communnity. She shared her wisdom and knowledge with grace and humility, not beating anyone over the head with it -- but definitely getting her point across. She had a tremendous impact on making Seattle a model of barrier-free design. Our thoughts and prayers go out to Kathy, her partner of 50+ years, who provided loving and strong support to Barbara. Peace be with you. --Julie Wysocki
---
Barbara will always be my respected and loved mentor. She encouraged and guided me as a young architect who was just coming to grips with my role as a member of the disability community. She demonstrated how that aspect of my person could influence my career for the better. I hope to pass that encouragement on to other young people who also believe in the power of good design. My thoughts too go to Kathy, who was the steadfast support behind Barbara and kept her happy and safe when things appeared bleak. You both made such a difference to our community. Thank you! --Karen Braitmayer
---
Barbara and Kathy were part of my family gatherings for many years -- Christmases, Thanksgiving, Halloween, and many other festive occasions. My dad introduced me to the two of them when I was in college and I spent many fun times with them traveling and in their home and enjoying each other's company. In later years (I'm now retired) our paths diverged and I didn't see them very often but when we would get together the bond of many precious memories still tied us together. Specific memories of time shared with Barbara include Halloween costume parties at her home, stopping to check out the accessibility of restrooms at freeway rest-stops (often occasions for much hilarity), a Dosewallips camping trip, and her artistic touch expressed in a specially designed home, and in the painting she did of Donna (my grandmother). When I think of Barbara I remember her puns, her laughter, her appreciation of beauty, a generosity of spirit, a selfless nature, her love of God, her special bond with my Dad, and her extraordinary friendship with Kathy. Being a part of her life was and continues to be a privilege. She lived life to the fullest. Carry on Barbara -- you will always be needed! --Jan DeLacy
---
My wife, Sue, and I have known Barbara for many years. Sue is especially active in the disability community and consulted Barbara anytime access issues involved use of a wheelchair. I remember several years ago when we all attended an Easter Seals Appreciation BBQ at a camp in Kitsap County. Barbara had never eaten oysters cooked over a fire in the shell. Now, that is a favorite of mine and I told her she should try at least one... She agreed to try one and I put a bit of sauce on it before offering it to her. I really wish I'd had a video of her face when she tried eating her first oyster... It was a classic case of "Oh my God, this is NOT what I thought it would be". Needless to say, she did not ask for a second oyster. She was a very dear friend of ours and will be be missed so much.... She was a great advocate of disability access... rest in peace Barbara...--John Ammeter
---
Barbara was not a member of the Northwest Chapter of the Paralyzed Veterans, but we considered her one of our finest advocates. Her dedication to an accessible America inspired all of us to work harder to provide parking spaces, and planes, trains, entertainment venues, buildings and buses disabled persons could use too. She truly was a hero to all of us who spent hours with her during the Governor's Committee (GCDE) meetings. She commanded our respect ("Saint Barbara") and we loved her dearly. She made a positive difference and made lives better. She was a role model that continues to roll on as her spirit is still alive and well in the hearts of those who were blessed to know her. --Skip Dreps
---
Sorry to learn about Barbara's passing. I had the pleasure to learn from and work with her on accessibility advocacy issues a few years back when I lived in the Seattle Area. She was always kind and open, while also being steadfast with her commitments to accessibility and all the users who benefited from such design smart decisions. Her work has a legacy effect now and in years and decades ahead. --Brian J. Dudgeon 
---
Barbara was my dear first cousin. just a year in age apart and to me like a sister. From our early years we played together a lot both at my home (where we dug in the dirt outside) and at our Auntie Rhea's house way down south of Tacoma in Steilacoom. There we swung in the swing hanging from a tree, hearing train whistles we ran to wave to the engineer and fireman, who waved back. And we pulled taffy between us. We went to the same elementary School. She was in first grade when I started in kindergarten. Barbara, thoughtful through her life, thoughtfully met me early my first day there and showed me the lunchroom, playgrounds and pointed out where the Boys' bathroom was. We thus started very close, she like a sister to me that I didn't have. Barbara later seemed to disappear. I later learned that she'd moved with her mother to California. Twenty four years later I stood with her at the open grave as Barbara stood all alone burying her father.
Barbara's recovery and Barbara's professional leadership toward access for the handicapped were, as said above, "Saintly". I thank Kathy for her friendship to Barbara From her early childhood through eighty seven years old she reached out to me in close friendship. I am missing her now a lot. From Heaven I hear her calling me, just like she had many, many times, "Hap, how are you?" I look forward to her continuing that. hapmiii
---