Kenneth "Ken" Arnold Myrabo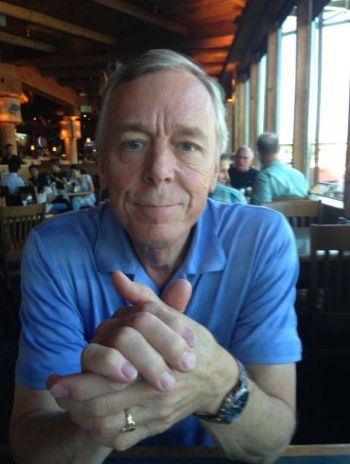 The world lost a kind and exceptional man when Ken Myrabo passed away on December 8, 2019.
Ken was born in Omaha, Nebraska, to Dr. Arnold and Irene Myrabo while his dad was posted as a navy physician on a ship in the South Pacific. The oldest of five siblings, Ken grew up in Sioux Falls, South Dakota, where he graduated from Washington Senior High School. He later attended Augustana College and then graduated from the University of South Dakota with a degree in zoology. 
Ken served in the army during the Viet Nam era, and was posted at Walter Reed Hospital working as a lab technician. While in the service, he met Jessica Dingeman, whom he later married. Together they had a daughter, Alison Beth, and Ken introduced her to many activities such as skiing and a love of the outdoors.
Ken pursued his career in respiratory therapy, working at St. Joseph's in Tacoma, briefly teaching in the field, and obtaining his Master's degree in education at the University of Washington, where he was a Kellogg Fellow. He spent the rest of his career at the University of Washington Medical Center, where he managed the Respiratory Care Department for nearly 30 years. 
In 1995, Ken married Anne Devine, whom he first met in an Orchid Society meeting and got to know in Toastmasters. Together, they brought home a daughter, Phonthip Erin, and spent many special times keeping her connected to her Thai culture through local Buddhist temples and other activities.
A man of many interests, Ken enjoyed traveling to Europe, Australia, Mexico, Peru, Thailand, and throughout the U.S. He raced and owned a sailboat, climbed every major peak in Washington State, was a founding member of University Toastmasters and an avid member of the Northwest Orchid Society. Through his family in the U.S. and Norway he remained closely connected to his Norwegian heritage. His family remembers seeing his kitchen where many orchids were housed and thriving in discarded incubators, and the way he could bring the sickliest plant back to life. He provided the same level of tender, loving care to the many pets the family raised over the years, especially Boze (cat) and Mellow (standard poodle).
Ken led an active life in retirement, serving as president of the Madison Park Community Council and volunteering as a neighborhood pedestrian advocate by helping organize and maintain the flag program. His truest passion was serving as a docent with the Museum of Flight, where he worked on the Thursday afternoon "crew" and studied constantly in order to make his museum tours enlightening and interesting for visitors from all over the world. 
Ken was a devoted husband, brother, uncle, cousin, son, father, friend, and neighbor. His good heart, gentle spirit, "isms," strength, and encouragement will be deeply missed by us all. Ken was predeceased by his father, mother, stepfather (Leo Kucinski), and brother, Arne (Judy). He is survived by his wife Anne, daughters Alison (Eric) and Phonthip, siblings Sonja "Sunny," Leik, and Ray (Sue), and many nieces, nephews, and extended family members. 
A celebration of Ken's life will be held on Sunday, January 19, 2020 at the Center for Urban Horticulture in Seattle, 1:30 – 3:30 p.m., with the service beginning at 2:00 p.m. 
The family wishes to give special thanks to Seattle Cancer Care Alliance for the excellent care that Ken received over the past 3 ½ - years, especially to Dr. Lee Cranmer and the Sarcoma Nurses, particularly Katie. Memorial Gifts may be made to the Museum of Flight
(https://pages.museumofflight.org/soarinto2020) or SCCA Supportive Care Services
(https://www.seattlecca.org/donate-and-volunteer/make-a-donation).
---
Comments
Anne, Allison and Phonthip,
I am so very sorry and will miss Ken. I kept wanting to reconnect with this wonderful person but time just seemed to slip away. He was always a kind, helpful and gentle man. I'm sorry I didn't get to know him better.
Ted Stryker
---
Alison,
Sorry to hear of your father's passing. Our thoughts and prayers are with you.
Rita and Jim Litsinger
---
I wish I'd known this incredible soul. He led a fascinating life. What a beautiful tribute.
~ Greg Hunicutt, Madison Park resident
---
My sympathy to Ken's family. My husband, George, and I also worked at UWMC for 30 years (1962 - 1992). Ken was so good to work with and always put quality patient care first. I so much appreciated Ken attending my husband's memorial service.
Kathie Shilipetar
---
It was an honor for me to be among the Thursday afternoon crew at the Museum of Flight. Ken was Thursday's resident expert on the Lockheed MD-21 Blackbird. Ken truly loved showing the guests around the museum and is very missed. I extend my sympathies to all of you. May you hold good memories in your heart.
Steve Little
---
I am so very sorry to learn of Ken's passing. Anne, you are in my thoughts.
- Nan Evanson
---
Truly the world has lost such a gracious, kind man of many gifts. Free at last.
Kathleen
---
I send my condolences to Ken's family and friends. I have nothing but fond recollections of Ken - he was generous in supporting research work we did on preventing acute mountain sickness in climbers on Mt Rainier. And when I was medical director of UW Medical Center, I experienced Ken as an effective , knowledgeable and kindly leader of our respiratory services - well respected and trusted by all. Ken was a fine person who had a good life
Eric B. Larson
---