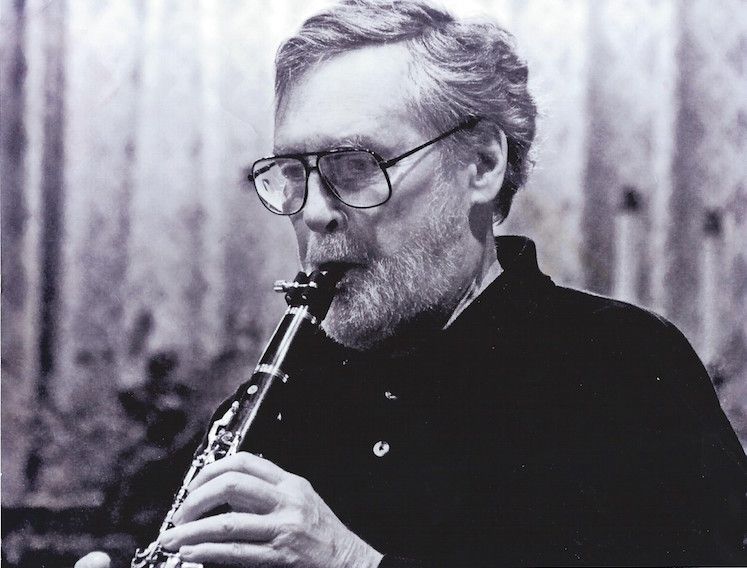 Jack Lynch died at the age of 80 in his home at Horizon House, Seattle, WA, on April 30, 2015, surrounded by the people who loved him, his wife and children. He was born John Irving Lynch, Jr., on December 16, 1934, the first child of John Irving Lynch and Hilda Edmonds Lynch in Auburn, NY. He is survived by his loving wife, Ingrid Lynch, and his children John Christopher (Anna) Lynch of Chapel Hill, NC, Suzanne Siobhan Lynch of Virginia Beach, VA, Michael Allen (Heather) Healy of Ann Arbor, MI, and Maureen Anne Healy (Will Pritchard) of Portland, OR, as well as his grandchildren Flannery Elizabeth Lynch of Raleigh, NC, Riley Davis Lynch of Chapel Hill, NC, Connor Michael Healy, Erin Ashlyn Healy and Brenna Grace Healy of Ann Arbor, MI, and Ava Louise Pritchard and George Jackson Pritchard of Portland, OR. He was preceded in death by his brother, Thomas Lynch. He is survived by his sister, Hani Andrews, of Elkridge, MD.
Jack lived the last 3 years sharing his lifelong passion for music with friends at Horizon House. Prior to that, from 2004 to 2011, he and Ingrid lived on Shaw Island enjoying their retirement in the San Juans. Prior to retirement, he established his private practice, Redmond Pediatrics, where he worked for 29 years.
Jack left his parents' home at the age of 15 to attend the pioneering Early Admissions Program established by Robert Hutchins at the University of Chicago, from which he obtained his BA and BS degrees in 1955 and 1956, respectively. He obtained his MD from the Medical College of Virginia in 1960 and did his residency at the Bethesda Naval Hospital in 1965. Before his residency, Jack served in the US Navy, overcoming his fear of water to become a deep sea diver and serving in the submarine corps for three years. During that time, he became the Chief Medical Officer on the US Sam Houston Polaris missile submarine. He married Beverly Anne Beale in 1961, who gave him his children Christopher and Suzanne in 1962 and 1964, respectively. They divorced in 1974.
Jack moved to Seattle where he met his lifetime partner Ingrid Healy. They married in 1975. Later, they settled in Redmond, when Redmond ("Bicycle Capital of the Northwest") was better known for its annual Derby Days celebration than it was for being the home to Microsoft.  They would have celebrated their 40th anniversary on May 1st.
In Redmond, Jack became a community institution. In addition to serving his patients at Redmond Pediatrics (whose telephone number 881-KIDS was his well-known a license plate around town), Jack made many contributions to young people. He served as a member of the school board of the Lake Washington School District during the 1980s. He also coached the Redmond Ravens boys' soccer for many years roaming the sidelines at Marymoor Park with his usual passion and gusto. He often took the Ravens to get pizza at Pizza King, where the Dr. Jack Special pizza was a team favorite.
In his retirement, music was very much at the center of Jack's life. It should be noted that, with his desire to perform any task to the fullest, Jack was never taught to read music; he learned to play by ear. Even though he was part of the marching band in high school, he was denied acceptance into the band at the University of Chicago because he couldn't read music at that time. For forty years he did not pick up a clarinet. It was only later in life that he taught himself how to read music, and further to transpose musical parts from one instrument to another. He used this gift to accommodate multiple instruments when he later became conductor of the Island Sinfonia in the San Juan Islands. He also played the B flat clarinet with the Eastside Symphony Orchestra, the Seattle Philharmonic and the Island Sinfonia. At Horizon House Jack shared his love of music with others as the head of several music committees and also played to support residents in assisted living.
Jack's hobbies were many and varied. He thrived in the outdoors - backpacking and mountain climbing in the Cascades and kayaking in the Puget Sound and elsewhere. He completed the Emerald City marathon and many triathlons. He served on the medical ski patrol at Steven's Pass and many family weekends were spent navigating the runs of the Big Chief, Tye Mill and Old Main chair lifts.  He had a great mind that he exercised regularly teaching himself to read and write Gaelic (no small task) and matching wits over the years with his computer chess nemesis Boris the Diplomat. During what is sometimes lovingly referred to as his hippie period he took up wood carving, leather working and glass blowing.   
During retirement Jack took great comfort in the companionship of his feline friends Dierdre, Amigo and Hunter.    
While Jack was secular during much of his adult life, he returned to the Catholic faith of his youth while living on Shaw Island. There he enjoyed services at the Lady of Our Rock. In Seattle he attended mass at St. James Cathedral.  His faith was very important and a great comfort to him.
Jack lived life with zeal and had a positive impact on the many people he touched during his journey. He will be missed by those he loved and those who love him. Tá grá againn duit; go dtugtar slán abhaile thú, Jack. (We love you; may you be carried safely home, Jack.)
Gifts in Jack's honor may be made to the Eastside Symphony (www.eastsidesymphony.org) or the Seattle Humane Society(www.seattlehumane.org).
---
Comments
thanks jack for the opportunity to know you----ed wilson
---
As a member of U.S. Submarine Veterans of North Carolina, I extend condolences to those members of Jack's Family in Raleigh and Chapel Hill. Be assured, Jack's oar is at rest. Chaplain Bill (Tarheel Base, USSVI) --William W. Whelan
---
You were a beloved part of our life for many years. The only doctor my children ever knew. 
You will be missed.
The Primeau family
Mike, Cathy, Michael, Jennifer and Alex.
--Cathy Primeau
---