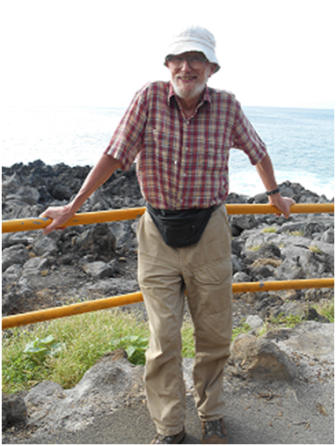 Gordon was born in Newcastle-Under-Lyme, England to Eric & Jessie Green on May 25th, 1936.   He died peacefully at his home in Seattle after a five year battle with multiple myeloma.  He leaves behind Gabrielle, his wife of 41 years , son Andrew (wife Patti) & grandchildren Chris, Quinten, Kayla & Zackery.
A well known and highly respected geotechnical engineer, Gordon obtained a 1st class honours degree in Civil Engineering  (King's College, Durham).  Gordon was awarded a 2 year Fulbright scholarship in the USA where at Northwestern University he obtained an MS in Soil Mechanics in 1962.  He completed his stay by working briefly for Shannon & Wilson in Seattle, then resuming his studies in England at Imperial College, London.  By the time Gordon obtained a PhD in Soil Mechanics in 1969 he held the position of Lecturer in Soil Mechanics until his departure from Imperial College in 1974. Additionally, during this period Gordon served as a consultant to several European firms including Soil Instruments, the leading British manufacturer of geotechnical field instrumentation, the design & installation of which became Gordon's specialty.
Shortly after meeting & marrying Gabrielle in 1972, the Green family decided to emigrate and in 1974 settled in Seattle. Gordon rejoined Shannon & Wilson as a senior associate & later principal engineer from 1974 – 1987, where upon he joined Golder Associates.   In 1988 Gordon became an independent Geotechnical Engineering & Instrumentation Consultant working in this capacity until ~ 2011.
As a teenager, Gordon was an avid biker; then hiking & rock climbing became his passion especially the Alps where he scaled Mont Blanc & the Matterhorn mountains.  Walking the entire English Pennine Way was another achievement.  This love never waned & in later years Gordon & Gabrielle spent many summer vacations in the Alps or walking segments of the 600+ miles of the English Southwest Coastal Path with sadly about 300 miles to go.
Gordon loved his home where he had a well equipped & organized workshop for house or car repairs & his woodworking hobby.  No dripping taps in this house!  After retirement as his disease progressed, Gordon regularly tackled Sudoku & cross word puzzles in the Seattle Times over a lengthy breakfast. Cycling racing, especially The Tour de France on TV was a not-to-be-missed event. Gordon eagerly awaited the 2014 Tour which starts in Yorkshire on July 5th; I'm sure he'll be watching it in spirit.
A celebration of Gordon's very full life will be held at his home on Sunday July 20th from 2 – 5 PM.  The family invites his many friends & colleagues to stop by during this time and share their memories of him.  For address details contact Gabrielle.
In lieu of flowers, donation in Gordon's name can be made to Washington National Parks Fund (WNPF) a nonprofit that helps support our local underfunded national parks www.wnpf.org or to the Multiple Myeloma Research Foundation www.themmrf.org.    
Please share your memories of Gordon here.
Gabrielle & family
---
Comments
Gordon Green was our next-door neighbor and beloved friend of almost 35 years. Agata & Nick Elia were first introduced to the Green family when their son, Andrew, would come over for play dates with Agata's nephew, Joe Mele, and since then both families hit it off as good friends almost instantly. Over the years, Gordon would come over frequently and tell us endless stories of all his travels, life adventures, and everything he knew from his educational & professional years. Gordon proved to be a huge help to our family in the many times we needed home or car repairs. If something in our house broke down, be it one of our electrical appliances, our roof, or even when Agata & Nick's daughter Anne-Marie was having car trouble in the snow, Gordon was right there to help. Gordon and Nick were good friends in their earlier years. Both gardeners and engineers, I would often see them visiting over their house fences while working in their yards, talking about all their common life experiences. During the last few years when Nick Elia began suffering from the mid-stages of dementia, Gordon was one of his main supporters. He took him out for many coffee trips and to the Barber shop up the street regularly. Gordon checked up on Nick once when his family was out, and stayed with him all afternoon to make sure he wasn't by himself the rest of the day. Whenever Gordon saw Nick and Agata's granddaughter, Alicia, walk to her bus stop down the street, he'd always stop his car and give her a lift, every time. Whenever Alicia passed the Green's home and saw Gordon, either working in his garage or in the Green's beautiful garden, he always stopped to chat with her, every time, giving her great life advice. He would tell one story after another, and we all felt so blessed to be in his company. Gordon, your kindness, generosity, and humility was such a gift to us all. We feel so honored to have known you and have you in our lives for as long as we did. We our deeply saddened and affected by your absence. You will forever be in our hearts.
Love Always, The Elia family
---
My sister articulated the profound emotional ties our entire family had with Gordon beautifully. He was always Mr. Reliable, of splendid disposition and character, and of course, down to earth. Even one of my sons, Gino, was resolute in modeling his goals in alignment with Gordon's accomplishments as a scientist, as an outdoorsman, as a traveler, and as a humanist. My other son, Tony, deeply admired Gordon as well and engaged in jovial conversation frequently, as well as sharing a meal with him at my mother's table. Gordon was brilliant in every way, and as busy as he was, he always found time to be of service to others. It is so rare to for someone to be always available and give so freely of his time and talents. Gordon lived an extraordinary life and was recognized for his mufti-faceted expertise by so many in the engineering profession. A family man, a tremendous neighbor and all around good guy; it was really a privilege to know him.
Your friend always, Gregory Elia
---
Gregory Elia is my brother. The Obituary he referred to was not written by our sister, but my daughter Alicia Elia, that is why it was so brilliant :) Gordon Green did not have an arrogant, pretentious bone in his body and he was uniquely respectful to females and always a gentleman. My daughter loved everything about him, and he was very close to Alicia too. We will all miss him terribly.
Marguerite Elia
---
Several years ago I met Gordon and Gabrielle at a nearby coffee shop and always shared the New York Times with them because the three of us were addicted to reading the news while drinking coffee. Over the last few years we shared travel stories about places where we had all traveled in Europe, my husband and I cycling and Gordon and Gabrielle trekking on foot. Gordon was happy to share maps, give advice and always eager to hear about my bicycle trips. He seemed to always be smiling. I feel fortunate to have known him.
Willa Halperin
---
I first met Gordon over 40 years ago when he still lived in the UK, before he and Gabrielle were married. I then met up with them in Seattle several years later. Latterly we went on several holidays together, mostly in Europe although on one memorable holiday we walked for a short distance on the great Wall of China. Another memory is of him describing in great detail how water was moved from lock to lock to let 6 the enormous boats pass through the single lock on the Yangsee. The last time I met him we spent site seeing and walking in the Peak District and along Dovedale as well as visiting some of the places he had known in his youth. I was always be gratful to him for letting me accompany them on these holidays. I will miss him as a friendly helpful guy who's voice I often heard on the telephone.
Elaine Allen
---
I first met Gordon when I was a postgraduate at Imperial College, London University in 1963 taking my M.Sc. studies in Soil Mechanics & Foundation Engineering. Gordon was a postgraduate lecturer at that time & I particularly remember his friendly & helpful disposition. Since those days Gordon emigrated to Seattle with Gabrielle where he worked with Shannon & Wilson. I emigrated to Vancouver with my wife Margaret. We kept in touch every Christmas with an annual exchange of newsletters outlining all the years experiences including our children's activities & progress. Often we had discussions of construction projects & instrumentation on Dams & all manner of other engineering situations, both good & bad. We, Gordon, Gabrielle, Margaret & I, managed to get together occasionally with our last meeting on 18 November 2013 when Gordon treated us to delightful meal in Seattle & we swapped family stories etc. We will sorely miss Gordon, his wise council & friendly approach to everyone. Adrian Joseph
---