James Anthony Motin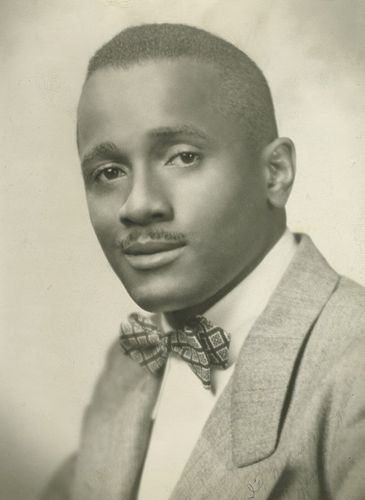 After more than 11 weeks of COVID-19-induced separation from family, James Anthony Mot-in, got what he wanted most, time with his daughters and grandchildren before passing peace-fully Thursday, May 28, 2020. He gifted his daughters with two days and nights in his presence, and opportunity to help guide him to his last breath at 8:18 a.m. He was 98 years old. 
James (Jim) Motin was one of four children born Nov. 11, 1921 to Harry Theo Motin and Lula Duncan Motin in Kansas City Missouri. Harold Duncan Motin, the oldest, and Margaret Ann Motin, a concert pianist and the youngest, preceded him in death, as did the firstborn son who died at or soon after birth. Harry Theo, was the son of Harry Theodore Motin and Fannie Wil-liams. Born a slave, Harry Theodore became a Buffalo Soldier; his picture is now in the Smith-sonian Institute.
Jim was always close to his mother, who, with a friend introduced him to June Mack, the wom-an who would be his wife for more than 60 years. After serving in the army during World War II, being a member of Kappa Alpha Psi fraternity and the second Black student to graduate from Kansas State University with a degree in electrical engineering, Jim and June Motin moved to Portsmouth, New Hampshire. They lived down the street from his brother, Harold, who was al-so an electrical engineer, and his wife, Altha Motin. They often babysat Harold and Altha's children Toni and Harry Chris. Harold and Altha eventually moved to Mystic, Connecticut, at which point Jim and June drove across the country to Seattle, where Jim was in the first cohort of Black electrical engineers hired by Boeing. He remained at Boeing his entire career.
                            
In Seattle, Jim and June were charter members of the Engineer's Wives Club. His pastimes were bowling and bridge, in the latter he earned the esteemed title of Life Master. In adulthood he resumed his childhood passion for the violin, and often played in concert with his teacher. A longtime member of Madrona Presbyterian Church (now Madrona Grace), James tutored nu-merous young people in math. He raised his own children with a quiet, unwavering confidence in their ability to do and achieve anything. They played tennis, starred in track, figure skated with the Overlake Skating Club, and, as he predicted, one became Seattle's first African Amer-ican Seafair Queen. As a homeowner in Seattle, Jim and June defied the practice of redlining. After selling the home they owned in the Montlake neighborhood, a renowned black architect built them a home in the Seward Park area. Later, after a White person had to make the initial purchase of the property, the same architect built their home on Mercer Island. 
Jim and June had three children, the youngest, James Alan, a gifted tennis player, died of sickle cell at the age of 17. His two daughters are Lisa Motin Starke and Galen Motin Crawford. Ga-len and John Goff are parents to Shelby Allegra Goff and Jameson Alan Motin Goff. Both grandchildren spent Jim's final hours by his side. Jim loved football, and friend Gertrude Peo-ples arranged for former Huskie coach Rick Neuheisel and players to sign and present to him a helmet (unfortunately now missing) in recognition of his years as a Husky season ticketholder on the 50-yardline. 
Although slowed by dementia in later years, James Anthony Motin lived a life of 'amazing grace,' faith and kindness. His children and grandchildren adored him, as did everyone who knew him, including care givers at Merrill Gardens and later Skyline Terrace's nursing and memory care units. When his children could not be there due to the coronavirus, staff at Sky-line stroked his head and hands, helped him attend Zoom worship services at Madrona Grace and loved him. June preceded him in death in 2017. James is survived by children Galen and Lisa, son-in-law Kenneth Crawford, grandchildren Shelby and Jameson, and his brother's child, Harry Chris. Interment will be at Tahoma National Cemetery. Look for the date and link to the Zoom memorial service at funerals.coop. In lieu of flowers, please send donations to Madrona Grace Presbyterian Church, 832 32nd Ave., Seattle, WA 98122. 
---
Comments
A long life, full of wonderful things, including all of you. I'm glad you had him for as long as you did, and glad you'll have those memories. Sending love to all of you from all of us.
- Sandi, George, and Annalisa
---
To the Motin family: We are so very sorry for your loss. Our thoughts are with you.
- Marc & Lynne McFarland
---
I'm so sorry to hear of your father's passing. My love to you and your family.
Richard Kopczynski
---
I'm so sorry to hear of your father's passing. My love to you and your family.
- Richard Kopczynski
---
I fondly remember Mr. Motin as a conservatively dressed gentleman with an engaging, sincere smile who took great interest in church activities, family, and strangers he met along the way. He lived a full life launching himself into a meaningful career that required moving across the nation in the 50's! A gentle soul, he was smart and ambitious. My regards to the Motin family as you mourn yet celebrate a life very well lived.
Mary Franck
---