Sarah June McElroy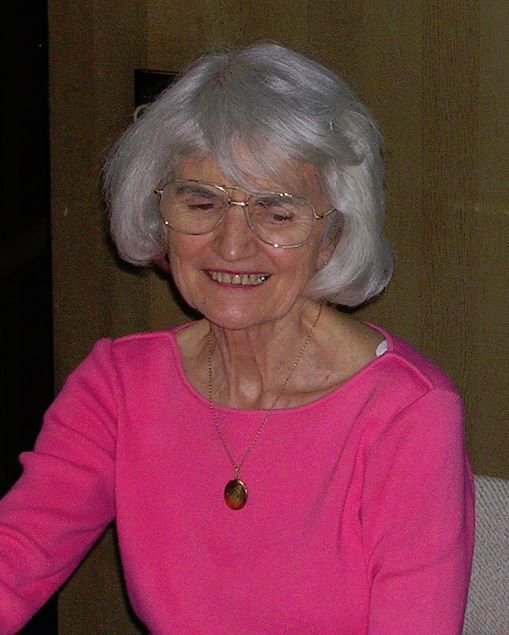 Sarah (known in her early life as Sallie) was born to James Harold McElroy and June Grubbs McElroy in Chicago Illinois on June 1, 1935.  Sarah was joined by younger sibling brother Jim and sister Susan.
The family ultimately settled in Warrenville (rural outskirts of Chicago) with short interruptions living in St.Louis, Cincinnati and Cushing during World War II.  At home they were nourished by the extraordinary gardening talents of their father, Mac.  Their clear-minded mother, June, added to their developing worldview and education.  Sarah loved to raise and train Irish setters.  Mother and kids made extended visits to Oklahoma, where Sarah connected with her parents family roots and became close with her cousins.
Sarah graduated from Wheaton High School in 1953 with highest academic achievement in her class and other recognitions.  She entered college at Oklahoma A&M remaining there for 2 years then eventually migrating to Northwestern University School of Nursing, where she graduated in 1960.
After working as a practicing nurse for a year in Boulder Colorado, she briefly joined the Peace Corps. She found her true direction with American Friend Service Committee (AFSC) in Chicago, which lead to her joining the  AFSC VISA program in what was then Tanganyica (now Tanzania). Learning Swahili, living in a rural African village, meeting Julius Nyerere and Albert Luthuli, and traveling in Africa, the Middle East and Asia were transformative experiences for her.  Her commitment to positive action was reinforced by residence at the Quaker community, Pendle Hill, in 1964-65 after her return to the US.
Sarah entered a period of stable residency in Washington DC from 1965 to 1980.  She worked as a public health nurse, continued with post-graduate education (Howard and Antioch colleges) and ultimately taught at and directed a Montessori preschool.  Drawn by a desire for more exploration and broadening experience, she moved to the Quaker Life Center in Philadelphia in 1980 where she associated with the Movement for a New Society and related activism for social change.  Soon in 1981 she moved on to Vermont for community living in a more rural setting.
A big leap came in 1982 with a move out west to Washington State.  Sarah lived first on Whidbey Island to be near the inspiration of Chinook Learning Institute. Soon she was living in Seattle starting engagement with lines of work related to her nursing background including teaching of macrobiotic nutrition on her own and various research studies including smoking cessation at Group Health.
Sarah became active at University Friends Meeting (UFM) and Seattle Insight Meditation Society (SIMS), offering her time, energy and wisdom to both spiritual communities. With a twinkle in her eye, she brought a playful and light-hearted spirit to even the most troubling times.  When you met Sarah, you immediately felt the embrace of her radiant smile. She welcomed you into her heart and presence with warmth and an amazing ability to listen deeply. She was strong, courageous and loving.  She lived mindfully and played joyfully.
With gentleness of spirit and passion of heart, she connected people to organizations and actions which promoted wellbeing for life on the planet.  Whatever the issue, if it promoted justice and peace, Sarah became an ardent supporter and advocate.  She loved a good demonstration and often served as peace keeper.  Activities included: Sanctuary Churches for Central American Refugees, Tibetan Refugee Resettlement Program, Program on Reconciliation (FoR) efforts in Israel/Palestine, the NonViolent Communication (NVC) Freedom Project for prisoners, World Trade Organization protests, education and outreach for economic justice and fair banking with Just and Sustainable Economy (JuSE) and very recently Sanctuary for Middle Eastern refugees.  
Sarah met Charles (Charlie) Raymond at a Mountaineers folk dance in 1984. They lived together for many years, marrying in 1997 in the manner of Friends.  Together they shared a life of love, nature and adventure. With Charlie, she learned to love mountains, hiking and cross-country skiing. Together they built a retirement home in Stehekin, a place and community that they both loved.
Sarah died at home in Seattle on April 19, 2017.  The UFM/SIMS Care Committee and Hospice were wonderfully helpful in the last weeks, days and hours. She did not have much pain, and was able to be up and about until the last week.  The warmth of her heart delighted all visitors up to the last day.  She was present, aware, and unafraid until the very end.  She died with grace.  She is survived by her husband Charles Raymond, her brother James McElroy and sister Susan (McElroy) Yost.
A memorial gathering will be held at University Friends Meeting (http://ufmseattle.org) 2:00 pm to 4:00 pm June 3, 2017.
---
Comments
Good bye Sarah. It was a privilege to meet you.
    
Will and Anne Harrison
---
1st time I remember meeting you was at your parents apple orchard.
Sad to discover your passing cousin.
 
William N. McElroy
---