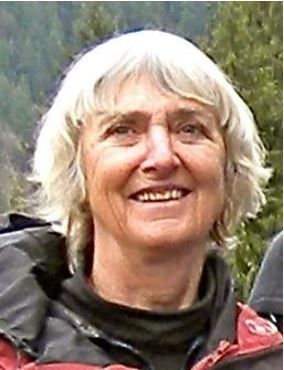 Dec. 11, 1942 – Dec. 10, 2015
Fran died at home, after a brief illness, with her friend and companion, David Wachter, at her side. Fran was active and vibrant for nine years after her first treatment for cancer, continuing her zest for life and adventure.Fran was born in Portland, Ore., the middle of three siblings, to Oskar and Rose (Eickmeyer) Dauelsberg. Oskar died when Fran was three.Living with her mother, Mabel Eickmeyer, Rose raised her family, working fulltime as a bookkeeper. Travel was a family activity, with short trips to the beach and long car trips to all 48 states and most major national parks. When not traveling, Fran enjoyed softball and long bicycle rides.
Fran attended Wilson High School, Portland. She graduated from the University of Oregon in 1964 with a B.S. in Health, Physical Education and Recreation. Immediately after, she drove to Seattle.
Fran's career began in 1964 when she joined Seattle Parks and Recreation. She worked throughout the city, her last and longest post at Mountlake. She enjoyed working with families and children; planning, organizing, and managing festive events, such as Easter and Halloween, summer youth camps and youth sports. Her only complaint was about over-zealous fathers at their children's basketball games. She wanted all the kids to participate and have fun. Fran retired from Parks after 31 years.
Continuing her service to youths and families, she joined Seattle Schools working half-time, first as a classroom aide and then in the Human Resources department. She retired from Schools in 2007.
A lifelong traveler, Fran began her adult traveling immediately in 1966. An early trip was three months in Europe, where she picked up her beloved green VW Bug. She drove this classic Bug for 30 years. She made over 150 trips, visiting more than 70 countries. More than 40 of these trips were after her first treatment for cancer.
Bicycling was another of Fran's passions. She rode the first STP, completing the 200 miles in one day. She joined friends in 1976 to ride 3000 miles from Seattle to Washington, DC for the US centennial celebration. More than 20 times, she cycled overseas. These trips combined her two passions, bicycling and travel. She relished the planning of many such trips. Notable rides were Nice to Berlin, Aegean coast of Turkey, Lisbon to Granada, and the Danube from its origins in the Black Forest to Belgrade.
One of Fran's favorite ride groups was Seattle Mountaineers. She also climbed and skied with the Mountaineers and other groups. She loved to ski, downhill and cross country. Even in these past nine years, Fran was out doing double diamonds while others were cozy taking coffee breaks.
She danced international folkdance with Mountaineers, and Scandinavian dance with Skandia Folkdance Society. It was here she met David. They danced 10 years as members of Alvfotter, a Swedish performance dance group, and with Skandia for 30 years.
Early on, Fran was a scuba diver, even though she couldn't swim. A plaque with her name, and those of her team, commemorates the recovery of an antique anchor on display at Shilsole Marina.
In the recent five years, Fran hiked, usually every week, sometimes more often, with her similarly outdoor-minded friends of Trail Mix. This led to several trips: hiking in the Colorado Rockies, Corfu, Lake Stehekin, Wonderland Trail (in four segments) and a float trip through the Grand Canyon.
Auntie Franny loved her family, and they loved her. She is remembered by her brother, Lawrence (Lois) Dauelsberg, brother-in-law Dennis McMillin (sister Margaret died in 2007), nephews David (Andrea) McMillin and John (Meesook) McMillin, nieces Kristina (Aaron) Sterner, Lisa (Joseph) Lloyd, Suzanna (Andrew) Stanich, and Lori Dauelsberg, and by six grandnephews and grandnieces.
A celebration of Fran's wonderful, joyful, adventurous and full life is planned for April 2, 2016, 1:30 pm at The Swedish Club, 1920 Dexter Avenue North, Seattle, WA 98109.
---
Comments
God rest your soul, Franny. You were and are an inspiration to all of us. Love u.
K W
---
I am so saddened to think of your no longer being in this world. May your memory be blessed always.
B.D.
---