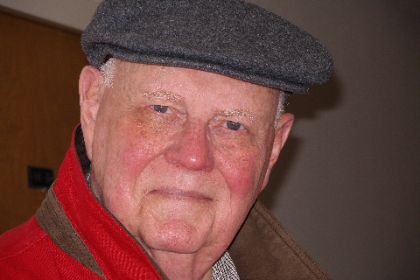 John William Stone was born December 27, 1925 in Springfield, MO and gently passed away on August 18, 2015 at his home in Seattle, WA. John was the only child of Hazel and Claude Stone. He is survived by his wife Suzanne Pitré; six children: son John, Jr (Donna), daughters Jana Stone, Susan Shusterman, Deborah (Jerry) Frendewey, Christine (Mike) Ewing and Amanda (Tom) Cushing; and ten grandchildren: Sara and Donald Stone, Justin and Morgan Shusterman, Benjamin Rose, Daniel Erickson, Christopher and Ben Ewing, and Alex and Claire Cushing. John leaves behind many close and loving friends as well. John was preceded in death by his first wife, Virginia. 
John served in the US Army at the end of World War II, having graduated from OCS in August, 1945. He was assigned to Military Police (according to John, this was based solely on his size; they picked the 3 biggest men for MPs) and was stationed in Ascom City, Korea, repatriating Japanese and running a military prison. While John had many interesting and more than a few hair-raising stories of his time in Korea there is no way that they could be done justice here. Suffice to say that two very important things happened to John in Korea. He became a man. And he met the lovely Virginia Marion Murphy, who later became his wife and together they became the parents of six children. 
John was a 32° Mason. He was a member of the Dramatists Guild. In earlier years he had been active in Shannondale (Knoxville, TN) and Pilgrim (Seattle, WA) Presbyterian Churches, serving as a deacon and as an elder, as well as serving on capital committees. 
He was a founding member of 5th Saturday Audio Theatre, writing, adapting, casting, occasionally acting in, directing and producing radio drama for the Evergreen Radio Reading Service (ERRS) of the Washington Talking Book and Braille Library. The first broadcast was November 29, 1997 and the last was in 2014. 5th Saturday produced nearly 80 original audio drama and comedy shows during this time. John also had two other shows on ERRS; the first was Entertainment East and the second was a weekly broadcast of Northwest History, which he diligently researched, in the process becoming something of a history buff of the great Pacific Northwest. He also did author interviews for ERRS and when he was interviewing a short story writer (Jill McCorkle or Lawrence Block, for example), he never failed to ask for permission to adapt some of their stories for broadcast on ERRS. And they always generously gave that permission.
In fact, John was a Renaissance Man. Besides his voice and radio work, he was also a weaver, having first built his own 12 harness floor loom and warping board and then carved a boat shuttle, beater and pic from hardrock maple. He wove shawls, table runnrs and rag rugs. And he was a painter. He acted in 3 films by Gregg Lachow: The Seven Mysteries of Life, The Wright Brothers and Money Buys Happiness. He was a baker who had a way with biscuits, bread, and pie crust, among other things. At one time he made 10 loaves of bread every Saturday morning for his family. He could also stir up a serious pot of chili at the slightest provocation. He made his daughter Debby's wedding dress. He wrote plays. He acted on stage. He was truly a Renaissance Man.
And John loved theatre. When he first moved to Seattle in late 1978 he went to many of the now forgotten fringe theatres; he became interested in acting, directing and playwriting through his theatre-going experiences. He took acting classes as Seattle Central and directing classes at the University of Washington. For many years he was an usher at Intiman (in its prior incarnation); he subscribed for many years to 5th Avenue Musical Theatre, The Seattle Repertory Theatre, Book It, Intiman, Empty Space, The Early Music Guild, Seattle Shakespeare and was a regular at Ashland, Oregon's Shakespeare Festival. As an appreciative audience member, John was popular with the stage actors. Once in about 1996 when Bill Irwin was at the Rep appearing in Scapin, there was a talk back session afterwards where audience members were invited to stay and talk with the cast. John of course stayed and the first question asked was "So was that a plant in the audience; the guy with the big laugh?" Bill said "No, and he's right here" gesturing to John. Whereupon the cast stood and gave John an even bigger round of applause for his big laugh. John was never one to mask his appreciation for a job well done. 
All of this was in addition to his first career as a public health dentist, having been educated at the University of Tennessee and the University of Michigan. John was not particularly interested in clinical work, although you can imagine from the carved weaving tools, that he was gifted with his hands. He was much more interested in social justice --with making health services available to all who need them without regard to ability to pay--having worked for the US Public Health Service and several anti-povertyprograms in the 1950s, 60s and 70s both in the inner city of Detroit and in the Appalachian hills of southern West Virginia. He was also a tenured University Professor at the Dental School at University of Detroit demonstrating that sense of community involvement to his students. 
John was a big man with great curiosity, a talent for seeing things from many different angles, an artist, an arts lover, a problem-solver, an expediter, and most of all, a lover of people and supportive of their efforts. John touched many lives and is greatly missed by his family and his many, many dear friends. A Celebration of Life will be held at the Graham Center in the Arboretum on Sunday, November 8 from 10 am until 1 pm. In lieu of flowers, remembrances may be made to Providence Hospice of Seattle Foundation, www.providence.org/hospiceofseattle.
---
Comments
Wow, Amanda. What a man and thank you so much for sharing his obit. You must be very proud and he must have been very proud of you. It's always interesting to hear a person's "story" or at least part of it and he has a rich one. I can better understand the beautiful and gentle woman you are in your life and how it was influenced by him. Praise God for his life and blessings and healing to you and your family as you go through the grief of losing him. Love you much. Kay
---
John was blessed and will be missed by all who knew him! Our thoughts and prayers go out to all who loved him. Kathi and Jim Lundberg
---
I am so sorry for your loss. Hugs from Austin ,Texas
-Patti Murphy Harrison
---