1916 - 2016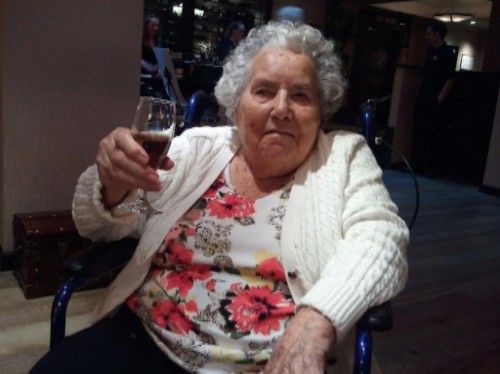 Sydney Helen Davis was born on April 17, 1916 in Carshalton, Surrey, England to Edward Francis Davis and Lillian Eleanor (Phipps) Davis. She died on March 5, 2016 in Kirkland, WA. 
Sydney was the youngest of three children, following two older brothers Hugh Patrick and Edward Denis. After completion of her schooling, Sydney worked for Unilever Ltd. in London prior to serving in the British Army in World War II.  She was posted at Norfolk, Oxford, Jamaica and Washington, DC where she worked in areas related to codes and cyphers. She met 1st Lt. Jack D. Sanders, US Army Signal Corps, in Washington, DC and they were married March 4, 1946 in Montreal, Quebec, Canada.
During the course of Jack's Army career, Sydney and Jack lived in many places.  As a young bride, Sydney drove solo across the United States from one duty location to the next. Son David was born in Fairbanks, Alaska and son Nigel was born in Ansbach, Germany.
Sydney became a naturalized American citizen in 1958. After the family settled in Portland, OR, Sydney was active in local politics through the League of Women Voters.  She also worked at Mt. Hood Community College in Gresham, OR for many years where she started coursework toward a degree.  Following retirement Sydney completed her studies and was awarded her BA and MA from Portland State University.
In 1988 Sydney and Jack moved their home base to Lake Forest Park to live with son David and wife Susan so that they were free to travel to Japan, Australia, England, Florida, Arizona and California. They made many trips to New Jersey to visit son Nigel and wife Regina and grandchildren Maria and Gregory. Sydney also enjoyed several white water rafting trips when she was in her 80s.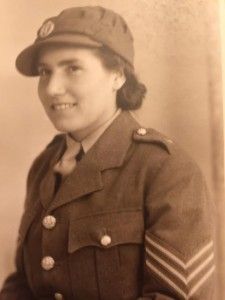 Following Jack's death in 1996 Sydney became more active with the Gibraltar chapter of the Daughters of the British Empire.  Her "DBE" friends became her travel companions on trips to Hawaii, Scandinavia and the Queen Charlotte Islands.
After successful hip surgery at age 90, Sydney and her friends and caregivers enjoyed many lunches, outings and visits.  She loved to dance.  
Sydney was predeceased by her parents, husband, brothers and wives, and brothers-in-law and sisters-in-law.  Survivors include sons David (Susan) and Nigel (Regina) and grandchildren Maria and Gregory as well as four nephews, a niece and their families in Australia, England, Arizona and Indiana.
Sydney died at Evergreen Hospice on March 5, 2016 after a brief illness.  She will be interred with husband Jack at the Willamette National Cemetery, Portland, OR. A celebration of her life is planned for a later date.  Long lived our Queen!
---
Comments
Always an inspiration. Rest in Peace Great Auntie. X  --Ben
---
I miss you Sydney. Thanks for all the good talks we had. You were a great listener and a calm presence. I'm sure those 3 kitties miss you too. Glad I got to spend time with you these past 5 or 6 years.
Connie Keith-Kerns
---