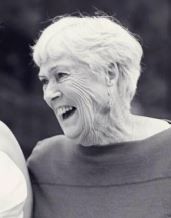 Age 86. Born March 17, 1929 in Spokane County WA. Passed away February 11, 2016 in Seattle, WA. Pat moved to Seattle as a young woman and spent the last 45 years living in Mountlake Terrace. Pat was preceded in death by Husband Jordan (1974). She is survived by her sister Stella, Children Daniel, Jordan (Jay), Sheelagh, Mathew, and John. she had 7 grandchildren and 2 great grandchildren. Private celebration of life will be held at a later date.
---
Comments
Though Pat's life seemed an uphill climb with many challenges to rise to, I never found her with out a smile ,or funny story to share. And when she'd get the giggles, there was just nothing like it, so infectious!
As an awkward teenager low on self esteem, Pat was often there to bolster me, and spend time with me playing the guitar, cards or camping with the family. Many fond memories then and as an adult. We would often say we were each other's favorites:) I have not only lost my Aunt, but a dear friend.
I know she is reaping a fine reward , an inheritance that has been stored up for her.
Peace at last for you Aunt Pat
Jeanmarie Sinclair Hufty
---
My mom was the greatest of all. One of her greatest wish was for her kids to get together in one room again.With her passing I pray to god this will happen. I love and will miss you always your sweet one Matt
---
Aunt Pat was one of those most classic of all aunts. One of those larger than life types. I have her up there with my uncle Dan, Aunt Genevieve and Big Lee. Memories include the camping trips with the guitar playing and singing, teaching various card games, watching Seahawks games (wow!), watching her trying to keep her kids inline with a serious tone one second, then turn around and laugh about it a second later. She was infectious as JM put it. I loved her laugh. I am so much better off in life knowing her. She brought much joy to this world and I am sure she is having a ball with all of those who have gone before her. I will miss her dearly.
Mark Sinclair
---
What a Classic...Easily my favorite Aunt, and I had many....She LOVED her sports and it killed me to see the Sonics leave as I know it crushed her more than it did me...great memories recently going up to her place and watching the Seahawks play and listen to her commentary....Priceless....Will miss her dearly...Who loves You, we all do!
Nephew Bob
---
Condolences to the Sinclair family. Our thoughts and prayers go out to your whole family. Psalms 147:3 says God, "heals the broken hearted, and binds up their wounds." May God bring you comfort and peace.
Williams Family
---
Pat was my favorite mother in law. Johnny was so close to her. I know they are together now. Both at peace.

Lois Sinclair
---