Charles Byron Parke
September 14, 1920 – May 9, 2020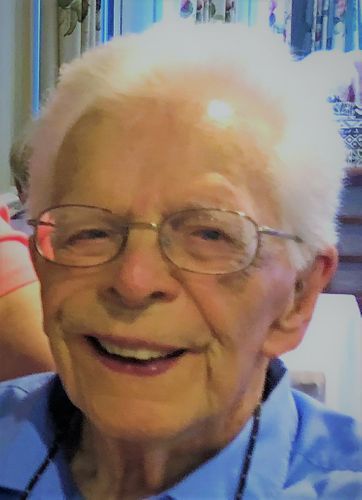 Chuck, the firstborn child of Charles G. Parke and Loma E. (Byron) Parke was born on September 14th, 1920 in St Helens, Oregon.  He died peacefully at his home, aka the Wrinkle Ranch, in Bothell, WA on May 9, 2020. Some people will do anything to get out of a 100th birthday party!
As a youth during the Great Depression, he and his family moved frequently.  One summer the family lived in a tent at Woodland Park while his father attended University of Washington.  Chuck considered himself luckier than most because his father had a job and the family had food.   
Chuck had several unusual jobs in his early career.  He was the first member of the Parke family to live in a sorority taking a job as a dishwasher for room and board.  We think he might have been in his element being the only fellow among women.  He had a very short career as a seaplane steward for the fledging United Airlines out of Matthews Beach.  It was short-lived because he was prone to airsickness. 
After his World War II Army service, Chuck returned to his hometown of Seattle to attend the University of Washington to study Engineering.  While at UW, he went on a blind date that changed his life when he was introduced to Margaret Alleger.  It was apparent very quickly that she was the love of his life.  They were happily married for 68 short years until her death in August 2019.  
Chuck and Margaret settled in Seattle to raise their 3 children.  He began a lengthy and respected career at Boeing as an engineer.  One of his proudest assignments was as a member of the famed 747 Incredibles.  This designation signified an original team member who helped accomplish the extraordinary feat of launching the Queen of the Skies.  
While he enjoyed his professional career, his real pleasure was spending time with his family and friends.  If a loved one was competing on the field or performing on stage, he made sure they knew he was there cheering with his big booming voice. His children, grandchildren, and great grandchildren would complain that it was embarrassing but it was something to be counted on.  He was a lifelong sports fan with a devotion to the Washington Huskies.  Till the day he died, he held an active grudge against Howard Schultz for selling the Sonics.  Howard will probably hear about it when they meet in the hereafter.
Chuck introduced his love of boating and the magic of being on the water with Margaret early on in their relationship.  Any free time they had was spent on the water or at their cabin on Ben Ure Island in Coronet Bay, WA.  Over the years, Chuck and Margaret had many power and sail boats.  Their first boat, which Chuck and Bud Bushnell built, was featured in a Time Magazine Do-It-Yourself cover story.  The smallest, and perhaps the most unusual boat in their Armada, was an 11 1/2' Pelican, a gaff rig sailboat.  It carried 3 people, 5 HP motor, fuel, ice, plenty of beer and just enough food, leaving very little freeboard.  It was quite a sight to see!  Despite its diminutive size, they traveled the San Juan Islands with other Pelican enthusiasts and made a lifetime of memories.  
Upon retirement, Chuck and Margaret sold the family home in Seattle and moved to live aboard their largest, and last boat which was a 42' Ponderosa cruiser named Partners.  They spent the next 10 years traveling the west coast and Canada seeking out new sights and adventures.  After disembarking for the last time, they remained adventurous and traveled the US as well as trips to Mexico, Europe, and China collecting memories.
Chuck is survived by children Susan, Brian and Sheila, brothers Richard, Rod and their spouses, a lifelong best friend Bud Bushnell, 7 grandchildren and 16 great grandchildren, all who miss his greatly.  In addition to Margaret, he was predeceased by his parents Charles G. Parke and Loma E. Byron Parke.  He leaves behind an extended family of nieces and nephews. 
Chuck viewed life as something to be enjoyed.  He did exactly that with enthusiasm, grace and abundant love.
---
Comments
I have a fond memory of Chuck, as a neighbor, and childhood friend of his son, Brian. At their house in the Victory Heights neighborhood of Seattle in the late sixties and early seventies, the Parke house had a basketball hoop above their garage door. At one time, the shooting of hoops got out-of-hand, and curses and shoving were loudly expressed. I remember Chuck coming over to talk to my parents in our living room. While meshing his fingers together and saying that there was a "conflict" and that it would be better if I stayed off their basketball court. Which I did.
On June 27th, 1976, Chuck's son, Brian served as Best Man at my wedding to Karen Marie (Webber) Frechin. Maggie and Chuck will always have a place in our hearts.........
    
Douglas and Karen Frechin
---
George and I really enjoyed being neighbors of Margaret and Chuck for the years they spent here at Stonebridge! Such a nice couple! Always a joke and a smile. He'll be missed.
    
Terry and George Strausser
---
Charlie and Margaret Parke were two of my parents, Grant and Carol McVicar, best friends. Grant and Charlie graduated from Queen Anne High School together. Our families sailed together in the San Juan Islands and owned adjoining property on Ben Ure Island. They were always there for my parents. They will be missed.
Randy and Wendy McVicar Stoddard
---