Mary Elizabeth Darling Strausz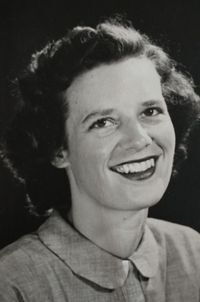 Mary Strausz, aged 99, died peacefully in Seattle on July 25, 2023, after a long battle with dementia. She was supported by her daughters Jane Bergerson, Seattle and Sarah Mouratidis, Vancouver, BC, and an amazing care team.
Mary was born in Yakima, Washington on July 6, 1924, the daughter of Mabel Hough Darling and Ralph Duncan Darling. She was predeceased by her twin brother Robb H. Darling and sister Jane Darling Ricker. She graduated from the University of Washington, where she was affiliated with Kappa Alpha Theta. After college, she went to New York City for a year, where she enjoyed working at B. Altman and had East Coast adventures. She married Robert W. Strausz in 1949 and lived for many years in Yakima, where she raised her girls, did volunteer work, played tennis and bridge, and entertained her many friends. In 1977, Mary moved to Seattle where she continued to play tennis into her eighties, to cook for friends, to travel, and to enjoy her growing family. She is survived by Jane and Sarah, four grandchildren: Chris Bergerson, Sarah Bergerson Roske (Douglas), Constantine Mouratidis (Sophie Sharp), Peter Mouratidis (Emily McGlenen); and four great-grandchildren (plus one on the way). We will all remember her beautiful smile.
Heartfelt thanks go to the caregivers and staff at Aegis Living of Queen Anne on Galer for their love and kindness throughout Mary's journey.
There will be no service at her request.
---
Comments
---