Donald Jack McGowan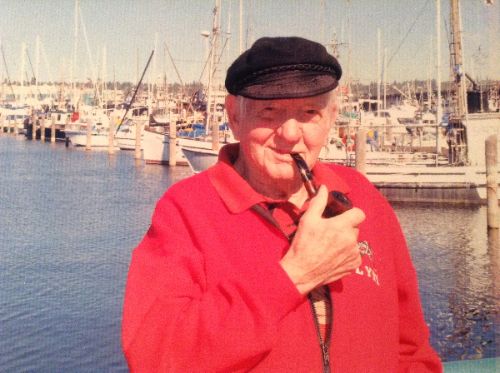 Donald Jack McGowan was born on January 17, 1919. Think of all the events he has seen.  Woodrow Wilson was president.  World War I, the war to end all wars, had finally come to a close two months before.  Prohibition began the day before he was born.  This event comes into play later. 

He was born to Arthur and Blanche McGowan and grew up in several houses on Queen Anne Hill and Fremont with his two sisters, Helen and Louise, before moving to what is now North Seattle.  At the time, Seattle's northern city limit was 45th street, so he was well out of town and in the county.

On their first day in the first grade at Broadview Elementary School, the teacher had the kids introduce themselves and tell what their fathers did for a living.  After hearing about fathers who were doctors and lawyers as well as butchers and other occupations, he considered his father's occupation as an accountant to be pretty boring.  So, when his turn came, Don said that his father was a bootlegger!  He was familiar with this profession, as he had watched the barrels of Canadian beer and whiskey being moved by wheelbarrow up the trail from the beach to trucks on 132nd Street by his house.  They would go to the speakeasies in Lake City and Fremont.  Three nights later, there was a knock on his door and the man outside identified himself as being from the government and the house was surrounded and he needed to come outside for a conversation.  Predictably, after that conversation, there was another one between Don and his father where the subject of telling the truth was actively discussed.

Like many kids, he had a newspaper route.  He did his route on horseback. One day, the horse came back home without him.  His sister, Helen, got on the horse and followed the route (the horse knew the route) and found where he had fallen off, breaking his collarbone.  Helen got him back on the horse and home so he could be taken to the doctor.  One had to be pretty rugged individuals, then.

In those days, people could be a bit adventurous.  One day, Don bet his father that he could row a dinghy across Puget Sound.  His father rented the dinghy, making sure it carried 4 oars.  The two of them set out one morning and began rowing from Edmonds, west across the Sound.  Grandpa Mac figured that Don would get tired and they would soon turn back with the lesson learned.  However, Don was famously stubborn.  They continued to row, and row, and eventually did make it to Port Madison on the other side of the Sound.  They had to spend the night there and come back the next day.  Don said they were very tired and sore, but they accomplished what he had set out to do.

From time to time, Don's father made speculative investments.  One was to lease a boat in Ketchikan, Alaska to deliver the mail to the inhabitants in the nearby coastal settlements.  When he was 15, Don hired on as the 3rd Pantryman (dishwasher) on a steamer going from Seattle to Ketchikan to spend the summer working on his father's boat.  Perhaps it was during this time when he acquired his love for boats.  He said it was a great summer, seeing new things and places.

Don was always competitive.  Since he and the neighbor kids were constantly in good shape from running up and down the "beer trail" to the beach below the house, he turned out for the Lincoln High School track team.  Their training regimen was to run around Green Lake, a 2 ½ mile distance every school day.  Don was primarily a quarter miler, but also ran 100 and 220 yard distances.  Apparently, he did quite well.  He was also in the school band and was an accomplished clarinet player.  He graduated in June, 1937.

He wanted to go to college to study geology.  To finance his education, he worked as a carpenter on some apartment buildings in the Ballard area, which are still there on 32nd Avenue NW.  He also joined the National Guard as a clarinet bandsman.  His band usually won their contests with the other coastal service bands, mostly because the entire french horn section from the Seattle Symphony along several other Symphony players were also in that band.  I bet that they really sounded good.

His unit was activated in September of 1940.  He was sent on a troopship from San Francisco to Melbourne, Australia in 1942.  On the way, the Battle of the Coral Sea occurred all around his ship.  He said that that was the most frustrating time as all of their weapons were stored for safety, thus, only the Navy could fire back at the Japanese planes.  From Australia, he was attached to an artillery unit of 75mm howitzers which proceeded from one end of New Guinea to the other ending up in the Philipines at Zamboanga.  He was transported by troopship from Manilla to San Francisco and discharged on August 17, 1945 as a Tech Sgt.  He married Nadine Griffing on August 24, 1945. 

They had known each other at Broadview and Lincoln as she was 2 years older.  She had studied piano and played as church organist in Seattle since she was 18.  Don sang in several choral groups for whom she was the accompanist.  They enjoyed going to the opera.  They also went hiking and camping in the Cascades whenever Don could get her to go.  He really enjoyed the outdoors.  He would always complain when vacation pictures were of people that the important subject should have been the surrounding scenery.  Bruce came along in 1947, giving her the excuse to stay home.

When Don and Nadine married, his parents relocated their house by jacking it up, putting it on logs and rolling it down the hill across two lots to it's current location.  Then, on nights and weekends, Don dug the hole for the foundation and built the house where he lived until his death.  He was always proud of that accomplishment.  Vacations were nice, but he really did not want to leave his house.

Our family's Christmas tradition was to have dinner at Nadine's parents house on Christmas Eve, get up early on Christmas morning to see what Santa had brought, go to Nadine's church where she played two services, then came home to open presents.  That night we would go next door to have dessert with Don's parents.  What actually happened on Christmas Eve was that Nadine and Don completely decorated the living room, put up the tree and wrapped all the presents,.  They wanted their little boy to think that Santa brought it all in one night!  Imagine what it took to get up only a couple of hours after all that effort to put on two performances for a congregation of several hundred people.

They were married 26 years until she died from cancer in 1971.  Grandson Michael was born that year. Nadine was on the terminal floor at Swedish Hospital then and wanted to see her grandson, knowing she had little time left.  Don contacted the Head of Nursing who arranged for the entire floor of cancer patients receiving chemotherapy to be relocated to the solarium for an hour so that we could bring Michael up for a visit, with minimal health risk.  This happened a second time and then she died two weeks later.

Don continued to sing in a couple of non-church choral groups which Nadine had accompanied.  Five years later, he married Betty Lou Stanton.  One favorite story involved our Easter celebration one year.  Betty Lou insisted not only on making dinner for the family but also participating in hiding eggs for the grandchildren to find.  After the egg search wound down, there were still a couple of eggs that were yet to be found.  She had hidden money in some L'eggs pantyhose containers which were egg shaped.  The only problem was that she had to admit that she had used a shovel to bury them, but didn't remember where.  We figured they would turn up eventually.  We have yet to find them. They were married for 41 years.  Betty Lou died in January, 2018 just one month before her 92nd birthday.

They spent many years sailing on sailboats.  They really loved visiting the Canadian San Juan islands.  When they were getting ready to leave in May, if you would ask him where they were going this time.  His reply was invariably "North."  When asked "when will you be back?"  The reply was "October."  Nobody, including Don, knew just where they would be when.  One year, it took them over a month to travel from Shilshole Marina to Friday Harbor on San Juan Island!  If you wanted to go there directly, it would take a day or so, depending on the wind direction.

Don seemed to always have a boat available.  He acquired a sailboat when in the Philippines.  He built a kayak in his basement.  Then, he got a 19' Lightning followed by a 23' Erickson.  The last one was a 29' Bayfield.  He spent a lot of time on it, even when there was nothing to fix or clean.  It was his hideaway when he wanted peace and quiet.  That was something for which he searched his whole life.  He has now achieved it.

His other main area of enjoyment was the opera preview group.  He and Betty Lou spent countless hours preparing for and serving dinners to cast members.  They were sources of both social and musical enjoyment for many years.  Betty Lou would design the centerpieces and Dad would construct them, as well as carry the assortment of serving dishes for the evening. 

He is survived by his son Bruce (Dona), grandchildren Michael (Mayvis) and Cheryl (Tom), great grandchildren Nicole McGowan, Jason McGowan and Kaylee Dunn.  Further, there are Betty Lou's children Patrick (Sharon) and Alison (Jim) along with their families.  We would like to thank the nurses and staff at Providence Hospice with a special thanks to granddaughter Adelaine Blais for the care she gave both Don and Betty Lou for the last two years.

During Dad's 100 years and 3 months (less 5 days), so many things have happened.  From newspaper delivery on horseback to space flight.  Dirigibles that came into prominence and then disappeared.  Cars you could enjoy working on yourself to those that are almost impossible to work on by anyone.  Lots of political changes.  It has been a long, good life.  We are grateful that he could live it his way as much as anyone could.  He wanted to stay in the house he built until he died, and he was able to do that.  You can't ask for much more.  And he didn't.
---
Comments
I hadn't heard the bootlegger story...that was good! So glad that Donald was able to celebrate 100 years and stay in his beautiful home too. Love this picture of Donald in his element with the boats. Their summer trips were so special, so unique.
    
Rose Thygesen
---
Donald was quite a guy. I worked for him for several years at the H. D. Fowler Co. in Bellevue. It was during the time his wife was ill and passed away. He would love smoking his pipe in the office but always made sure he smoked a sweet smelling tobacco because I disliked pipe smoke. In those days it was ok to smoke at your desk. He was always a true gentleman. We did keep in touch for many years after we both retired but these last few years just kinda got lost. But he will always have a soft spot in my heart. RIP Donald
Carol Layne
---