"DO NOT CRY FOR ME- I HAD A GREAT LIFE!"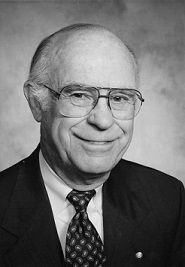 Richard (Dick) Clarke peacefully passed away on July 30, 2014 at the age of 84.
Dick was born on December 9, 1929 in San Diego, California.  Shortly after his birth, his family moved to Portland, Oregon.  As a child he lived with his grandparents and mother named Rose.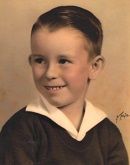 At seventeen years of age he joined the Oregon National Guard.
In 1952 Dick received a BACHELOR OF SCIENCE degree in business administration and a minor in Forestry at Oregon State University.  In college he was in the ROTC Officer Training and marched in the precision drill team.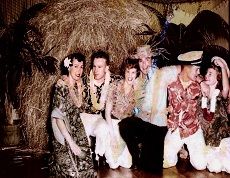 He was also a member of the Theta Xi fraternity.
He met his future wife, Donna, at an exchange dinner.  It was love at first sight for Dick.
They were married during spring break on March 23, 1952.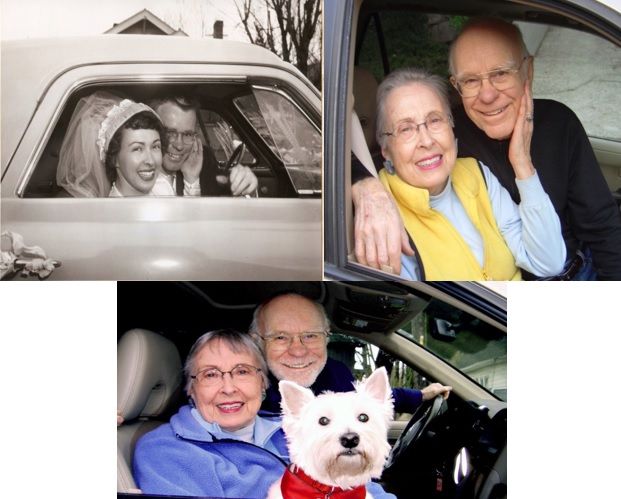 It was a marriage that lasted for 62 years.
That same Spring Dick enlisted in the U.S. Army and served in the Korean War.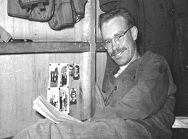 He was proud to be the Soldier of the Month. He received the following awards: The Korean Service Medal; National Defense Service Medal; Commendation Ribbon; United Nations Service Medal and the Presidential Unit Citation.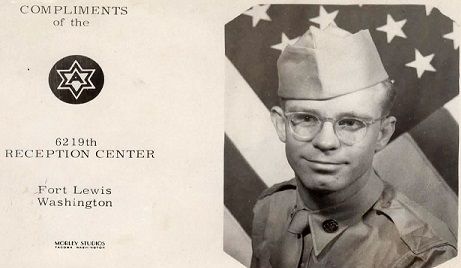 After his discharge in 1954, Dick and Donna moved to Camas, Washington.  Dick worked for Crown-Zellerbach Paper Company as a cost accountant.  He did not feel professionally challenged so he studied to pass the CPA exam.  He passed in 1960.  To get his public accounting experience the family, now a total of four, moved to Astoria, Oregon.  While there, Dick worked as a junior accountant for the CPA firm of Yergen & Meyer.  He officially became a certified CPA in February 1963.
In January 1964, now five of us, moved to Seattle, Washington where Dick was employed in the CPA firm of Benson & McLaughlin.  He became a partner in October 1969 and retired in January 1990.  Dick was very active in his professional society and was honored to be President of the Washington Society of CPA's in 1983-84.
During this time he had many interests and activities.  He was active in his son's boy-scout troop 167.  He became chairman of the parents group.  He also assisted and attended most hikes.  When a boy became an Eagle-scout, Dick personally hand carved and presented each boy with a creative slide for their scarf.  He carved many.  Dick and his son, Dutton, together carved two totem poles; a four-foot beaver; and a seven foot Northwest Indian totem for Dutton's room.
Dick also loved to ride his son's motorcycle.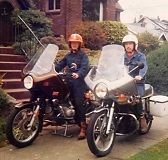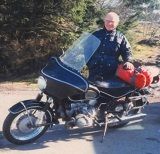 The experience led him, over the years, to buy a series of different bikes.  He enjoyed going on long rides with his son, friends, and a few clients on most all of the roads in Washington, Oregon, Idaho, Utah, Nevada and British Columbia.  He had a side car to travel with Donna and dogs.  On many trips, Donna or his youngest daughter, Colleen, traveled behind him on the same bike.  Both Donna and her daughter learned to "hold on tight."  His longest trip was to Chicago and back by himself.
Dick was very active in Rotary and was a charter member of the Bellevue Breakfast Rotary Club.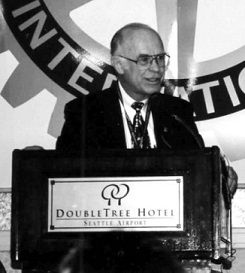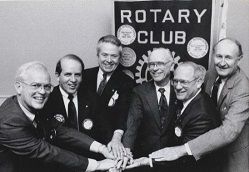 He served as President from 1987-88.  He really loved Rotary and became very active in the 5030 district.
He volunteered as an area representative; twice as a conference treasurer; he served as a budget and finance committee member and Polio Plus chairman.
Dick also was the Chairman for the Rotary Foundation.  He was a frequent speaker at clubs, district assemblies and seminars.  He organized and started the 5030 Rotary Academy.  Dick was honored as the District Rotarian of the year1991-92 and received the prestigious Rotary Foundation Citation for Meritorious Service in 1992-93.  Dick is a multiple Paul Harris Fellow and a benefactor to the Rotary Foundation Permanent Fund.  He was so honored to be the Rotary District 5030 Governor of the greater Seattle area 1996-97.  He worked hard at being a good leader and cheer leader for all the Rotary memberships.  He always believed in the Rotary Motto of "SERVICE ABOVE SELF."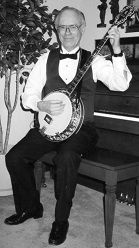 Upon hearing of Dick's passing, the Bellevue Rotary Club paid a special tribute to him.  At a Rotary meeting instead of a moment of silence, the club honored Dick with a long standing ovation for all he gave and meant to their club over his years of membership.
Dick also decided to learn to play a banjo.  He was active in the Seattle Banjo Club for many years and he played at most of their performances.  Dick played trumpet in his high school band which helped make it easier for him to learn other instruments.
He also learned to play the ukulele.
Being truly retired from work was not for Dick.  He began doing part time accounting work for his son's business named Car-Fi Inc.  In 1993 his son came up with the concept for marketing automobile stereo.  Dick financed the new company, STEREO WAREHOUSE, INC.  They began the new business in June that same year.  It was a tremendous success due to the combined marketing and management skills of his son, Dutton, who teamed up with Dick's accounting skills.  Dick eventually sold the Aurora property to Dutton and his wife Midori and retired again.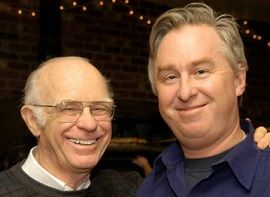 After his retirement from stereo, he wanted another West Highland white terrier dog since his other two had died from old age.  He purchased a ten week old puppy that he named Annie.  They competed together in Obedience, Rally, and Agility Trials for many years by traveling in the RV to as many competitions as possible.  Boxes of ribbons showed what a good team they made together.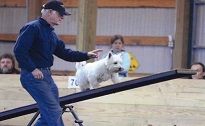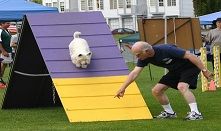 For 51 years Dick became well acquainted with many Ravenna neighbors over the years on his count-less number of dog walks near and far throughout the neighborhood.  He also made many friends, human and dog alike, just by being out front of his own home.  Dick always had dog treats available in our garage for dog visitors.
Dick never had any significant health problems until the last four years of his life.  Over this time he developed Alzheimer, Parkinson and Dysphagia.  He never lost his sense of humor through it all.  We thank Providence Hospice for their guidance in the great care of Dick in his own home.  Both his two daughters, Tina and Colleen, helped care for their Dad during home hospice so Mom could get some rest.  All three of them will cherish the night they made Dick laugh and laugh.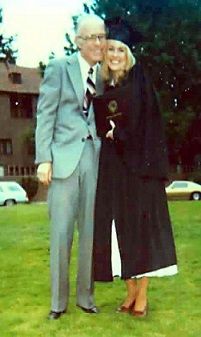 Dick's eldest daughter, Tina, graduated with an accounting degree from the University of Puget Sound. Dick would take her out to lunch when she worked downtown. Tina laughs over the fact that Dick made sure she knew all the cheap places to eat that had good food. He took her to accounting seminars, networking meetings and dinners when he gave speeches. He kept giving her encouragement to "work hard to succeed."  Tina had an accounting job in a stockbroker firm. Dick encouraged her to get a stock broker license. She did-thanks Dad!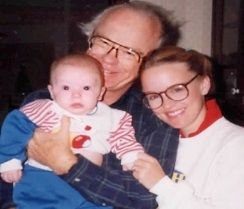 Tina also gave him his 1st grandson.
Dick's youngest daughter, Colleen, graduated from the University of Washington as an English Major.  She first found a successful career in corporate sales.  In later years she started her own portrait photography business.
Colleen thanks her Dad, among many things, for giving her a good sense of humor.  She will miss her Dad's explanation when his humor didn't go over so well in public: "I was guilty of making another one of my M.J.'s… mediocre jokes."
Colleen will miss the many walks she took with her Dad over the years.  They had endless philosophical discussions as they walked and talked.  After their walk, Dick would come back home and say that he and Colleen…"figured out how to solve all the world's problems."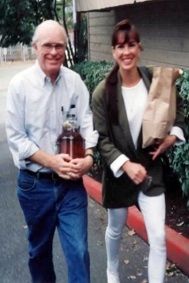 Dick was a great cheerleader person for Donna when she did her teaching, volunteer service projects and artwork.  He never complained about helping with the meals, housework, or care of family and pets when Donna was doing "her thing."
Dick and Donna shared many interests together.
One interest they found to do together was dance.  It all started when their two oldest kids asked them to take ballroom classes with them.  All four of them signed up but their kids soon dropped out.  Dick and Donna not only stayed in the class, but they took dance lessons for over three years.  They loved it!  They joined two ballroom dance clubs in Seattle.  They spent many wonderful evenings dancing with friends and each other.
Our five grandsons: Sonny, Steven, Ryan, Damian and Kylen all remember that three squeezes with your hand means: "I love you."  When he could no longer speak, Dick would give us three squeezes back.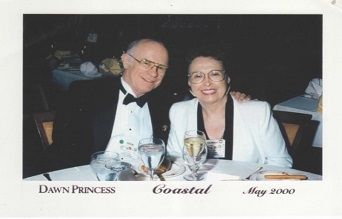 My husband Dick will always be remembered by all as a kind, happy man with a terrific sense of humor.  He loved people and truly enjoyed life!
The family will have a private celebration of his life in September.  Dick did not want a memorial service.  Suggested memorial gifts can go to (1) The Rotary Foundation: One Rotary Center, 1560 Sherman Ave. Evanston, IL 60201-3698, USA; www.rotary.org (2) PAWS: P.O. Box 1037 Lynnwood, WA 98046; www.paws.org (3) the charity of your choice.
A heart-felt thanks to everyone who have honored Dick by expressing their own fondness and warm memories of such a beloved man.
PLEASE SIGN HIS GUESTBOOK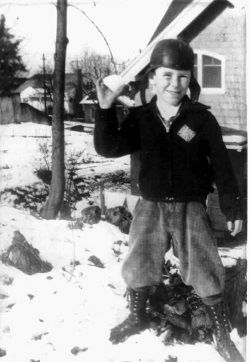 ---
Comments
My heart is sad but happy that he is with his family above what a great guy ! I will miss my daily dose of humor dick always had something witty to say and could make a dreary day a happy ! He was always supporting my cribbage tournaments and making me small signs when I came back that said champ or such ! He will be missed he was truly a great man ! --Laurie Kenny
---
Dear Donna and family,
I am so very sorry for your loss. Thank you for letting me know. I loved reading about Dick's full and rich life with all of you. What a lovely man he was. I always felt his kindness when I would see him with you, Donna.
I am glad that he passed peacefully and that he is no longer suffering. I can imagine how much you miss him but he must also still be right by your side in spirit, Donna. How blessed you both were to have each other all those years!
Warmest regards,
Meg Hannan
---
Dear Donna and family,
Our symphony and sorrow.
I worked with Dick at Benson & McLaughin in the accounting, audit and tax fields for several years. I found Dick to be a fair but tough task master. We worked together in Seattle but also in San Francisco and Los Angeles for the B F Shearer account. Dick had a sense of humor and did not let business issues become over whelming.
Donna you threw and congratulations party for me and prepared a scroll commemorating my passing the CPA examine. Unfortunately, after several moves I have lost that scroll. We now live in a retirement home in Tacoma, WA. Donna, Vivian has dementia so have some idea what you and Dick have been though.
Again sorry for your loss.
Bob & Vivian Cochran
---
Dear Donna and Family,
I remember Dick well from his time with the Seattle Banjo Club when he always helped out with the Seattle Banjo Festival and purchased a full page ad for Stereo Warehouse in the festival program. I also appreciate his donation of two banjos to the banjo club; both of them have served as loaners for students.
Jack LaFond
---
Dick was a great guy and pretty darn good on the banjo too. I always enjoyed it when he came to our gigs. He mentored me on a number of musical tips even when he didn't feel really strong about that particular element. I will always remember him for being a really great guy! --Bill Barker
---
I had the pleasure and honor of meeting the Clarke family through their wonderful and beautiful daughter Colleen. And oh, what a family. It strikes me now that I am about the same age that Mr. and Mrs. Clarke were when I first met them. Why they embraced me right away and made me feel part of their family is still a mystery to me. But they never did anything half way. Whether it was Mrs. Clarke quilting some type of garment that only she could imagine, or Mr. Clarke buying a motorcycle with side car, they never gave less than 100%. I still remember (with jaw dropping) when Mr. Clarke drove up with the motorcycle and side car and proudly showed me the bags of sand he had in the side car so he could practice with the weight so that Mrs. Clarke could eventually be the guest of honor to accompany him on his travels. Now that is a loving wife.
As far as Mr. Clarke, I can only hope that I can have the same impact on someone that he had on me AND my family. When he asked me what I was majoring in at the UW I said "Business Administration". He rolled his eyes and said basically it wasn't worth anything unless I got my CPA. I responded "uh, okay". I of course did and it has benefited my family from that point on. Mr. Clarke was one of the few people I have met that truly loved his job and he approached it with the same fervor that he approached everything else in life. He was an extremely lucky man both professionally and more importantly, personally.
Mr. Clarke also believed in the spirit of Rotary and counseled me to join. I am now the current president of my club and this would probably not have occurred had it not been for Mr. Clarke's enthusiasm. So Mr. Clarke's impact on me has extended to others throughout my community without him even knowing so. Thank you Mr. Clarke.
J Buller
---
What a great life he had. I will miss his smile and always making me laugh. Rest in peace Dick Clark. Love, Julie
---
We send our best wishes to the Clarke family for a healing over the loss of Dick. There is nothing we can do about death except meet it with acceptance. Truly Dick was loved by all his family and friends and we are glad to have know him.
Love to all the family.
Jim and May
---
Donna and Family--Dick was always a special person to Wally and I. His loyal friendship and humor was so appreciated. I hold many happy memories of the years we have been friends and sharing Scouting activities being one. My love to all of you. Rosemary
---
I had the pleasure and Honor to know and work with Dick in both the CPA business where we both served on the Board of Directors and Committees of the Washington Society of CPA's and later in various capacities in Rotary, I in the Bellevue Downtown Club and Dick in the Breakfast Club, where we both were District Governor Area Representatives, part of various Conferences, and with Polio Plus. One of the forks in the road not taken in my life that i have thought about numerous times was when Dick and the other Partners of Benson McLaughlin offered me to join their Firm - A bunch of classy guys and a great firm. Dick is one of the guys you hope to be lucky enough to cross paths with in life and I'm most fortunate to have been there and spend the quality time we had. There a small number of people in the world that make it a bigger and better place for their having been there, and Dick was certainly one. We can, as his friends only aspire to measure up in the work we do and the lives we touch during our time here. I kind of lost touch with Dick when we retired, but I surely miss him today as I'm sure many others are feeling as well. Well done my friend and I'll see you on the other side !
Bill Jeude
---
We have many good memories of Dick from the early days of Bellevue Breakfast Rotary Club. He was a spark and inspiration in my life. When we attended a District Meeting together in Vancouver, it was Dick and his thoughtfulness that started Katie's Paul Harris Fellowship. Another happy time was attending The Wizard of Oz Sing Along with Dick and Donna, just singing our hearts out and having fun. What a great pleasure to have been a part of his life. Bless him.
Jim and Katie
---
I wish we lived closer to you, we will miss my favorite uncle.--Lee
---
I was so fortunate to have Dick and the wonderful Annie in my dog obedience training classes. They were such a great team and I enjoyed every single minute we spent together. Dick was a fun addition and he embraced the philosophy of bringing chocolate to celebrate any of our victories as well as our many humbling moments. They both made me smile and I was proud to be able to be a small portion of their partnership.--Mary Schurr
---
Dick was a big part of our neighborhood. I still expect to see him walking Annie (or was it the other way around) down our block and stopping for a chat. Dick could talk about anything with wise observations and wry humor. Recently when his health was failing, these talks were more philosophical. One story he loved to tell was how he met Donna in college and "stole her away" from another fellow. Thank you to Donna and their children for putting together such a wonderful memorial page with the great pictures. --Anita Sterling
---
Dear Donna, Colleen, Dutton, Tina and all of the nephews,
I want to pass on my deepest condolence's to the entire Clarke family. After reading the Memorial it brought back all of the memories that made Dick such a great person. I remember the deep passion and conviction he had for anything he deemed important to himself and his values. His love and commitment to his family. His deep dedication and loyalty towards his involvement with Rotary. His passion for his dogs and his tireless practice of the banjo. It is all of this and his straight forward look at life and his great sense of humor that made Dick such great person. I am honored to have been his son in law for 18 years. He might not know the impact he made on me during those years, but his passion, dedication, sense of humor will live on in my memories. Thank you for being such a great father in law. --Robert Mathews
---
I so enjoyed reading all about Dick's life. What a full and rich life he lived. I will miss seeing him on the block with his warm smile and wonderful sense of humor. All our best to all of Dick's family. --Jen Zell
---
One can learn a lot from a stranger.
I count myself lucky to have met this man a year and a half ago as he was out on a walk in his beloved neighborhood. I was working in a garden and he stopped to talk to me. He told me he was a numbers guy and that he had lived a good life for nearly fifty years in the handsome brick house that he motioned to across the street. He said he raised two beautiful daughters and a son there and that he was proud of them. Without saying it in actual words, he conveyed that a well lived life brings wisdom, generosity and honesty and if we have taken the time to do it right we can look upon it with pride, knowing we did the best that we could. It was a twenty minute conversation and we bid farewell for the time. A few months later, by twist of fate I met his daughter Colleen and fell in love with her. Later in the year I spent one of the most memorable Thanksgiving dinners with the Clarke family and I got to know the truly special man I met earlier in the spring, just a little bit more.  --Jon Nielsen
---
Dick Clarke was a wonderful person and I was blessed to have known him. No doubt he's entertaining someone right now with his humor and banjo! My thoughts and prayers are with Donna, Colleen, Tina, Dutton and all of the grandkids. -- Greg McKim
---
We are very sorry about your loss. Dick was a wonderful person. We enjoyed his company everytime we visit Seattle. - Tsuneo & Kyoko Murai
---
Donna and family,
Our sincere condolences. Dick was a wonderful person and we are sure you miss him, but great memories of him will last forever.
We surely enjoyed knowing him as our next-door neighbor for the last 27 years. Dick had such a quick wit and told us great stories, plus always reminded us to be careful on the ladders! We will miss our conversations, seeing him walking with the dogs, and playing the banjo, but we can reminisce with you about our good memories.
All the best to you.
John and Lynn
---
Dear Donna,
What a lovely tribute to Dick's life. We have always thought of you and Dick as the cornerstone of the block. We have loved hearing your stories and this lovely write up confirms what we already suspected, that you and Dick had an amazing life together. Thank you for sharing all these stories and pictures. We hope that you will find moments of joy and peace during this transition. We will always remember seeing Dick walk around the block with his dear Annie.
Warmest wishes,
Joyce, Ben, Jak, and Minnie
---
Dear Donna,
We have known each other for so many years and had our lives overlap through CPA activities and Rotary. We knew Dick as a man of sterling character and always at the forefront of everything. I did not know of his many interests. What fun times you had! I know you and your lovely family will cherish many wonderful memories. My deepest condolences.
Shirley Luhman
---
What a wonderful life and life story! We will all miss Dick, but are grateful at the life he led and that we were able to share some of that life.
I first met Dick in 1987 at a seminar for incoming Rotary club presidents. One challenge we had that year was fundraising for polio eradication. Dick led his club to a 500% increase in club donations. I knew he would do well: everyone knows CPAs make great Rotary club presidents.
We paralleled our Rotary activities over the next few years, and Dick followed me as District Governor. I remember an incident at a gathering in Phoenix. My wife and I, as the current governor, were to escort and introduce the incoming governor, Dick, and Donna, into a ballroom with over 500 guests. Just before we began the entrance, Paula noticed Dick still had the cleaner's tag on his tuxedo! Although Dick was serious in his business and Rotary, he didn't take himself seriously.
Dick had a great year as District Governor: everyone knows CPAs make great Rotary District Governors. He held his district conference in Wenatchee, and it was a huge success, with outstanding programs.
Dick had served as the Board Chair for the Washington Society of Certified Public Accountants, which is a very, very prestigious position for a CPA. His contact there helped Rotary utilize the Learning Center for many training seminars.
Dick had so many interests. I couldn't believe it when he took up the banjo and joined the Seattle Banjo Club. He was no threat to Earl Scruggs, but he had a lot of fun.
I remember the first time visiting Dick and Donna's home. I had to laugh at their indulgence of their two Westies. Dick had built a ledge for them to jump on so they could look out the front window just like they were big dogs. When these dogs passed away, Dick got a new puppy, Annie. I am not sure who was the biggest puppy. Dick had such fun training Annie and showing her off in the agility tests. I recall he built a practice barrier out of PVC pipe and they practiced in the front walkway.
Dick has been a great supporter of mine, and we have had a wonderful relationship. I have been sad watching him decline over the last few years. He knew he was having problems, yet lived his life with such grace. He was teaching us to the last. Bon voyage, my friend.
John Rasmussen
---
We were deeply saddened to lose our good friend Dick. We so enjoyed bringing Jack to visit. Jack surely enjoyed his biscuits! Ty says, "Dick was my second Dad." Dicks intelligence and quiet, dry sense of humor was priceless. Much love from us -- Ty, Sally and Jack
---
We are deeply grateful to have been next door neighbors to the Clarke's since 1989/2001. Dick has been neighbor, mentor, and friend through the years. He has lead by example in so many ways. He has lived a life of service to his family, clients, and community. I have personally appreciated Dick in so many ways. His respect & love of his wife, Donna. His daily humor and smiles. His decision to find the bright spot in each and every day. Dick continually was learning something new, challenging himself. I so enjoyed his banjo music wafting out of their windows in the summertime. We would talk of his next adventure on the motorbike. I continue to be impressed of his grace and humor during the past years, when in his words, 'each day is a new day'. He had the intelligence to realize his declining abilities and the wisdom to meet those challenges with humor and grace. He was kind, honest, encouraging. If he saw something he didn't like, he worked to improve it. Many times I saw Dick heading out with a 5 gallon bucket to clean /paint over vandals lettering in our neighborhood. Always a can-do person. He and Donna always had a house or garden project they were doing together. Dick is and will be missed. We miss his gentle and warm smile, his soft sense of humor. We miss seeing him walking Annie in the neighborhood on their frequent strolls. I think of him often and know I am an better person to have known and shared time with Dick.
Blessings to Donna and your entire family. Thank you for taking such good care of Dick in your 62 years together and especially these last years. You were an amazing team, together. May you be comforted by all these good memories. With much Love, Karen & Tom
---