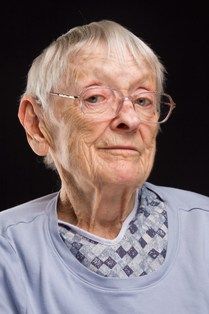 1925-2014
Norma Adeline Leak, age 89, passed away peacefully, early the morning of May 10th 2014, following a stroke the week before.
The seventh and youngest child of Danish immigrants Sam and Caroline Eversen (formerly known as Soren and Caroline Andersen Severinsen), she was born on February 17, 1925 in Klein Montana, a coal-mining settlement just south of Roundup across the Musselshell River.
Sam gained his US citizenship serving the US Navy during the Spanish American War. Norma, at the age of 2, moved to Billings with her mother Caroline, and 5 older sisters after father Sam and brother Adolf died from unrelated health issues the same year.
The family of seven women/girls, together, made it through the depression and WWII, taking in laundry, babysitting, working as mothers' helpers, and various other work that could be found. Norma began her career in administration as a secretary at her own Billings High School soon after graduation, and later worked at the Bureau of Reclamation.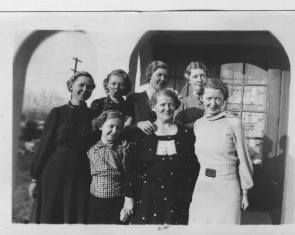 ---
In March 1947, she married Gilbert Leak, whom she met prior to high school. He had returned from WWII service in the Army Air Corp, North Africa, as an airplane mechanic. After their wedding, they moved to Denver where Gil to attended college, courtesy of the GI Bill. With his newly earned accounting degree Gil rejoined the military as an officer in the US Air Force, Office of Special Investigations.
This began a life that took the family to duty stations in Washington DC, Wiesbaden Germany, Tacoma & Seattle WA, the Philippines, and back to Seattle for retirement. While stationed in Europe, Norma and her family were able to visit her parents' extended family members several times in Denmark, during the late 1950's.
In 1962 Norma restarted her secretary/administrator career, working at John Hay Elementary School in Seattle until 1978, and while working for the USAF with a secret clearance, during the 14 months the family was in the Philippines, 1966-67.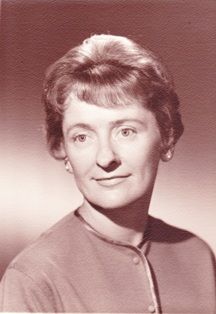 Gil retired from the military in 1968, and began a second career in banking. Norma and Gil returned for a visit to the Philippines in 1980. They both enjoyed being with family and friends, visiting several islands of Hawai'i, travelling the western US, fishing and playing cards, and playing with their two grandchildren.
Following Gil's sudden death in 1985, Norma continued to live in the Magnolia neighborhood of Seattle (a total of 39 years). In 2001, she moved to the Foundation House of Northgate, a senior apartment community in North Seattle.
For 10-15 years she traveled periodically, visiting extended family in Montana, Colorado, and Texas. She made numerous elder hostel trips in the US, Europe, Russia, Australia, and New Zealand with former-military friends. She made weekly trips in the summer to the Wedgwood Pool to watch her grandchildren, Ryan and Jenny, compete in swim meets, and in the winter, to various Northshore schools to cheer and watch their basketball games.
She lived actively and happily in North Seattle for almost ten years, until she fell and broke her arm, beginning a series of rehab stays, and declining health. In late 2010, she moved to the Good Shepherd Home in Shoreline, a very caring adult family home. She entered hospice care at GSH, but graduated out 5 months later, with the wonderful care of the GSH staff. Her sons visited her at GSH many times a week, helping her exercise, go for car rides, and to various events.
We thank Good Shepherd Home and Evergreen Hospice for their help. We became very close to the people who took such great care of Norma during her last years.
She is survived by her youngest son Ralph and his wife Stephanie, oldest son William (Bill) Leak and his wife Carolyn, granddaughter Jenny and her husband Trevor Miller, grandson Ryan and his wife Lindsey, and great-grandson Porter. Her most frequent, and fond remark to each of us was "Jeg elsker dig", Danish for "I love you".
Norma and Gil will be interred together later this year, at Washington National Cemetery, Maple Valley WA, just southeast of Seattle.Remembrances may be made to Seattle Childrens' Hospital, Evergreen Hospice Services, the Nordic Heritage Museum of Seattle, People's Memorial Association, or another cause of your choice.
(Photos circa 2014, 1930's, 1965)
---
Comments
Knowing Norma, as the wife of my military commander, and the time we spent with her and Gil over the years is something we will always cherish. My children loved her like a second Mother and Gil filled in as a Father for the kids while I was in Viet Nam. The last time I saw Norma, she didn't know me, but I began to sing "Going To Take A Sentimental Journey" (Gil's favorite song) she chimed right in and didn't miss a word. God bless you Norma you are with Gil once again. Wendall and Lois Harness
---
Aunt Norma was a very special lady who was so loving and wonderful to be around. She raised some wonderful sons, too. Our deepest sympathy to Bill and Ralph and their families. John and Linda Holden
---
Norma & Gil's favorite song, sung by a favorite Doris Day. Sentimental Journey, on You Tube 
---