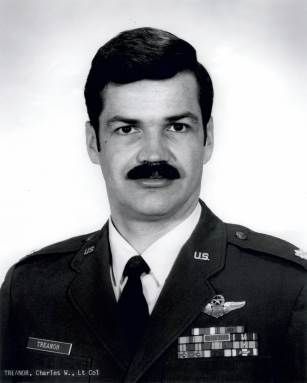 Lt. Col. (Ret.) Charles W. Treanor, age 77, son of George "Phil" and Annice Treanor, died March 5, 2015.  Born in Seattle and raised on Bainbridge Island, most of his youth was spent terrorizing the Island along with his friends in their broken-down jalopies, and in spite of almost blowing up the chemistry lab, he graduated from Bainbridge Island High School.  Following his return to Seattle years later, he "reignited" those friendships with monthly "Lunch Bunch" get-togethers and planning class reunions.
Charley attended the UW and earned his Electrical Engineering degree from Sacramento State College, courtesy of the US Air Force.  While stationed in Little Rock, AR, he obtained his Masters degree in Operations Management from the University of Arkansas.
Charley loved flying, and as a USAF navigator flew his favorite B47s, and during the Vietnam War, C130s between Thailand and Vietnam.  In his 20-year Air Force career, Charley flew throughout Europe, North Africa and Asia, and was involved in the early NASA Gemini Recovery missions.  Of all the places in the world he visited, Libya, Spain, and England were his favorites.
Following his military retirement, he spent 19 years with Boeing as an Engineering Manager.  After his second retirement, he served on the Washington State Electrical Board under former Governor Gary Locke.  Never one to be idle, he exercised his great mind with genealogical research and became a very popular instructor of current events at Lifetime Learning Center. 
Charley was a good neighbor, ever willing to help anyone at any time, except on Monday and Tuesday mornings, which he reserved for taking his 97-year-old neighbor Marion to her weekly bridge and beauty appointments.
He was known for his love of old movies, working on his old cars, and classical music, particularly French horn.  With his quick wit, good nature, and ever-present smile, he was popular with all who were fortunate enough to know him.  He was the life of every party.
Charley was predeceased by his parents, his son Charles, his brother Richard Ahrens, his sister Persis Fleury, and his beloved dogs Ralph, Gillis, Bonnie and Henry.  He is survived and forever loved by his wife Marilyn, daughters Shannon Soady (Doug) and Erin Kelbaugh (Michael), sister Janice Lavigne, and extended family.  He dearly loved his grandchildren Christopher, Charlotte and Catherine, and great-granddaughter Lilly. The family is especially grateful for the loving care and friendships formed at Bayview Manor where he resided.
We'll forever miss your sparkling wit and smile, Dad, and endless patience with new math and bad puns.
A memorial service will be held on Tuesday, March 17 at 10:30am at Bayview Manor, 11 W. Aloha St., Seattle.  Reception to follow. Remembrances may be made in Charley's memory to the Seattle Humane Society or a charity of your choice.
---
Comments
We were good friends, many memories. I will miss him.-John Brassfield
---
Sad to hear about Charley's passing. I worked for him at Boeing. He was fair, respectful and a great person. The world will be a better place if there are more people like Charley. His ever present smile will be missed by all who knew him. Charley may not know but he was loved by the people whose lives he touched.-Pablo Santos
---
I was a high school classmate of Charlies and experienced some of his high school 'adventures'. A truly good guy and he will be missed. Very sad to see him go but, heaven will be a better place with his presence. I hope God has a sense of humor. -Dave Beach
---
Thank you to all who left such kind thoughts about Charlie. We, his family agree with all you said. Thank you. 
-Treanor Family
---