Stephen John Patrick Lalor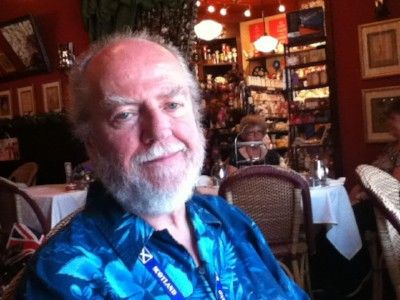 Stephen John Patrick Lalor, musician extraordinaire, best of friends, loving husband, brother, uncle, son-in-law and bandmate, has left the building. He was born in Glens Falls, NY, in 1944, as he liked to say, "The last of the War Babies", the youngest of seven children. He was doted upon by his sisters, who he credited with teaching him to sing. Almost as soon as the ink on his diploma from St. Mary's Academy was dry, he headed out west. The halls of academia held no glamour for him. No, it was the lure of the west coast and music that drew him on. In the early 60s, he was part of The Driftwood Singers, with Lyn Brooks and Courtney Branch, later replaced by Billy Roberts. The group toured from Vancouver Island to Los Angeles, opening for everyone from Rolf Harris to Godfrey Cambridge. When the band broke up, he went on to form The Daily Flash, Seattle's first alternative rock/folk band, with Doug Hastings, Jon Keliehor and Don MacAllister. They had a regional hit with "The French Girl", and their single, "Jack Of Diamonds", is still considered the beginning of the garage/grunge movement. The Flash was followed by Bodine, another great band that put out one LP, and a tour with Danny O'Keefe. After a series of jobs that included bus and taxi driver, working for the Forest Service, and the LA Street Department, he settled on medical billing for UWMC. As he said so often, it meant he never had to take a bad gig. In 2002, he resurrected The Daily Flash, with the help of Barry Curtis, Don Wilhelm, Steve Peterson and Craig Bystrom. They had a wonderful time, and the band plays on, as it was always meant to. In 2004, he and his longtime love, Traepischke, got married, and enjoyed almost 14 years of bliss, with trips to Scotland, Ireland, Canada and Paris, as well as gigs with their duet, "The Phinney Ridge Rumrunners", and as 1/3 of "Broadside and The Handsome Cabin Boys". He leaves behind his devastated wife, Traepischke, sister Carol (and her husband, Bob), his bandmates, so many wonderful nieces and nephews, friends and fellow musicians who mourn his passing. At some point, there will be a wake, when the dust has settled. If you would like to honour Steve, come to a Flash gig, and support live music by patronizing the various venues even when they're not having music. Steve would thank you. 
---
Comments
I saw/heard The Daily Flash in Pullman in the winter of 1967. My friends and I still remember the shock of this great band's music. Unlike anything we heard up to that time.

Maybe 2008 or so, the Flash played at some festival at Seattle Center and I got to hear them again. I went backstage to tell Steve how treasured the memory of the Pullman performance was. It was a thrill to talk to him.

sorry the music you made is silent now.

Robert
---
You are my heart and soul, beloved. I live for the day we are reunited.
Traepischke
---
So very sorry for your loss. Trap, you and your family are in my thoughts and prayers. Much love.
Michele Marcella
---
A fine musician and a fine man. He will be missed.
    
Tory Horsman
---
I wish I had had the chance to get to know you two better before I left Seattle. I'm so sorry for your sorrow, dear Trapper.
    
Dana Corby
---
Much love and hugs to you, mama. I consider myself lucky to have had the opportunity to meet him. You two were so perfect for each other and hopelessly in love. You both became such an integral part of my life which is why I'm honoring you both as a part of my tattoo.
    
Lindsey Scannell-Propper
---
I so wish this was the fake last song and you were just riding around the block only to come back for the real last song. You will be forever missed by those who knew you.
    
Katherine Foster
---
Seems Strange to Miss Someone So Badly, when I Rarely Saw Him, but I Feel the Loss, Deeply, and My Heart Weeps for His Dear Lady, Trapper!!!
*Pamela Suzanne Burdwell
---
Steve was a great friend to us, unfailingly kind, and eager to sing that third part we could never do as a duet. We loved going to hear the Flash, loved any music he was involved with, and felt so lucky to get to play with him. He will be sorely missed by us forever.
Felicia Dale.
---
I am shocked and saddened by Steve's passing, which I only found out abouttoday, July 28th, 2018.
From the time I heard him first perform at the Pamir House, and over the decades, I held Steve in great esteem both for his skills and abilities in music, but also because he was a kind, bright guy full of interesting ideas.
It seems every time I ran into Steve, the interchange became indelibly imprinted on my mind and soul. He hadthat effect.
Honestly, it's tough knowing he's moved onto the next stage, but I have a strong feeling I'll run into him.....again.
Comfort and condolences to Traepischke and all Steve's loved ones.
    
Michael Waters
---
Steve was a good and generous man. Once in the late 80s, he loaned me his Martin to play a set at the Last Exit, One of the songs had a brief rapping on the soundboard interlude. I didn't do it that hard, but the little pick up on it somewhere came loose.
Steve said absolutely no problem, hearing the song was worth it.
He's the only person I ever heard who could do Stan Rogers' song 'House of Orange.' Sent shivers up the spine.
Rest in peace good brother.
Carl McFarland
---