October 3, 1921 – September 21, 2014
Proud Norwegian-American, Scholar and World Citizen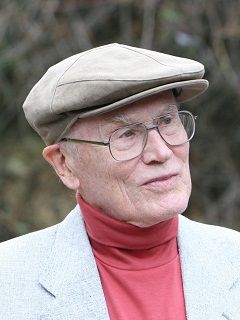 Born at home in Molde, Norway, and died peacefully in the presence of his children at Norse Home in Seattle on September 21, 2014. Olav remained fiercely curious about the world and the human condition his entire life.
As a boy, Olav lived several places in southern Norway before his family settled in Eidsvoll, north of Oslo. His father was a school teacher (later principal) and his mother was a semi-professional pianist. In November 1943, he was one of 1500 University of Oslo students arrested by the Nazis. He spent 13 months interned at Grini, Norway's largest concentration camp. A serialized account of his wartime experiences appeared in the pages of the Western Viking, and can be found here: http://www.infonorway.net/article.php?id=1124
After the war, Olav resumed studies at the University of Oslo. In 1947, he spent a stimulating year as an exchange student at Iowa Teacher's College, where he received a great deal of attention for being an exotic multilingual foreigner. Upon his return to Norway, he earned advanced degrees in Psychology and French. He met an engaging American woman, Cynthia Chaffee, at a party in Eidsvoll. Ahead of their time, they briefly lived together before marrying at Oslo Rådhuset in 1954. Later that year, they took the boat to America.  Before settling in Bremerton, they lived many places on the West Coast, including San Francisco, Carmel, Walla Walla, Pendleton, and Seattle. During this time, Olav worked a wide variety of jobs (including a brief stint as a door-to-door Fuller Brush salesman).
 
Olav did graduate work at the University of Washington and earned a Master's Degree in Comparative Literature in 1960.  Later that year he took a position at Wenatchee Valley Community College teaching psychology, French, and German. His daughter Liv was born there in 1961. In 1964, he was hired by Olympic Community College in Bremerton, Washington where he taught psychology until he retired in 1984. In 1965, the year Erik was born, they broke ground on a wooded lot to build the family home. Olav called it Trollbu, and they lived there for 43 years.
 
A man of strong political opinions, he wrote letters to the editor for publications near and far. After he became a US citizen in 1960, Olav never missed an opportunity to vote, and not once did he vote Republican.  He enjoyed writing for Norwegian newspapers and the Western Viking. He taught Norwegian at the Sons of Norway and developed his own textbook "Norwegian for Travelers" for his class.
Olav and Cynthia were married 54 years. When she was diagnosed with ALS, Olav lovingly cared for her until her death in 2008. That fall he moved to Norse Home in Seattle where he took full advantage of the time he had left. He joined a conversational French group, took art classes, and taught Norwegian. He forged deep friendships with numerous fellow residents and staff.
He loved to experience nature and enjoyed hiking, sailing, and cross country skiing. He could have eaten fish and boiled potatoes for dinner every day. He had a lifelong passion for jazz music. He took special pleasure in being by the ocean.  
While he never expressed regret for leaving his native land, as he got older he become more preoccupied with what it meant to be an immigrant. He was excited by the tremendous possibilities and opportunities of America, and felt it embodied both the best and worst aspects of everything. He traveled regularly to Norway and maintained close contact with relatives and friends.
Olav is survived by his children Liv and Erik; his daughter-in-law Catherine Ciarlo, and his grandchildren Cameron, Siri, and Sten. He was preceded in death by his wife Cynthia, sister Aase Lossius, and later by his girlfriend and fellow Norse Home resident Virginia Dickinson.
Liv and Erik would particularly like to thank the staff of Norse Home for looking after their father for the last six years. When he was still independent, they supported him in his varied interests.  As he required more care, they provided it with great compassion and respect.
Olav was a humanitarian and considered himself a world citizen. In lieu of flowers, donations in his honor can be made to UNICEF or Amnesty International.

A Celebration of Life will be held for friends and family on Nov 1, 2014 at 2PM in Ballard at the Nordic Heritage Museum. Please RSVP to lbrakstad@gmail.com.
---
Comments
---
Beautiful man. Beautiful soul. Beautiful life. Beautiful family.
I truly regret not meeting your family sooner.
Sending huge amounts of love to all of you.
Laura Buchwald
---
At a critical moment in my life, Olav Brakstad steered me in the right direction, with kindness and wisdom. And he told me that "once you cross the Atlantic, you are always on the wrong side" - but mysteriously in a good way. I think of him with gratitude. A good man. --Julia Klimek
---
Appreciated Olav's knowledge; I, as a 38 year old Navy ADCOP student at OC in 1973. His experience in life in Norway I did not know, but surely had an effect on his sincerety as an istructor. God Bless him and his family. --Don Bassler
---
It was a great privilege to meet Olav; his lively energy and intellect were extraordinary. I am so sorry to hear of his passing. My thoughts and prayers are with you all. --Mary Klockeman
---
I only was able to meet Olav once but I still have a fondness for him. What a wonderful person. I'm so sorry for the loss of your father and the children's grandfather. What a rich life he had. Thinking of you all. With love, Linde
---
I was a student of your father's at the Son of Norway in Bremerton. He told interesting stories of his life in Norway. He went over my Norwegian sayings for my rosemaling. He also checked letters I wrote to relatives in Norway. He was helpful and interesting. I am so glad I knew him. Eric--I still teach rosemaling at the Adult Heritage Weekend at Trollhaugen. Do you still live in Portland? --Marilyn Hansen
---
A fine man who I never had the opportunity to meet in person but, having known his son for many years I have an accurate sense of the man. I'm certain he was proud that the apple fell so close to the tree. Dr. Bob
---
What a wonderful account of your fathers full life on earth with periods of distress and many of pleasure and admiration for this place we call home . he truly lived a FULL life and set an example to many.
I hope that we too can remain in contact and discover our roots.
--Sally Lindley-Jones
---