Melva Covadonga Ortiz Somellera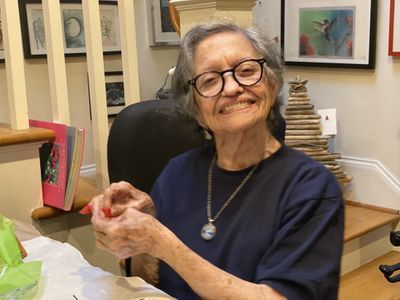 Melva Covadonga Ortiz Somellera, lovingly known as Onga, born August 17, 1926 in Comalcalco, Tabasco, Mexico, passed away peacefully on December 21, 2020 in Mountlake Terrace, WA at the age of 94.  She was an avid artist, painter, poet and writer and was often seen with a brush or colored pencil in hand while being creative.  Onga had created hundreds of drawings and paintings to share with her family, friends and anyone she met.  Her passion for sharing her art with others and quirky sense of humor will be missed dearly.
Onga is survived by her 5 children; son Alfredo, son Javier, daughter Sylvia, daughter Judith, son Rubén; 12 grand kids, 15 great grand kids and 1 great-great grand kid.
[Spanish Translation]
Melva Covadonga Ortiz Somellera, amorosamente "Onga," nacio el 17 Augosto de 1926 en Comalcalco, Tabasco, México. Despues de 94 años Onga, pacificamente se nos elevo de esta tierra. Una vida llena de arte, poesía, escritura y mucho mas. Capas de crear arte y humor en el florecer de un instante. La felicidad de su diria vida fue el compartir toda su arte, sabiduria y existencia.
A Onga le sobreviven sus 5 hijos; hijo Alfredo hijo Javier, hija Sylvia, hija Judith, hijo Rubén; 12 nietos, 15 bisnietos y 1 tataranieta.
---
Comments
I just received the news of Onga Sommellera's passing. When services are scheduled, please notify me. I would like to attend. Thank you.
- Jim Hays
---
Pircek eterno descanso de mi admirada Tita
- Tarsicio Ortiz Loredo
---
Lamento mucho el sentido fallecimiento, pronta resignación un abrazo
- Enrique Ortiz
---
Descanse en Paz, mi hermosa tía!!
Recuerdos muy lindos tengo en mi mente
Siempre la llevaré en mi corazón con mucho amor y cariño
Que tenga un camino de luz hacia Su nueva casa con Dios
Besos y abrazos!
- Gabriela Ortiz Vázquez
---
Un abrazo a la familia de Onga. Fueron muchos años de conocernos, hoy le tocó a ella partir. Mis más sinceras condolencias. Siempre recordaré nuestras pláticas, la convivencia y son tantos lindos recuerdos.
Alberto Coral.
---