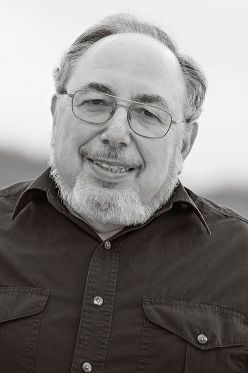 PHILIP JOHN KAPLAN, 69, died July 12, 2014 at Swedish Hospital in Seattle of renal cancer, three weeks after diagnosis.
Born May 10, 1945 in Sydenham Hospital in Harlem, New York City to George Kaplan and Rose Kruken, Phil was raised by Rose and her second husband, Skip Wolfe.
Phil is survived by his wife, Cecilia Matson, his elder sister, Johanna Green, younger brother David Wolfe, nephew David Green, niece Sarah Green Vaswani, great-nieces Avery and Quincy Geismar, great-nephews Ezra and Rohan Green-Vaswani, stepdaughter Tamara Cathcart Reames, her husband Steven Reames, and their children Carter, Aliya, Mercia, Eliana.
Phil's parents were founding members of the Tappan Zee Playhouse in Nyack, New York. As a youth, Phil worked as a stagehand at the theatre and his parents acted. He was once designated to be Jack Benny's dresser at the playhouse and carried Benny's violin, a Stradivarius, onto the stage. Phil's lifelong fascination with stage, screen and popular culture began here.
Despite his flat feet, Phil was eligible for the draft. In 1966 He chose to enlist in the Air Force and was stationed at McChord Field in Pierce County, Washington where he remained for most of his life. He received a bachelor's degree from Pacific Lutheran University while in the military.
Phil was a longtime social justice advocate who devoted his life to advocating on behalf of low income people, farmworkers, tenants, disabled persons and other disadvantaged groups. He started a food bank system in Tacoma and spent nearly 2 decades lobbying and advocating in Olympia on issues ranging from welfare to Medicaid to farmworker rights to landlord-tenant law. He worked for the legal aid program and subsequently started a nonprofit organization, Washington Poverty Law Advocates, where he continued to represent disenfranchised groups." Phil was a tireless and effective advocate in the 70's and 80's, a time when there were few organizations advocating on behalf of the poor", according to Tony Lee a friend and colleague of Phil's. "Phil was instrumental in protecting and preserving the general assistance program for the mentally and physically disabled, for example." Later, Phil went to Saipan In the Mariana Islands where he staffed the Office of Human Rights for the Catholic diocese. He helped foreign workers who were brought to Saipan to work in abusive and intolerable conditions. When Phil returned to the United States, he continued his efforts by working with congressional staff to document the abuses he had witnessed and to advocate for changes in labor laws in Saipan.
Phil loved kids and dogs. He was "uncle" to a number of his friends' children and loved to have them return to visit him as accomplished adults. He came to dog-love later in life, starting with his Australian Terrier, Izzy, and continuing with rescues Milo and Mackie. He found great joy in giving them good, safe and secure lives.
Arrangements by the Coop Funeral Home of People's Memorial.
A Memorial Gathering will be held on Saturday, September 20 at 5pm at Haller Lake Community Club, 12579 Densmore Ave N, Seattle, WA 98133.
Memorials gifts may be sent to Food Lifeline, Real Change, and the St. Martin de Porres Shelter, all in Seattle, Washington.
---
Comments
Phil was my friend, he will be dearly missed. I fondly remember wonder dog "Izzy" I believe they are together again enjoying each others playful company. Bless you Phil, blessings to your family and friends.
- Erin and George
---
I broke up in tears when reading Phil's obituary out loud to my friend. He was an extraordinarily good person. The world and I will miss him. I am so sorry for your loss, Celia.
Cousin Marsha
---
I worked with Phil on the unemployment for farmworker's campaign and on ending the small growers exemption that deprived many farmworker of the right to get unemployment when they were laid off during the off season. He was a tireless worker in the struggle for economic justice; this is the passing of a titan
Bill Knowles
---
Phil helped and inspired many, many people with his passion for justice and his tireless efforts to make the world a fairer place. A relentless speaker of truth to power, he also had the ability to do so with love, optimism and good humor. His passing is a very heavy loss to the justice community and my thoughts and prayers go out to his family and close friends.
Patrick McIntyre
---
Phil was a fine, soft-spoken and dedicated man whose work improved the lives of many. People ate and had shelter because of Phil. I'll never forget his laugh and his taco potato parties.
Jean Soliz
---
Phil and I were fellow lobbyists in Olympia 35 years ago. I was supposed to "supervise" him but as his friends know he was a force of nature. He showed me the ropes and I owe him a lot. A good, kind, passionate man who helped more people than most of us can hope to do.
- Dick Van Wagenen
---
Peggy Maze Johnson
I first met Phil when he and the Rev.Bruce Foreman formed the Piece County Food Bank and became a part of us at Neighbors in Need. He was just a young and idealistic man. That was on the early 70's! I can't believe it had been that long since I met this great guy. Phil, you will be missed!
---
I only met Phil this past Spring when we was with the Coffee Strong G.I. Coffeehouse tour in Seattle and again in Everett. Just from our short conversation, I could see that he was a person of great compassion. He will be sorely missed by peace and justice activists. My condolences to his family.  Albert Penta
---
Maile Bay

Phil made me laugh and all of us laugh so much! What a great fellow... we had so much fun, camping, debating, talking about dogs, making his potato tacos and stroganoff -- his early culinary works, his love of white chocolate. His dedication to Ceila, watching the teasing between him and his good buddy Tim. He lives on through all those great memories. Aloha oe, guy. Maile Bay
---