Carlyle Joseph Miller
Artist * Poet * Musician * Friend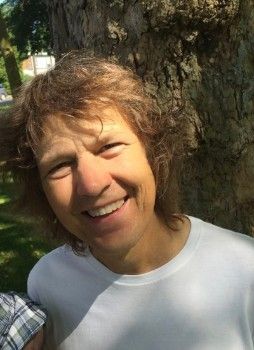 Carlyle Joseph Miller passed away on September 30, 2017 after a steadfast battle with cancer. He was a kind, light-hearted and passionate person who had a great love for life and respect for the world and humanity. Born in Seattle on January 11, 1961 he grew up in the Montlake neighborhood, and is survived by his brother Stuart.  HIs parents were Ruth and Joseph Miller whose roots both reach deep into the Seattle area, each born in Washington themselves.
Carl graduated from Garfield High School in 1979. He ran cross country, swam competitively, and played the trombone in the Garfield Jazz Ensemble and marching band. He was a member of Splee'Bop Deluxe, a joyful holiday brass ensemble marching through the streets in winter season and delighting us all. A personal accomplishment was training for and running the Seattle marathon in 2007. He adored riding his bike and shared this love with his brother Stu. Over time he expanded his musical repertoire from brass, to guitar, piano, voice, musical mixing and composition. 
Carl was known to his friends as a lifelong student of classic and sacred texts, art, music, design and poetry. He held deep appreciation for all expressive arts and composed rich and inspiring works. One accomplishment is his own rendering of the ancient wisdom shared in the Iching or Book of Changes (published in the late 9th century BCE). Carl was himself a genuine example of a phrase he summarized from the Iching # 53: 
"The life of one who has brought their own particular nature to perfection is a constant inspiration to all in heaven and on earth." 
His body of work can be seen and heard at www.carlylemiller.com. 
He has been a beloved citizen of Seattle, appreciated by those who had the privilege to know him. He left behind lifelong close friends, sweetheart Sherry Hoffman, and will be deeply missed by many.
Memorial Service will be held at St. Marks Episcopal Cathedral 1245 – 10th Avenue E, Seattle, WA 98102. Reception to follow in Bloedel Hall. Sunday, October 22, 2017 2:00 pm.
Gifts in memory of Carlyle Joseph Miller can be made to "Medic One Gift & Trust Fund" and sent to:
Seattle Fire Department
301 Second Avenue S.
Seattle, WA 98104
206-386-1400
---
Comments
Beautiful tribute to a beautiful human being
    
Jeanne McGuire
---
Carl was a delightful Person, friendly and welcoming to all . The whole Miller family was loved by all us neighbors . The online tribute told of his Greater Beauty . A splendid angel has moved on into the next realm.
Phyllis King
---
My brother of the 'bone! Can't believe you are gone. I always loved our conversations at Espresso Express. You were such a positive and energetic force. I miss you.
Scott Brown
---
Tribute to this very exceptional man and artist who passed away so early.
From his Gparents' old country Poland and Europe.
Tad Max Wysocki, Warsaw, Poland
---
I will miss you dear friend. We always found a path to a laugh when we spent time together.
Joey Kline
---
I was reunited again with Carl (and Stuart) late in life at the gym. He told me his story and was determined to not let it get the best of him. I was so amazed by his positive attitude and love for life. He was truly talented on so many levels, and will be missed by all who he touched in his life.
    
Carl L. King
---
Carl was one of a kind. A poet in every sense of the word. He lived his life with an intensity and grace that is unrivaled in my experience. Carl was an enthusiast for people, their feelings, and their quirks. I grew up seeing his smile behind the espresso machine and had the privilege of his friendship. Thank you Carl, wish I had the chance to say goodbye
    
James Searle
---
I bought many a latte from Carl on lunch breaks in high school. He was always friendly and easy going, and conversation with him was respite from the chaos of my teenage years. A true Seattleite, through and through, he will be missed
L A
---
My brotha (from another mother) trombone/kin, Hate to no your physical is leaving us, but your presence will always be with, /remembered :-D bone 4 life. Live Life Love. And you did all three
You will b missed
Rodney
---
To stu and family,
I was a childhood friend at montlake grade school.
Very sorry of Carlyle's passing, deepest condolences.
Tim Novotny
---