Monica Zucker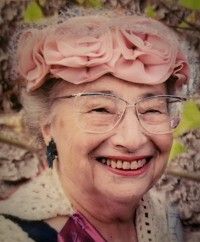 She didn't suffer fools
but tomfoolery's all right
long as justice wins
The strength of her heart
outlasted her voice's wit
and still thrives in us
---
Come help us celebrate the life of Monica Zucker! Beloved Mom; fierce lifelong advocate of civil liberties, unions and general political sanity; songwriter and Raging Granny. 
1:00 - 4:00 PM, February 24th, American Friends Center, 814 NE 40th St, Seattle, WA 98105

Sharing and music around 2:30.
---
MONICA ZUCKER was born in 1926 to Nathan Ribstein and Jeanette Nudleman Ribstein, Jewish immigrants from Lithuania and Poland. Her father eked out a living as a traveling salesman in the depression and eventually began a successful women's clothing business in St. Louis where Monica was born. Monica was the first in her family to graduate from college - Washington University. In school, she met and married Milton Zucker, a biochemist, also the son of Jewish immigrants from Europe (Germany and Ukraine). 
After moving to Connecticut (Wallingford and later Hamden), Monica raised four sons, remaining active in politics at the same time and returning to work while the youngest son was still in elementary school. She worked as an administrative assistant in law firms, and in a number of university settings - at Yale, at Washington State in Pullman, and at the University of Washington in Seattle. After her retirement she audited U.W. classes in a wide variety of subjects almost every semester for over twenty years. 
Monica became a widow in her mid forties and never remarried. She moved to Seattle to be closer to her sons. She put much energy into supporting her sons and their friends and families but continued to live independently and self-sufficiently into her late eighties.
Monica loved to travel and loved world music. She lived in France, studied at the Alliance Francaise, traveled to Greece, Peru, Czechoslovakia, and other countries. She and Milton heard classical Indian musician Ravi Shankar in the early nineteen sixties. In Seattle, fifty years later, she was still a member of RagaMala, an association promoting the music of India, and had signed albums by Simon Shaheen, the Palestinian musician.
Monica's lifelong passion for social justice issues first expressed itself in the early 1940s when she and Milton worked to organize the first racially integrated dance at Washington University. She was active in the League of Women Voters through the years she raised four boys. In the 1960s she moved to a racially integrated neighborhood and became active in the PTA and joined and later was executive director of the New Haven Human Relations Council - a local civil rights organization. In the 1980s she was active in her union (SEIU 925) and led a push for equity in women's pay that culminated in the first Washington State bill promoting equal pay for women. Long an active supporter of the ACLU, Monica became a member of the Washington State board and then, later, the national board. Among other actions, she opposed corporate personhood and supported increased attention to economic justice issues. She worked tirelessly on the abolition of the death penalty and other issues. An active participant in anti-war protests during the Bush years, Monica also participated in the Seattle anti-WTO actions. Always outspoken and always articulate, she was named "best letter to the editor writer" by the Seattle Post Intelligencer. More recently, Monica combined her love of social justice with her creative side and became a song-writer and performer with the Seattle Raging Grannies. 
Monica died shortly before her ninety-first birthday with her family close at hand. Her last words exemplified her lifelong values; "I wish everyone in the world could have as happy a life as I had." Till the end, she cared about everyone in the world and was grateful for her own privilege.
Comments
Monica - we loved her! A spitfire at the union - she represented everything that SEIU 925 was founded for. I had the pleasure of seeing her a few years ago at a small reunion of 925ers with a filmmaker who is making a documentary about our union. We must dedicate a showing in Seattle in Monica's honor! Thanks for the fabulous description of her life!
Kim Cook
Past. President SEIU Local 925
---
Thanks so much Kim! We are very proud of her rabble rousing and I love your idea of a film showing.
    
Dan Zucker
---
Monica-our raging granny sister! She lit up Raging Granny meetings with her wit, songs and knowledge and clarity on issues. We remember and cherish our road trips-- to Edmonton for the Western Regional Meeting of the Raging Grannies and to Victoria BC for the 25th anniversary of the Raging Grannies. We'll remember her generosity and energy as she fed us, hosted weekly bridge nights, organized movie nights, invited us to enjoy Indian music events and follow the Yellow Hat Band through the streets. Thanks for sharing your special family with us. She kept us up on any theatre and speaker events of note; she was well read and invited us to join her in auditing U of W classes. We always answered we "should, would, will" - but she DID. We cherish the memories and the songs she left.
Shirley Morrison
---
Thank you so much for your lovely words, Shirley, we regretted you weren't able to be at the memorial but fully felt you there in spirit. I'm not sure how many of the grannies knew that we boys remember Monica writing sharp political lyrics to popular songs when we we were kids. I think she heard the angels sing when she found the grannies, the perfect outlet for her natural urge to skewer evil people and ideas musically, and have fun too! Our thanks to everyone in the group for being her fine compatriots.
    
Dan Zucker
---