Geraldine (Geri) Ann Vance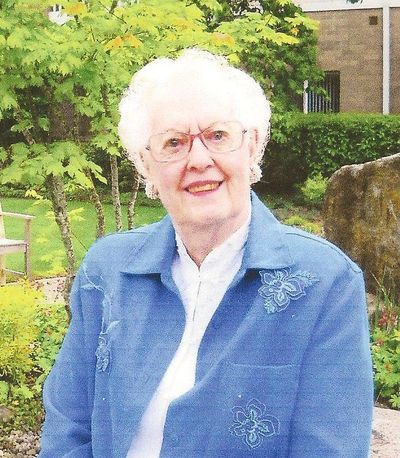 Geraldine (Geri) Ann Vance, 97, passed away April 26, 2020.  Her joy, humor, and loving spirit will be missed.
She is survived by her sons, Sid and Rod, and has 5 grandchildren, 4 great-grandchildren, and 1 great-great-grandchild.  At her request, no memorial service is planned.
Geri married James Vance in 1943, and in 1953, when Jim became a minister in the Evangelical United Brethren (EUB) church, Geri became the dedicated minister's wife.  She served numerous roles within each of the churches that they served in Washington, Oregon, and Idaho, and supported Jim's ministry 100%.
During her life, Geri also worked as a telegrapher, bookkeeper, bank employee, and professional cake decorator.  
Jim retired in 1986, and he and Geri moved to Emerald Heights retirement community in Redmond, Washington, in 2001.  Geri actively supported numerous community activities at Emerald Heights for many years.  Jim passed away in 2010, and Geri continued to live in their two-bedroom apartment.  She moved into the Assisted Living section of Emerald Heights in 2013, and then into Skilled Nursing in 2019.  
Ironically, as a young girl, Geri contracted Scarlet Fever and the German measles at the same time, and had to be quarantined in a hospital for two weeks.  Since her passing in April 2020 was in the midst of the coronavirus pandemic, Geri was again in a quarantined status, along with the other residents of the Skilled Nursing section of Emerald Heights. 
---
Comments
---