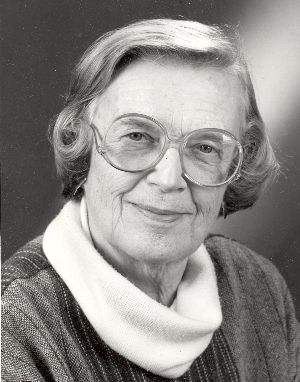 Irene Callen Sugg Heninger died peacefully in her sleep on Thursday, August 6th, at the age of 92.  Irene was one of four children born to Richard Henry Callen and Lillian May Callen and raised in Jerome, Idaho.  Her earliest memory was starting grade school at Canyonside Elementary.  People might be surprised to learn she was a drum majorette in high school and once debated against future Idaho senator Frank Church.  After high school, Irene attended Whitman College.  She left Whitman and moved to Connecticut to be with her new husband and childhood friend, Louis Herbert Sugg.  Lou was a US Navy submarine officer. While on the East Coast, Irene completed her Bachelor's degree at Barnard College.  
After the war, Lou left submarines to go to flight school.  While they were in Pensacola, Florida, for flight school, their first son, Dale Callen, was born.  After flight school, Lou earned a Rhodes scholarship, which allowed the couple to live in Oxford, England, for 3 years.  During this stay, Kathryn was born.  After Oxford, Philip was born in Jerome, Idaho.  Lou returned to flying and was stationed in Virginia Beach, Virginia.
Unfortunately during this time in Virginia Beach, Irene was widowed when Lou died in an aviation accident in the Mediterranean.  Irene returned home to Idaho briefly to re -group. 
Irene's next move, at the urging of college friends, Liz and Dan Donno, Vera Dickey, and Lid Weeks, was to move her family to New York City.  She worked at the New York Public Library for three years while attending Columbia University Library School and earning her Master's degree. Following her time in New York, she moved to North Carolina to marry Duke University English professor Simeon K. Heninger, Jr.  Tim and Irene had 2 children in Durham: Polly and Simeon.
When her marriage broke up, Irene took her now five children to Idaho.  She was Assistant Directory at the Twin Falls Public Library, establishing bookmobile service to a wide area and becoming the eighth professional librarian in the state.
In 1968, Irene and her children moved to Seattle, and after 3 years teaching Children's Literature and Storytelling at the University of Washington School of Librarianship, she became the director of Kitsap Regional Library.  As director, she led a successful bond issue campaign to build a new central library for Kitsap County.  She also oversaw the renovation of several branch libraries and automation of the library's card catalog and circulation system.   A meeting room in the central library is named in her honor.
During her professional career, Irene was an active member of the Pacific Northwest Library Association, serving a term as its president.  She was also active in the Washington Library Association and the American Library Association.
After her retirement, Irene was appointed to the Washington State Public Disclosure Commission.  She also volunteered at the Nature Conservancy, Wing Luke Asian Museum, and the Seattle Symphony.  Additionally she belonged to PFLAG and Friends of the Library.
Retirement also allowed Irene the time to travel extensively.  She and her childhood friend, Marian Scott, went on 24 trips to six continents. They were always planning their next trip – until their health would no longer permit.  Their trips included horseback riding in the Altai Mountains in Mongolia, trekking in the Himalayas, riding an elephant in India, and canoeing in the Okefenokee Swamp.  She enjoyed reading, cards, crossword puzzles, symphonies, opera, and ballet. 
Irene was admired for her drive, determination, and independent spirit.
Irene moved to Horizon House in 2002. She was pre-deceased by her sister Lilla May and her brothers, Dick and David.  She is survived by her children, Callen, Kathryn, Philip, Polly and Sim, and four grandchildren, Laura, Thomas, Elijah, and Imani.
There will be a celebration of Irene's life on Wednesday, August 12th, from 1:00 to 3:00 in the Sky Lounge on the 19th floor of Horizon House, 900 University Street, Seattle.  In lieu of flowers, the family requests that contributions be made to the Partners in Caring program at Horizon House (http://www.horizonhouse.org/philanthropy/) to honor the wonderful care she received, especially from the staff of 3rd floor Supported Living.
---
Comments
I met Irene while she was librarian at the Kitsap County Library. I know Polly and Sim through school and found their mom always willing to help me find information for class projects and debate. She was a very nice lady and now that I live in Idaho, pleasantly surprised she was from Jerome. Kitsap County has lost a wonderful addition to their community and I'm glad I got to know her. --Jerry Stimson Pfenninger
---
I miss your mom and will miss y'all when you come for visits. I am so happy that your mom got her wish and finally "found her exit door". I will never forget her, or any of you. Thank you for sharing your mom with us. What an honor it was to take care of her. --Nicole H
---
What a lovely biography for a woman who defined the term intrepid. Your Mom was absolutely up for anything. I think she saw obstacles as opportunities, certainly professionally. I am enriched for having known her. I am glad you were able to honor her in Seattle and Idaho. I embrace all of you in a virtual hug. --Karen Long
---
Reading this obituary leaves me impressed with a woman who was strong, intelligent, determined, resourceful and adventurous, during a time when it wasn't always easy to be so! And while I didn't have the pleasure of knowing her, I know one of her daughters, who - guess what - is strong, intelligent, resourceful, determined, creative. What a legacy to leave one's children! What a rich life, a life lived on her own terms. I extend my sincere sympathy and condolences to her family. --Julie King
---
Reading Irene's story and learning about her grit, independence, and zest for life is wonderful, but not surprising. I say it's not surprising because I see the same characteristics in her wonderful daughter I know. I would guess that among Irene's many significant accomplishments in life, she might be the most proud of raising wonderful children. Kathryn is a truly amazing person, and I know that Irene was a strong, positive force in her life. My sympathy goes out to all who loved Irene. --Scott Crabtree
---
I have the pleasure of knowing two of Irene's children and from what I understand, Irene was a brilliant woman and a force of nature who lived life to its fullest! I always appreciated her bravery in fearlessly raising so many children in situations that would make most of us crumble and we can see how wonderful those children became. I know that Irene was loved by her family and many others and I hope that the fine memories of her are solace in this time of mourning. --Sandy Lewis
---
What determination and resilience and drive! How wonderfully written and in honor of Irene. This is one woman who made a difference - to her children, to the community, to many. It's always wonderful to live your life as an example. In so many ways, I believe Irene did this. As an example of determination and cohesion, and knowing what is right and what is not. I have gotten strength from Irene's story as her family has shared it with me and that story is only reinforced in what is written here. Sometimes people need to take decisive action, and Irene has again and again while building a home and environment for her children. Thinking of her family and sending warmest wishes. --Senia
---
She certainly led a very full life! She must have had the strengths of courage, love of learning and appreciation of excellence! I can recognize a lot of these traits in her beautiful daughter Kathryn. Though she will be missed by many, her legacy lives on! Sending prayers and warmest thoughts to the whole family. --MJ
--MJ
---
I met Irene with her son and my good friend Philip. She was a very engaged, interesting and intelligent woman. I am glad I got the opportunity to meet her, she was loved and respected by her children. My condolences to all of her family. --Donna Stewart
---
I knew Irene as the mother of one my best friends in high school.,Phil. She taught me how to drive a stick shift car. She was a very wise and loving mother to all her children. I rememberPolly and Simeon as well. Very bright as were all of Irene's children. I really miss Phil, he is The Godfather of one of my daughters, Alisen. Hoping this post finds him well and happy. Please call or contact me Phil(Bill Sellers 360-303-3999). We have a lot of catching up to do.
    
Bill Sellers
---