Edward Lawrence Cruver
July 1, 1938-August 12, 2023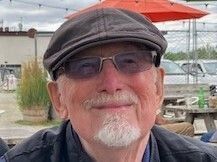 Edward Lawrence Cruver passed away at the age of 85 on August 12, 2023, after a brief illness. 
Ed was born in Tacoma, Washington to Earle and Ferne Cruver. He grew up with his siblings Cami and Jim in a bungalow across the street from Greenlake in Seattle, Washington. He graduated from Lincoln High School. He was involved with the Guilio Theatre School of dance as a teen, playing piano for classes and dancing in productions. He loved cars and even picked up a trophy driving his Volvo sports car in a race.
In his early years, he experienced perilous winds as he worked as a part of the construction crew building the top of the Space Needle. An accomplished jazz pianist, he spent his life sharing his talents with others wherever he was needed. Ed attended Central Washington University, where he earned his B.A. in Sociology and met his wife to whom he would be married for 56 years. He also earned his Masters from the University of Utah. Ed spent his career helping others in employment security for both government and private organizations, changing lives by giving aid and advice to the vulnerable.
He traveled the world with his wife, visiting China, Britain, Ireland, Spain, and France. He dearly loved caring for his three grandchildren. He was an advocate for several political issues. Shoreline-Lake Forest Park Senior Center benefited from his volunteer service; he enjoyed attending exercise classes.  Ed loved his wife and family more than anything and was happiest in their company. 
Ed was a friend to everyone, quickly making bonds with people he met from around the world to the staff at the counter of Little Coney at Golden Gardens where he especially loved to get a pre-walk affogato. The respect and interest he showed for all was an inspiration to many and is one of his greatest legacies. 
He is survived by his wife, two children, and three grandchildren.
In his memory, suggested donations to the Shoreline-Lake Forest Park Senior Center, 18560 1st Ave NE, #1, Shoreline, Washington, 98155. Also, in his memory, go get an affogato at Little Coney at Golden Gardens and take a walk on the beach, if you can. That was his favorite thing to do.
---
Comments
Thank you for the beautiful obituary on Ed Cruver. He was a kind, talented and beautiful person who will be sorely missed. I am not sure what an affogato is but looking forward to finding out.
Gloria Kawabori
---