B. Janice Stamey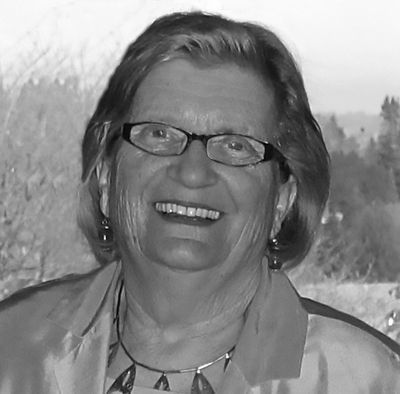 Barbara Janice Stamey (Janice) passed away peacefully on January 15, 2021 in Seattle, WA, nine days after her 94th birthday. She was born in Seattle on January 6, 1927 to parents of Norwegian heritage, Conrad Sofus and Hannah (Sponheim) Knudsen, who owned a variety store and soda fountain at 8808 Aurora Avenue North where the family also lived. In those days, Aurora Avenue was just a gravel road and Janice would walk to swim in Green Lake.
She graduated from Lincoln High School in 1945 and from the University of Washington (UW) with a B.A. in Music and English in 1948. In 1949, she completed a fifth-year teaching certificate and organ performance major under the renowned UW Professor Walter Eichinger.  Janice grew up in Phinney Ridge Lutheran Church where she was confirmed and was married to Arthur F. Stamey (Art) on December 28, 1951. When they moved to the Hearthstone in 2013, they returned to Phinney Ridge Lutheran, after being members of Trinity Lutheran Church of Lynnwood for nearly 60 years.
Music was always a big part of Janice's life, starting with the piano, then as an organ student at the UW.  She began her career as a music teacher in Hawaii at the Kamehameha School for Girls, then in the Shoreline and Seattle Public Schools.  When Art began his Lynnwood dental practice in the early 1950's, they moved to Edmonds and Janice began her 32+ year career as organist at Trinity Lutheran Church. She was instrumental in the church's choices and installations of two beautiful pipe organs, the first being destroyed by the tragic 1992 arson and the second being the current famed Pasi organ.
Janice's love of music and support of musicians was unfaltering. Through her role as church organist, she frequently went out of her way to feature student musicians. She and Art were devoted supporters of Cascade Symphony Orchestra in Edmonds, UW's Meany Hall President's Piano Series and the Seattle Symphony. She continued to attend and enjoy live performances up until last year.
Janice genuinely loved life and adventure. In 1970, the family of seven moved to Meylan, France (near Grenoble) and lived in a chateau while the children attended French public schools. Over the course of a year, the family explored Europe in a Volkswagen camper, traveling from as far north as Trondheim, Norway and as far south as Olympia, Greece, with many adventures in between.  In retirement, she and Art traveled extensively, often returning to France, which held a special place in their hearts. It was there that Janice embraced the world of French food and cooking. She always had a knack for spontaneously creating delectable meals from whatever ingredients she had in her refrigerator or freezer, a testament to her no-waste philosophy. Janice was an environmentalist long before most, going so far as to save water from her kitchen sink for her garden, already drenched by winter's rains.
She was known for her warm hospitality, hearty home-made bread (which she regularly shared with neighbors), green thumb, creative knitting, and keen thrift shopper's eye. Her children and grandchildren will always cherish how she made birthdays and holidays special, with many traditional Norwegian recipes, like klub (potato dumplings) and krumkake.
Janice loved dancing, tennis, and swimming in her beloved Puget Sound, which she did through age 92. In addition, for years, she and friends shared early morning swims at various local pools such as the Yost Pool in Edmonds. These swims were always followed by a daily cappuccino at The Red Twig café, a tradition dating as far back as the early 1980's when it was the well-known Brusseau's café. 
Most of all, though, Janice was known for her kindness toward all, never shying away from reaching out to someone in need of a loving hand or kind word.   She opened her home and dining room to people from all walks of life and from all over the world, including many foreign students who became extended family members, thanks in part to the UW's Foundation for International Understanding Through Students (FIUTS).
Janice was preceded in death by her husband of 64 years, Art (2016), and by her sister Virginia Falk (2006). She is survived by children Joan Cottingham (Dave), Virginia Stamey-Johnson (Dale Johnson), Sara Stamey (Winston Saunders), Alison Stamey (W.C. Twig Mills), and Paul Stamey (Deborah), and by grandchildren Chris and Matthew Cottingham, Alison (Austin Oehlerking) and Samuel Saunders, Arthur Stamey-Mills, Alexander and Graham Stamey, and by great-grandson Louis Arthur Saunders Oehlerking.
Janice's ashes will be interred with those of Art in a private family ceremony at Phinney Ridge Lutheran Church. A celebration of her life will be scheduled at a future date.
The Stamey family is grateful for the love and care provided to Janice by Crown Hill Senior Care Home and by the companions who assisted her while she was at the Hearthstone. We are also thankful to the many friends and family who connected with her during these last few years. 
In lieu of flowers, donations in Janice's memory can be made to: The Association of Lutheran Church Musicians' Norma Aamodt-Nelson Student Scholar Fund (810 Freeman Street, Valparaiso, IN 46383 or at ALCM.org/make-a-donation/), Phinney Ridge Lutheran Church (7500 Greenwood Ave N., Seattle, WA 98103 or at PRLC.org/giving), and to UW's Foundation for International Understanding Through Students (FIUTS-University of Washington, Box 355855, Seattle, WA 98195 or at engage.FIUTS.org/FIUTS-donate).
Our mother touched the lives of many; we welcome your remembrances in the online guestbook below.
---
Comments
---
I love the picture with the Citroen, she looks like a confident world voyager, which is what she clearly was! And the bread, wow, it looks just like the whole wheat loaves I bought at the only health food store in Stillwater, Oklahoma in the early 80s. The best bread ever, I wish I could pop over and get some! It warms my heart to read about a woman who went to college in the 40's, not so common back then I'm sure, and then had a long music career along with raising kids and having adventures abroad. A lovely story of a remarkable woman! I'm grateful to share in some of these memories!
Aslaug Haraldsdottir
---
My husband, Larry Hanson, and I, Lana Lillquist Hanson, remember Mrs. Stamey well from our growing up years at Trinity Lutheran Church in Lynnwood ...especially in the 1950-60s She was our faithful organist, much loved by everyone, and was the organist at our wedding. My brother Steve Lillquist also sends his greeting.
Lana
---
I got to know Jan while doing contract work at The Hearthstone. Always positive and friendly. I didn't know of the connections with Trinity and Phinney Ridge Lutheran church and her musical prowess.
Sad to hear of her passing but know she is going to be with Art and visiting with Jesus.
Carl Varner
---
Melanie and I were very saddened to learn of Janice's passing. We have fond memories of sharing meals and stories with her and Art at Dale and Virginia's house. She was always funny, curious and full of life. As we read her obituary, we were struck by the fact that it was a classic description of a long, full and well- lived life. Hers is a story that inspires as we go about our own life's journey. Our hearts go out to her children, grandchildren and great grandchild. At this sad time, I hope they gain some small measure of consolation knowing that Janice lived an exemplary life. How fortunate you all are to have had in your lives. Our thoughts are with you.
Tony and Melanie Perez
---
We both thought Janice's obituary was a beautiful tribute to our dear and precious long-time friend! It's hard to put a lifetime of family, love, kindness and faith into words, but you indeed did it justice! I didn't want it to end, as it brought back memories we had not thought of for years. Even though she had her beloved sister Virginia, and I had my dear sister Greta, I always felt that Janice and I were "soul-mates' and could have been sisters too! We first met Art & Janice, and that beautiful family of theirs, at Trinity Lutheran Church in Lynnwood. Our six and the Stamey five also made some fun memories! Art became our Dentist, and served us for many years, even bringing his portable drill to my parent's home in Tacoma, where we spent our last few days, before moving to The Netherlands. What a guy! They visited us during that two-year period, and Janice left her green wool dress she had "lived-in" during their trip, at Art's request. (I brought it home and surprised Janice, when we moved back to the US.) I could go on and on - yes, it's hard to lose a friend; but on the other hand, how thankful Don and I both are to have had the opportunity to know them both well enough, to have made all these wonderful memories....knitting, baking, praying, singing, Bible Studies, etc!!! She will be missed, but we know Janice's struggle is over and she is At Home at last. God's blessings to you, her family. We love you! Don and Faye Hall.
Don and Faye Hall
---
First my condolences to the children and grandchildren of Janice and Art Stamey.

My wife Nancy and I have been friends of the Stamey family for 40 years. Art and I were colleagues. He referred many patients to my office for root canal treatments. When I needed a crown, I became his patient.
He and Janice introduced us to FIUTS which gave us the opportunity to host 20 University students from many different countries. We had many dinners in their house or ours. For several years we met almost every Wednesday for a meal in a new restaurant with a European flavor in Edmonds.

Art and I hiked together and after we retired we biked together weekly for many years. We always loved to hear about the many international trips they took. We were impressed by the many sailing trips that Art had taken especially his solo trip to Hawaii. We were even more impressed when we heard they had taken four children out of school and quit a dental practice to go to France for a year. We enjoyed their love for music and for a stimulating conversation.
Art and Janice were two Renaissance people whom we were fortunate to know and whom we miss dearly.
Norbert and Nancy Hertl
---
What a wonderful woman. What a fantastic life. I am sorry I never had the chance to meet Janice. I see her influence in the Stamey children, love of family, church, nature, travel, people, cooking, knitting, good living. Thank you for sharing the story and the pictures. Lots of love, big hugs from us.
Cynthia Stenehjem Sparks
---
I will always be blessed by the kind words of encouragement Janice shared with me when she visited University Lutheran Church when I was the organist there while completing my Master's at the UW. She always had such a radiant smile and warmth in her voice when she spoke. I'm very grateful that I received the opportunity to know her and the wonderful long life she lived as a musician and teacher.
Logan Hamilton
---
My condolences to all of my Stamey cousins. There was no kinder of woman than Aunt Janice. I have the best memories of her and all of our family gatherings.
Phil Falk
---
So very sorry to hear of this passing
prayers and thoughtful hugs for all of you
 
The Sullivan family ☘️
---
What a beautiful tribute to your mom. Though I never met her, her beautiful spirit shines through the writing.
 
Jane Stallman
---
Janice was part of a group of us who lunched together for birthdays. We were all members of Trinity Lutheran in Lynnwood. We has such fun at our get togethers and I recall vividly all of us being at the Stamey home in Edmonds and she was teaching us to make stuffed grape leaves. This was back in the late 60's and the 70's and likely into the 80's also. Great memories of a lovely lady.

Karen Trana
---
Janice Stamey enriched my life in so many ways. Because our family lived next door to Stameys, I have a wealth of memories of her. She was often sending her freshly-baked bread to our home or organizing at her home a coffee gathering for the moms in the neighborhood. I saw Janice around the neighborhood on occasion, foraging for watercress I think, which became something delicious for her family to eat. I loved to be asked to dinner at Stamey's house, where I was treated to wonderful things like salad made with fresh dill.
Janice and I shared a love of classical music and her beautiful organ music at church inspired in me an enduring love of organ music. My husband Tim and I always enjoyed seeing Janice and catching up with her and with Art at the concerts we both attended.
I will long remember her warm greetings, her beautiful smile and that easy frequent little chuckle she had. Janice made a difference in my life and I thank God for the privilege of knowing her. My childhood was so enriched by the blessing of growing up next door to the Stameys. To those of us who knew her, her life was a gift beyond compare.
 
Susan Anderson
---
Andrew and I love Janice and were honored to welcome her into our home over the years. I remember coming to organ recitals at Trinity Lutheran in Lynnwood, and for some reason (for Janice worked silently and modestly behind the scenes) all the cookies at the reception were distinctly top-shelf: not only lovingly homemade, but absolutely delicious. I learned that Janice would do this just as a matter of course: help arrange an excellent evening of music, and then bring buttery, beautiful cookies along, just as an extra treat. Janice was a servant-leader, an exemplar of the baptismal vocation she shared with so many in her journey of faith. And she gave us Virginia, one of her children, who lives Janice's legacy, and makes it her own. We remember both Janice and Art with love, and include them and their whole family in our prayers as we make our song, alleluia, alleluia, alleluia.

Stephen Crippen and Andrew Stone
---
Dear Stamey's, I'm so sorry to hear about your recent loss. It was a true pleasure to have been a part of your mom's care. She was an angel and so fun to be around always saying the precious things to make anyone smile. Rest her soul peace and my deepest condolences to you all.
Sincerely,

Brenda Leyva
---