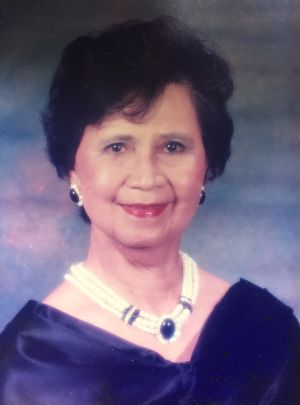 Rosario Pilaspilas Estoque, 90
On June 25th, 2015 at 9:20 pm, Rosario, our mother, friend, sister, and grandmother, passed away peacefully in her sleep in Swedish Medical Center, Seattle, WA.   She was struggling with a C-Diff infection, which created further medical complications with her already fragile heart, kidney, lungs, and eventually led to her death. Rosario, or Charing as many knew her, is survived by her loving children: Justin, Helen, Daniel, Arturo, and her loving grandchildren: Garrett Estoque Hopper and Katie Estoque.  We will remember her for her very deep Catholic faith and spiritual commitment, for making people laugh with her fun-loving and friendly spirit, her passion and appreciation for nature and plants, and her love for exercise, music, dance, and cooking.
Rosario was born on October 2, 1924 in Camiling, Tarlac Province, Philippines. She started her nursing career at Mary Johnston Hospital in Manila. After the Japanese occupation of World War II ended, she resumed her nursing education at North General Hospital, where she received her RN in 1946.
Rosario came to the United States in 1948 to complete her postgraduate work at Manhattan Polyclinic Hospital. Afterwards, she worked as pediatric and operating room head nurse, returning briefly to the University of Santo Tomás. She married Mariano Alhambra Estoque in 1951. Rosario worked for years as a Mary Kay Consultant and also worked as a nurse in home health care after her children left home.
Rosario was unafraid to be her own person and was always unique, interesting, and refreshing in the interests she pursued. She regularly went to exercise classes using weights and taking aerobics, yoga, and Zumba. She danced Filipino folk dances through her elder years and played the piano up to her last days, even at her senior residence. She was a long-time member of Ikebana International and an avid gardener. Her travel experiences were internationally extensive, satisfying her interests in world cultures and sacred places of religious miracles and visitations by the Blessed Virgin Mary. She was a faithful and dedicated member of Couples for Christ and Handmaids of the Lord.
A memorial mass will be held at 7:00 pm, Friday, August 7th at St. Louis Catholic Church, 7270 SW 120th St, Miami, FL 33156, followed by a celebration of life reception there. Her cremated remains will reside at Our Lady of Mercy Catholic Cemetery in Miami.
---
Comments
We will miss you terribly. But when we have our Mass and reception for you in Miami next month, I know you will be there with us in spirit. We love you. Justin
---
We have lost a most dear and beloved friend. My thoughts and prayers are with her.
May she rest in peace.--Luisa Yu
---
My condolences to all of Rosario's friends and family.
- Ryan Monroe
---
May the good Lord bless and comfort you and your family during this time. Please accept our sincere condolences. Losing someone we love is not easy and our thoughts and our prayers are with you and your family. Rest In Peace! God Bless.... Suresh, Alisha, & Raj
--Suresh K. Khemlani
---
Everyone at St. Louis Church knew and loved Rose.
She went to daily Mass, was a Eucharistic Minister
and distributed Communion at Baptist Hospital with us
every Wednesday. She was also my neighbor here in Elysium
always friendly and had the best avocado; that she shared with us. 
We know she's having a great time in Heaven but we people
here on Earth will miss her. 
Prayers to you all.
--Alice Hacker
---
We are sending our heartfelt condolences to you all. This is such a beautiful tribute to read of your mother's life. We will be keeping you in our hearts and sending our love. --Terry Dorvinen and JoRene Byers
---
She was a mother, a sister, a friend. She touched the lives of many who came to know her. She was generous and kind, and, even when faced with hardship, she was always hopeful and resigned to God's will. There was not a mean bone in her, she was always very forgiving. She was so blessed to have been loved by her children and grandchildren, and so many friends and relatives. She led a very full life. She is now home with the Lord. There is another angel up there praying for us. --Tessie Estoque-Myint
---