David Graham Parker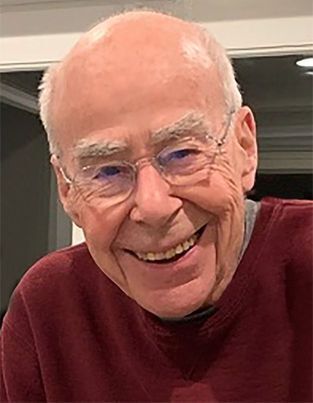 On Feb. 18, 2023, David Graham Parker of Seattle, age 86, died peacefully at UW Medical Center Northwest after an unexpected stroke at his home several days earlier.
After a diagnosis of ALS two years ago, Dave faced his future with grace, courage, and patience. He was pleased and relieved to be able to continue living in his Broadview home that he and his wife Kay shared for 54 years.
Dave was born in 1936, the second of eight children, to Kent and Margaret Parker. He grew up near Chicago in Winnetka, Illinois, where he graduated from New Trier High School in 1954. He then went to Iowa State University and graduated with a degree in electrical engineering in 1958.
After college, Dave served two years as an officer in the U.S. Navy on the East Coast before moving to Seattle in the 1960s where he worked for 33 years as an acoustical engineer at Honeywell Marine Systems in Ballard. He married Kay Annette Thomas in Denver, Colorado, in December 1963, after they met while skiing at Stevens Pass the previous Spring. After his retirement in 1994 they did far-reaching travel together for 24 years, mostly by means of European home exchanges.
Dave loved his family, tennis, hiking, nature of all kinds, investment clubs, sports, book clubs, keeping up with a wide range of current events, and spending time at his family summer home in Michillinda, near Whitehall, Michigan. He always said that his favorite hiking memory was completing the two-week Coast to Coast walk in England in 1998 from St. Bees Head to Robin Hood's Bay.
For over 35 years Dave was a regular participant at Lifetime Learning Center in North Seattle where, in addition to serving on the board, he enjoyed taking classes in history, economics, world events, sailing, and a variety of other subjects. The range of his interests is best reflected in his eight-year continuing participation in Lifetime Learning's weekly Sunday New York Times Discussion Group. In his quiet, unassuming way and with a droll sense of humor he always looked forward to taking an active part in the lively discussions. In a different type of class from six years ago, an instructor recently said of him, "David attended ALL of my finance classes. He was very knowledgeable on the subject, but never made me feel diminished for knowing more than I did. He was always a positive and encouraging presence for me, a new teacher in the classroom. He was a dear man and I wish his soul peace and comfort for his family."
Dave is survived by his wife Kay, his beloved son Timothy (Tracey Martinson) Parker of Fairbanks, Alaska, and his grandson Alex Parker of Denver, Colorado. In addition to many nieces and nephews, Dave is survived by six siblings: Sarah Robertson; Molly Ciancibelli; Ric Parker; Maggie Selbert; Grace Parker; and Wes Parker. Most were able to join the immediate family by his bedside in the hospital on Feb. 18 and the days before.
Remembrances can be directed to Lifetime Learning Center in North Seattle or the ALS Association, Evergreen Chapter, Washington.
---
Comments
Tim, Kay, and family,
Your wife and father had such a varied and interesting life. It is easy to believe that he would have been an excellent conversationalist. I'm sure Tim he would be very proud of all your accomplishments. You have some large shoes to fill. Please accept Debbie's and my condolences. I wish I had met him. Tom and Debbie Richards

Tom Richards
---