John Eric Rolfstad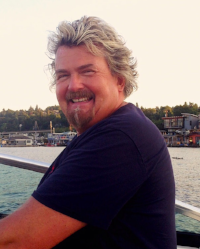 John Eric Rolfstad was born June 1st, 1958, in Williston, North Dakota to Telmar and Emily (Sylte) Rolfstad.  He was baptized and confirmed at First Lutheran Church in Williston.  John was a Boy Scout and got his Eagle Scout.  He graduated from Williston High School in 1976.  He graduated from Jamestown College with a degree in accounting and a minor in music, from The University of North Dakota with a Juris Doctorate, graduated from Thunderbird School of International Business with a Master's Degree in International Business, and obtained his Masters of Social Work at the University of Washington.
John Eric's career and civic activism in his adopted hometown of Seattle is a testament to his compassion for others. He was a social worker for Providence Health in Seattle, and then for many years with Providence Hospice.  His passion for social work found him supporting people living with cancer, AIDS, and other diseases, at Seattle Cancer Care Alliance and Harborview's Madison Clinic. John's caring soul and ministry to others touched the lives of countless hundreds of his neighbors. For seven years, John Eric was the Executive Director of People's Memorial, a Washington State nonprofit funeral education and advocacy group, and grew them into the largest low-cost funeral cooperative in the country.  While there, he was instrumental in setting up the co-ops' funeral business.  Later he became Interim Director at End of Life Washington, and was a passionate advocate for an individual's right to make quality end of life choices. 
John Eric was a pillar in all the communities that held his heart: arts & music, Lutheran, social work, end-of-life, LGBTQ and Companis communities. For a number of years, John Eric organized retreats for Lutherans Concerned at Holden Village located on Lake Chelan, Washington. He once sang with the Seattle Men's Chorus and enjoyed their music all his life.  He served on the Board of Directors of Companis (where he was Treasurer for the past five years until his death), People's Memorial, the Green Burial Council, Extraordinary Lutherans Ministry, and Reconciling Works (formerly known as Lutherans Concerned).  This past fall he joined the Board of Trustees of the University of Jamestown, his North Dakota alma mater. Of community service and one's personal contribution to society, John Eric wrote and spoke these words at the 2015 Companis Biennial Celebration:  "I believe that all of us need a sense of vocation, whether paid or unpaid.  We all have a need to make a difference during our short time on earth.'
While John Eric was a big guy, his heart was even bigger, as well as his zest for life.   No one could mistake John Eric's booming, heart-felt laugh.  He had many passions and interests throughout his life.  He loved traveling and became something of a world traveler. Some of his favorite places to travel were to New York City, Europe-especially Norway, and Hawaii, and China.  John enjoyed spending time outdoors. He hiked the Grand Canyon and Mt. Rainer numerous times and white-water rafted the Grand Canyon.  One of his trips to Europe was a bicycle trip that he thoroughly enjoyed.  
He also loved spending time on or near the water. This passion may have started during his early years spent boating at the family cabin in North Dakota and he continued this lifelong love of the water boating on Lake Chelan and Lake Washington. John was a very social and outgoing person who loved spending time with both his family and friends, hiking, boating, enjoying music, choral performances, and dining together. 
John Eric died peacefully on April 4th, 2018 surrounded by family and friends in Seattle after a short illness.

He is survived by his sister, Dorothy Rolfstad, and brother Thomas (Dana) Rolfstad, his niece Anne Rolfstad and nephew TC (Kelci) Rolfstad, two aunts, Annette Johnson and Dora Rolfstad, and numerous family and friends.  
John Eric was preceded in death by his parents, Telmar and Emily Rolfstad, and his maternal and paternal grandparents.

A Celebration of Life will take place on Saturday, June 2nd at Seattle's First Baptist Church, 1111 Harvard Avenue, at 1:00 pm with a reception to follow. 
The Celebration of Life in Williston, North Dakota, will be on Sunday, August 12th, at 1:30 pm at First Lutheran Church, 900 Main Street, with a reception to follow.   
John Eric's family has directed that memorials made in his memory support Companis, 1111 Harvard Avenue, Seattle, WA 98122, and/or the University of Jamestown, 6000 College Lane, Jamestown, North Dakota 58405.
---
Comments
I learned of John Eric's passing yesterday and I am deeply saddened by the loss of such a wonderful compassionate man. I met John Eric through business dealings at People's Memorial and really enjoyed working with him, what a great soul. My heart goes out to his family and friends.
Rest In Peace John Eric, you did so much good for so many.
Jim Slayton
---