Adrienne Judith Anderton-Gegg
10/20/1935 - 10/09/2023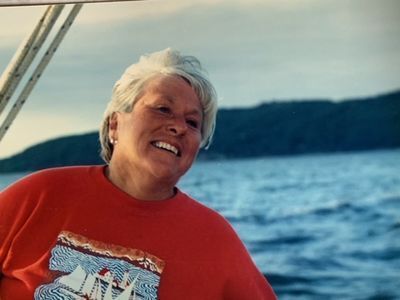 Adrienne Judith Anderton-Gegg, born October 20, 1935, passed away peacefully in the early morning of Monday, October 9, 2023 at the age of 87 years.
Adrienne worked as a healthcare professional from 1953 to 1990 as both a registered nurse and a certified registered nurse anesthetist. She served in the Air Force as a Second Lieutenant from 1958 to her honorable discharge in 1962.
She enjoyed sailing and socializing with her many friends, and was active in her Church, Marine View Presbyterian in Dash Point, WA. In her last years, she suffered significant physical challenges, which she met with a "no complaining allowed" policy and a fierce bravery that she was known for in all endeavors. In those years, she was cared for by Dreams Adult Family Home, whose staff we want to thank for providing her with excellent quality of life, care and comfort throughout.
Adrienne was the seventh daughter of Harry and Mildred Anderton, the wife of predeceased Colin V. Gegg Sr. (m. 1958, d. 1987). She has four living children, Colin V. Gegg Jr., M. Gail Gegg, Ian W. Gegg, and Gretchen M. Gegg-Zigante, and five grandchildren, Morgan Gegg, Gavin Gegg, Curtis Gegg, Susana Zigante and Mario Zigante.
Adrienne has requested no memorial or services, except for her sons to spread her ashes at sea so she can sail on.
---
Comments
Aunt Adrienne was my mother's younger sister. She was also my Godmother and favorite Aunt. I remember her as a free spirit and one who liked to have fun and live life to the fullest! May God's peace and comfort be with her family! "He shall wipe away every tear from their eyes"… "See I make all things new." (Rev. 21:4&5)
Kevin Kavanaugh
---
It was a pleasure taking care of her and also knowing her whole family. She was a friend and and a mentor to all of us here. e.g. encouraging young caregivers to go to school and get RNs etc. We will miss her much. One thing we know is that she loved the lord and we know she is in the good hands of God Almighty. May her soul rest in great peace.

Jane Mondothi
---