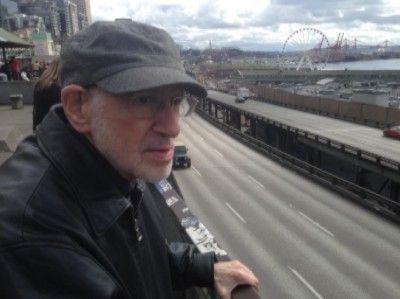 Neal M. Blacker, born May 4, 1943, died peacefully at his home in Seattle December 28, 2015 after a struggle with cancer. He is survived by his wife, Neil Banta-Blacker, and stepdaughters Chris Banta and Shawn Banta. A Remembrance Service will be held at The Swedish Club, 1920 Dexter Ave. N. Seattle, at 1:00 p.m. on Sunday, January 31, 2016.
In lieu of flowers, please consider making a donation to Providence Hospice Care or the Greenwood Senior Center.
OBITUARY (Written by Neal Blacker)
Neal Blacker had a long and distinguished career (or very, or maybe moderately, or perhaps even somewhat distinguished career) in the field of alternative dispute resolution (ADR). When he once used the term "alternate dispute resolution" during a luncheon engagement in Vancouver, BC with the then Executive Director of a Canadian organization, Mr. Blacker was immediately and sternly brought to task by for such a grammatically improper use of the term. The proper term for anyone who is interested is alternative dispute resolution. It is perhaps no coincidence that this event coincided with Mr. Blacker's initial forays into the glamorous arena of international commercial arbitration and mediation.

Approximately a quarter century later, when he wrapped up his 40-plus year career, he fine-tuned his curriculum vitae one more time. He then decided -- after careful review and consideration – that while it might prove impressive to some, it was not worth much at all in summarizing his internal or external life and its impact on others.  Let's simply say that he did many interesting things with many interesting organizations while working and playing with many interesting people in many interesting places. For a nice indication of the highlights of his professional career, please take a look at his professional biographical statement below.
    
Despite the perception of some that he was a workaholic (which he vigorously always denied), and despite his great love for the work he did, his highest daily priority was in fact getting the hell home from work as soon as he could.  His second highest priority was spending as much time as possible with his wife Neil Banta-Blacker, her family, and their mutual friends.
 
When he reflected back on his life's work in arbitration and mediation, he felt strongly that his two most exciting and rewarding experiences had little to do with the organizations that employed him.  While the largest measure by far of his work was in arbitration rather than mediation, those two experiences involved mediation.  The first experience took place in New York City over a period of just a few days.  The second experience took place intermittently in Zagreb, Croatia over a period of about three years.  The first occurred at the 1992 Democratic Presidential Nominating Convention, and the second was conducted under the auspices of the United States Agency for International Development (USAID), and as a subcontractor for a consulting new company by the name of Carr, Swanson, & Randolph.  
As a formally selected Democratic Party delegate (actually, an "alternate" delegate) to the Paul Tsongas Delegation, Mr. Blacker got to hob-nob to his heart's content with many, many of his fellow  Political wizards.  As a member of the USAID team, he was able to train the new leading Croatian brain trust on how to conceive, design, implement, and operate on a daily basis, national commercial mediation programs.  It should be noted that before their arrival on the scene, the use of mediation and collaborative bargaining for business disputes was virtually unheard of among the Croatian legal community, while today its use is frequent and moving to the commonplace.  In short, our efforts and the efforts of our local/domestic supporters has in a very real sense changed the entire legal culture.    
There is a third part of his life's career work that merits the title of most important, most influential, and most rewarding.  That is the many wonderful, challenging, and classy people he had the pleasure and sheer fun to work with, but especially at the CPR Institute for Dispute Resolution and the American Arbitration Association.  To all of you, please keep on having more fun.  And, dear ones, keep carrying those angels on those blessed and beautiful shoulders.
PROFESSIONAL BIOGRAPHICAL STATEMENT
Neal Blacker was a consultant on domestic and international Alternative Dispute Resolution (ADR) program design, marketing, operations and management.  He served as Senior Vice President of Dispute Resolution Services for the CPR Institute for Dispute Resolution from 2004 to 2007. The CPR caseload consists primarily of large/complex business disputes.
    
Prior to joining CPR, he was chief executive officer of the Los Angeles County Bar Association Dispute Resolution Services (DRS) program from 1999 to 2004. DRS remains one of the largest state or local bar association ADR program in the United States, both in terms of caseload and staff size. From 1974 to 1993, he held the position of Seattle Regional Director/Vice President of the American Arbitration Association (AAA) where he was responsible for the five-state Pacific Northwest Region.  The AAA caseload encompassed a wide variety of commercial, insurance, employment, agricultural, and international business disputes, and included administration of federal fair campaign election dispute arbitrations under the United States Fair Campaign Practices Act.  
While in Seattle, he was a member of the Washington State Bar's Speaker's Bureau, served on the first Washington Bar ADR Committee, and was an ad-hoc member of the State Judicial Council's Court-Annexed Arbitration Committee. From 2001 to 2003, he served as a member of the California State Bar ADR Committee and was the founding Chair of its International ADR Subcommittee.  
Mr. Blacker had an extensive background in the design, implementation, and management of arbitration and mediation programs in the United States and abroad. From 1996 to 1998, he served as Director of Neutral Training and Development for the National Association of Securities Dealers Regulation (NASDR, now FINRA) Office of Dispute Resolution (ODR). On first joining NASD Regulation in 1993, he served as both a Regional Director and as the first Assistant Director of Mediation, where he oversaw the design and implementation of the ODR broker/investor national mediation program. 
From 1994 to 1997 Mr. Blacker was chosen by the ABA's Section of International Law and Practice to serve as the Section's official Liaison Delegate to the ABA Dispute Resolution (DR) Section. He was a founding member of the ABA Committee on the Redraft of the ABA Code of Ethics for Commercial Arbitrators. He also served on both the ABA/DR Section's National Advisory Committee and its governing Council – the only non-lawyer to have ever held either office. In addition, he served several terms as Vice Chair and Co-Chair of the DR Section's Training Committee. 
From 2002 to 2005, he was the member of the United States Agency for International Development's (USAID) consultant team that was responsible for training on the systems design, implementation, and operational management of Croatia's first national business mediation programs.  
Mr. Blacker was published in several ABA publications including the ABA's International Litigation Quarterly.  His article "Drafting the Arbitration/ADR Clause: A Checklist for Practitioners" was included in the 2001 ALI-ABA's Practice Checklist Manual on Alternative Dispute Resolution.  He was the recipient of the Southern California Mediation Association's 2001 Peacemaker of the Year Award, and served, by gubernatorial appointment, from 2013 to 2014 as a member of the Washington State Commission on Judicial Conduct.
---
Comments
Neal was a person of wealth, he had a wealth of friends, a weath of intellect, a wealth of experience, a wealth of exuberance..now that is a wealthy person. He is irreplaceable . Rest in peAce my friend, you will be remembered and missed.
Eileen Vernon
---
He brought us all together in NYC for a final goodbye--- we will all miss you and your smile and good cheer. Rick
---
Indeed. 
Neal was wealthy and GENEROUS! Constantly sharing his friends, his intellect, his experiences and his JOY. He and Neil made Newark, NJ more tolerable with their constant generosity. Madeline+Dave+Parker
---
My wife and I were very fortunate, indeed, to have known Neal and Neil during our time in New York. We treasure our memories of the warmth, wisdom, inspiring decency and generosity of spirit that simply radiated from them both. Neal's perspicacity, gentle wit and compassionate calm. Neil's cordiality, kindness and lyrical words. What better companionship could we have possibly hoped for? Now Neal is gone. Our memories and gratitude endure, as does the world he improved through his actions and example. And our deepest sympathy goes out to Neil.
David Mouritsen
---
Dearest Neil and Family,
I had the joy of knowing Neal, albeit briefly, diring my time in NYC a few years back. I will always remember his positivity, generosity of spirit and his respect for the human race despite its imperfections.
I deeply regret that I was not geographically close enough to have visited him in the last few years.
With the warmest of memories.
Irina Mouritsen
---
I met Neal late in his life, here in Seattle and became fast friends. I enjoyed his positive demeanor, articulate way of expressing himself on a variety of subjects. I was optimistic that he was going to prolong his battle with cancer. During 2015 I became very involved in my own life and during the past couple weeks I wondered how Neal and Neil were faring. And, was saddened to read of his death in my morning paper. I was comforted by the loving support he had from dear Neil.
-Frank Jones
---
Neal was my boss, mentor, and friend at the Seattle office of the American Arbitration Association. He was also one of the most vibrant and interesting people I've ever known. I owe much to what I learned from him and from his support and friendship. Rest peacefully, Neal.
--Roger George
---
Neal will be remembered fondly by many. I worked with him a short while in the Los Angeles area on the State Bar Committee for Dispute Resolution. He made everyone he met feel welcome and important, and somehow part of something bigger than whatever it was we all were up to. I will always remember his big spirit, brilliant mind, and his ability to make everyone feel welcome and appreciated. Fly on with awe and amazement, my friend. I know you will still be doing incredible heart-centered creative work in the next realm.
--Candace Faunce
---
The good ones always go too soon, and Neal was the best. We got to know each other while living on opposite ends of the hall in Seattle. Always cheerful and engaging, we found a connection in our love for public service; and yes, if you do not know, alternative dispute resolution is the epitome of public service. At times Neal was a bit enigmatic, but only because his deep thoughts took him somewhere most of us could not go. I believe he is there now, in that wonderful and deep place of thought. One day, I will head back down that hall to find him. Until then, I will remember him with fondness.
Armond Joseph
---