Lois Burke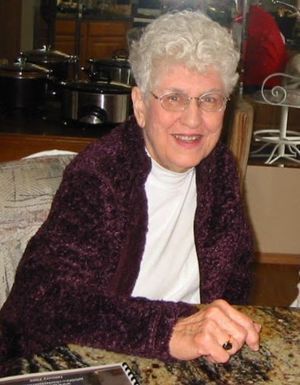 Lois Jean Bear Burke passed away peacefully in Wake Forest, NC on Saturday, October 15, 2022 at the age of 91.  Lois was born on October 3, 1931 in Modesto, CA to Clyde Emery Bear and Pearl Mathilda McCaslin Bear.  She was raised in Spokane, WA where she graduated from Lewis and Clark High School in 1949 and later attended and graduated from Washington State University where she earned a bachelor of science degree in Pharmacy in 1953.  After working and saving money for a few years, Lois, who loved to travel, embarked on a year long round-the-world tour with her friend Shirley Riggs (later Shirley Bishop) where they visited 38 countries.  Lois treasured the memories made on this trip and frequently spoke of those adventures for the rest of her life.  Lois moved to Seattle and, on February 23, 1964, married Albert (Al) Burke from Everett, WA.  Lois and Al lived in Seattle for 31 years and raised two children there, Albert and Scott, before retiring in 1997.  After traveling around the United States in an RV  for a time, they settled in Grants Pass, OR for the next 15 years.  In 2014, they moved back to Washington State and lived in Centralia, WA.  In 2019, Al passed away and Lois relocated to Wake Forest, NC where she spent her remaining years.
Lois will be remembered for her loving loyalty to her family, her excellent work ethic, and for her "can do" attitude.  The family is thankful that she was a follower of Jesus Christ and professed Him as Lord and Savior.  Her soul is now enjoying His presence without the encumbrances of an aging earthly body.  Lois will be greatly missed.
Lois is proceeded in death by her father Clyde Emery Bear, her mother Pearl Mathilda McCaslin Bear, her brother Donald Emery Bear and her daugher-in-law Elizabeth Lone Burke.  She is survived by her son, Albert Emery Burke of Wake Forest, NC and his wife Kimberly Luanne Burke, and by her son, Scott Bryan Burke of Kalispell, MT and his wife, Stacy Burke, and by her 12 grandchildren: Margaret Short, Micah Burke, Isaac Burke, Christian Burke, Samuel Burke, Gabriel Burke, Jenny Grace Burke, Elijah Burke, Emmaline Burke, Gideon Burke, Carolina Burke and Titus Burke.  All of the grandchildren reside in Wake Forest, NC with the exception of Christian who resides in Pullman, WA.  Lois is also survived by three great grandchildren (Wesley Short, Elly Burke and Ezra Burke).  Two more great grandchildren were born shortly after Lois's passing.  They were twins Opal Calloway Short and Georgia McCaslin Short, both of Wake Forest, NC.
Lois was laid to rest in Tahoma National Cemetery in Kent, WA with her husband Al.
---
Comments
---