Lee Ann Tucker Therriault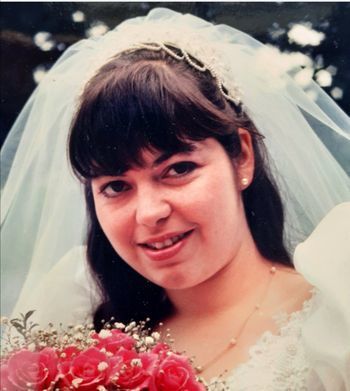 Lee Ann Tucker Therriault died on December 26th, 2020 at Swedish Medical Center in Seattle after a long battle with multiple autoimmune diseases including multiple sclerosis and rheumatoid arthritis, spinal degeneration, and traumatic brain injury. Her husband, mother, and sister were at her bedside as Lee went "peacefully" according to her previously expressed wishes.
Born in Oakland, California on February 2, 1964, the youngest of two sisters, Lee survived a peripatetic youth, living in at least ten cities before finally settling permanently in Seattle. She was introduced young to social justice, attending a vigil for racial and economic justice at Duke University in Durham, North Carolina at the tender age of four, by which time she had already learned to read. In Beaufort, North Carolina, home of the Duke University Marine Lab, Lee's dad took her to kindergarten on the back of his bicycle before peddling off to do his PhD research each day. Jack, the family dog, followed Lee to school and obtained his kindergarten diploma with a special honorary mention for finishing everyone's chocolate milk.
On to New Jersey, where Lee, at six, spoke in a mixed southern/New Jersey accent and was an early feminist and human rights activist, perhaps kindled by all the civil rights demonstrations she had attended in her stroller:  in second grade threatening to burn her library card in protest that children were only allowed to borrow two books at a time, and in third grade convincing the public school administration to let girls, previously only allowed to play on the blacktop, to have the option to use the grassy fields with the boys during recess. At the age of ten Lee endured familial rupture, leaving her beloved dog Jack behind to console her dad.
A gifted clarinetist chosen to be in the New Jersey State Youth Orchestra, participant in the locally-renowned school musicals, and Senior Editor of the school newspaper at Rumson Fair Haven Regional High School, Lee had a strong circle of friends with whom she remained close until the end.  
Multitalented, Lee had the choice of pursuing a career as a professional clarinetist but ultimately chose to accept a full scholarship to Kenyon College in Gambier, Ohio. An English major, Lee worked on the prestigious Kenyon Review and took her Junior Year Abroad in southwest England at the University of Exeter with a cohort of students who would remain lifelong friends. 
After graduating from Kenyon in 1986 she returned to Britain to do an internship in London. Lee then moved to Seattle to join her mom and stepfather who had moved there while she was at Kenyon. On a blind date arranged by a family friend she met the love of her life, Seattle native Paul Therriault. After a one-year engagement Lee and Paul were married in an outdoor ceremony at Robinswood Park in Bellevue, Washington in September 1989. 
In her professional life Lee was very ambitious and took a daring leap from her secure government job with the Washington State Department of Social and Health Services to spend several years reinventing herself in order to pursue her passion -- a successful career in public relations.  She then worked as a well-regarded publicist for the Bathhouse Theatre, Bastyr University, Group Health (the largest HMO in Washington State), and North Seattle Community College before her health began to fail.
However, the center of Lee's happiness was her relationship with her devoted husband Paul. Lee's luck in love was so very much better than her luck with health.  Unable to have their own children, Auntie Lee and Uncle Paul were a strong positive presence in the lives of their neices and nephews and lavished affection on a series of beloved pets. They lived in a period home which they kept historically accurate and enjoyed travelling, particularly to Hawaii and Arizona. Just this year Paul retired and Lee and Paul moved to their dream house, a 1910 bungalow with a view of Port Madison. Lee was able to come and go more freely due to the lack of so many stairs and was looking forward to spending lots of quality time with Paul, their dog Coco, and cat Jenna, pursuing her gentle hobbies like knitting and book club with a group of loyal friends on her "good days."  
Lee's bravery in the face of constant pain was inspiring. She tried to maintain good spirits and optimism even through a twenty year cascade of debilitating health problems.  As all throughout her life, she continued to be known for her sweet and sensible nature, and gave solid counsel to others experiencing hard times.  In Lee's period of ill health she was lovingly supported by Paul, her parents, and the rest of her extended family and friends.
Lee is survived by her husband Paul Therriault, mother Sharon Langs (Gary Frederickson), father Robert Tucker, mother-in-law LaVaughn Therriault, sister Katy Tucker, foster sister Gordana Dukovic (Ryan), step-sister Giselle Frederickson (Giro), sister-in-law Teresa Therriault (Joe), foster brother Danijel Djukovic, step-brothers Jerry (Denise) and Alex (Gladys) Frederickson, brother-in-law Cary Therriault (Kate), nieces Zoë Tucker-Borrut and Marissa Therriault, nephews JonHenry Therriault, Brendan Cannon, Evan Frederickson, Adrian Dukovic-Cheney, and Eli Tucker-Borrut, as well as a host of uncles, aunts, cousins, and friends.
Lee will be cremated and there will be a memorial service at her home on Bainbridge Island in August 2021, circumstances permitting.
Special appreciation to Lee's beloved care providers Milah Frownfelter and Cassady Kintner and the staff of Swedish Hospital ICMU (7E).
---
Comments
---