James Graham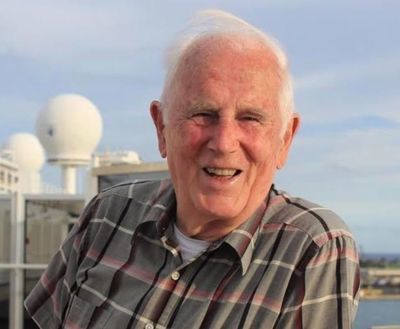 James Graham, born February 26, 1924 to Bert and Ruth (Wallace) Graham, died peacefully surrounded by family at his residence in Renton, Washington on January 18, 2021, just short of his 97th birthday. He grew up in the Seward Park area, the third eldest in a family of four children, including sister Virginia and brothers Wallace (Wally) and Gene. The Graham family spent many glorious summers at the Indianola property of Jim's Aunt Bertha in the 1930s. He graduated from Franklin High School in 1941, where he was the editor of the school yearbook, the Tolo Annual, in his senior year.
On Christmas Eve 1942, Jim enlisted in the Army Air Corps and served in the First Fighter Group, 71st Squadron, stationed in Foggia, Italy. He flew 32 combat missions, flying P-38 Lightning fighter aircraft from October 1944 to April 1945.
After the war, Jim married Rebecca Ann Viele, from the neighborhood, and they lived happily and lovingly together for 51 years. After graduating from the University of Washington in Electrical Engineering in 1950, Jim worked briefly for the Bonneville Power Administration before starting a 30-year career at Boeing. He worked on guided missile and manned space programs, designing test protocols.
Upon retirement in 1981, Jim and Becky began travelling by camper and trailer all over the United States. They cruised in many parts of the world from the Mediterranean to the South Pacific until her death in 1998. In his later years, from 2000 to 2016, Jim enjoyed the companionship of Jeanne Simonds, travelling and celebrating their mutual Scottish heritage.
Jim's passions in his retirement included home building and remodeling. He also spent many thousands of hours documenting the history of the First Fighter Group in World War II. Jim felt a duty to memorialize comrades lost in combat and missing in action. His efforts in locating missing pilots led to repatriating the remains of at least five fellow airmen.
Jim is survived by his three children Chris, Mark, and Carol, and their spouses Claudio Oliveira, Susan Lewis, and Bob Briscoe, as well as grandchildren Jonathan, Eric, Emilio, Marina and Emily and great-grandchildren Nicholas, Aaron, Philip, Marcus, Rosanna and Paolo, who all loved him dearly. He also leaves numerous nieces, nephews and cousins whose lives he touched in many meaningful ways.
Jim's family wishes to express their heartfelt thanks to all at Gentle Care Home in Renton for their expert and loving care and companionship in his last months. Much appreciation goes to the Kline Galland Hospice team for their kind support.
Jim will be remembered as a kind, generous, witty, productive and loving man his entire life, and will be sorely missed.
A public remembrance will be held at a later date… and it will surely include cookies and music!
---
Comments
Jim's wonderful cheery demeanor and his kindness and unselfishness were such a wonderful ray of sunshine for everyone who came in touch with him. I did not know Becky, but my wife, Jan Simonds did, and I remember her coming home from her funeral and praising the beautiful memories Jim had shared of her, and of what a wonderful speech he gave about the whole family and her role bringing it all together. We were able to spend many brunches and holidays with Jim and Jeanne, and his "farmer's omelets" and wonderful mornings. I had the great pleasure of walking Indianola and hosting Jim at our place out there and hearing stories of the earliest days of the village. I also deeply enjoyed a couple of times when I was studying maps of northern Italy as he pointed out areas he was scouting for missing comrades in arms from both sides of the terrible conflict there, and he was always so quiet about his own heroic role in that theatre. Jim also brought such great joy and such a renewed life for Jeanne, too, and she did get to fulfill so many of her travel dreams with him. I will always have the warmest place in my heart for Jim and what he brought to our family.
- Larry Shannon
---
I remember Uncle Jim having a wonderful hearty laugh and as always being upbeat and loving. Yes, he was a ray of sunshine. As a young child I looked forward to visits with our Graham cousins and going to their home. Aunt Becky would have a delicious feast and Uncle Jim was always a gentleman and attentive host. I miss the opportunities that we had to connect many years ago during the carefree days of childhood. Uncle Jim was a kind and loving man and will be dearly missed. Barbara Basques
- Barbara Viele Basques
---