Gerard Fritz Schreuder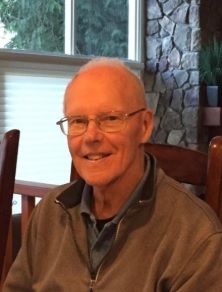 On September 4th, 2018 our beloved Husband, Dad and Opapa, Gerard Fritz Schreuder, passed away in his sleep at his Mercer Island home.  He was born in Medan, Indonesia on April 4, 1937 to Everet Jan Schreuder and Wilma Margaretha Ottillie Staecker.
Gerard was very fortunate to have a long, adventurous, and incredible life journey as a true citizen of the world.  During World War II, he spent four years, as a child, in a Japanese concentration camp.   Returning to his home country of the Netherlands in 1952, he quickly defined himself as an intellectual and academic.  Gerard received multiple post graduate university degrees beginning with studies at Wageningen University, NL.  He worked for the Dutch government as a technical expert in Costa Rica and lived there with his wife, Ally, from 1961-1965.   They emigrated to the USA in 1965, where Gerard pursued his graduate studies at North Carolina State University and Yale University. He received his PhD from Yale in 1968 and served as a professor there. In 1971, Gerard with young family in tow, moved from New Haven, Connecticut to Mercer Island, Washington where Gerard embarked on a 40 year career at the University of Washington (UW) as a Professor of Economics, Statistics, and Remote Sensing in the College of Forest Resources. 
Throughout his career, Gerard traveled extensively around the world, often with his family, spending time in many developing countries.  He was a sought-after technical consultant for the United Nations, the Food and Agriculture Organization (FAO), United States Agency of International Development (US AID), as well as the World Bank due to his expertise in forestry, economics, statistics, and remote sensing combined with his fluency in numerous languages including Dutch, German, English, Spanish, French, and Malayan. Gerard had an astute analytical mind and impressive mathematical prowess. He was a humorous lecturer, well-liked professor, and gifted teacher of statistics, econometrics, operations research, and remote sensing/aerial photography/photogrammetry at the UW.  He often joked about parsimony and keeping it simple, especially in statistical modeling. This simplicity principal applied even to gravestone markers with one of his favorites being "Hier ligt Poot. Hij is dood". Many a family dinner, growing up and throughout adulthood, found guests entertained by Gerard's wonderful stories/life experiences and lively joke telling (the origin of "woperneuter" was one of his classics)
In retirement, he enjoyed spending time at the home he built on Whidbey Island; reading scientific journals, Businessweek, The Wall Street Journal, and The Economist; complaining about politics; and watching his family grow to include three grandchildren.  Fond memories of "silly" Opapa abound. One highlight for all three grandkids is Opapa serving up his special recipe "cheesy" popcorn for breakfast and Winnie the Pooh and Smurf video viewings.  
In later years, he began slipping away from us, as dementia robbed him of what he valued most: his intellect; steel trap memory; and command of numbers, facts, and data.  In the last two years we were fortunate to gradually say goodbye by spending many a joyful "Opapa Sunday" checking off some bucket list items, such as indoor skydiving, hot air ballooning, seaplane tour of Seattle, disc golf, aquarium, zoo,  museum visits and simply hanging out enjoying whatever his children had planned for their weekend. Gerard was also an avid, lifelong collector of minerals, stones, crystals and rocks. A couple of years ago, as Gerard and Ally downsized into a smaller house, it gave him immense pleasure to pass along many of his favorites from his extensive collection to his three grandchildren, Jack, Caden, and Torben. Also, in retirement, he became somewhat of a "Rock Talk" expert and enjoyed showing and educating about his collection at his local Senior Social Group together with his grandson, Torben.
Gerard is greatly missed by his entire family. He leaves behind his wife, Ally van Buuren Schreuder with whom he celebrated 57 years of marriage just a few weeks before his death.  His daughter, Astrid Brigitte Schreuder, and grandson, Torben Gerard Schreuder. His son, John,  grandson, Jack; granddaughter, Caden, and daughter-in-law, Jeanne. Gerard is also survived by his brother, Hans Tijmen Schreuder, and sister, Wilma Ellen Aleida Reese.
In accordance with Gerard's wishes, there will be no services/memorial.  Please rejoice, as we are, in your happy memories of him and your own loved ones!
"Death leaves a heart ache that no one can heal, Love leaves memories that no one can steal" Anonymous
---
Comments
Sadden to learn this news. I wish the entire family my sincerest sympathy for your loss. Gerard and I worked together on numerous projects while we both were professors at the College of Forest Resources. We had many professional interests in common including statistics, forest management, management science and international travel. I enjoyed Gerard's intellect and companionship over almost five decades. He was a tireless advocate for sustainable forestry around the globe and his voice will be missed. The UW was fortunate to count him as one of our family for so many years.
----------------
B. Bruce Bare
Dean and Professor Emeritus
---
It was an honor to know and work with Gerard since I arrived here at UW in 1987. I recall numerous conversations, some focused on "getting the job done" in the UW maze of obstacles, but always putting truth, science and integrity above expediency. Though not mentioned as a language he was proficient in, I do believe that I received some Indonesian lessons. Terima kasih, Gerhard!
- Rob Harrison
---
Dear family of Gerard's,
I was sad to hear that we have lost Gerard. I knew him well from our time together on the UW Forestry Faculty in the 70s and, later in the early 2000s. He was a good colleague and, as it seems you all appreciated, a joy to work with and be around.
I will miss him, as I'm sure many others will as well.
My condolences and best wishes,
Ward
---
I knew Dr. Schreuder as a teacher and family friend. I appreciated his dry wit and keen insight. I know how much my Dad valued him as a close fried and colleague. I'm so sorry to hear of his passing and my deep condolences to all of his family.
- John Bethel
---
Dear Ally, Astrid, Torben, John, Jeanne, Jack and Caden,
It is sad that "oom" Gerard has left us. I still remember the 16-page letters Ingrid received, when I was still very young, in which he described the exotic locations and food he experienced. Later, meeting him back in the Netherlands or when we were visiting Seattle, I remember him as someone who loved to teach. His knowledge on economics seemed boundless, there was no better recommendation to get a subscription for the Economist than talking to Gerard. He was also very interested, after havening not seen him in a couple of years one of his first questions to me was "I hear you are not so interested in studying anymore, why is that?". He was an exemplary professor for me, but also a very friendly "oudoom" that took my friends and me to the thrift shop on Whidbey Island and helped us search for the right materials for our 4-week US road trip.
I know you have many happy memories of Gerard, I hope they will stay with you forever.
Lots of love, also from Anouk
Daan
---
I count myself fortunate to have known Gerard for a short period of time. He retired the year I started at the UW. Nonetheless, he stopped by my office many times after his retirement whenever he was on campus. The mentorship he provided during these visits was invaluable. He and Ally also hosted me a few times at his house on Whidbey Island. What stayed with me from these visits is the impression of how happy he was. A man with an incredible life story and accomplishments and a great family he loved.
My condolences and best wishes to the family,
Sandor F. Toth
---
Dear Ally, Astrid, Torben, John, Jeanne, Jack and Caden,
Saddened by the news last of September 4 , I wish you all lots of strength these coming periods. Ofcourse my moments with Gerard were limited to the visits to the Netherlands or my visits to Whidbey Island, however i cherish these moments as Gerard always was a very inviting and open uncle.
The times when I was a small child were fantastic and it was always a pleasure to be around Gerard. He always knew how to explain and entertain with keen insights and smart jokes together with the great amounts we were outdoors on Whibey Island.
It goes without saying that Gerard will be missed, but luckily there are many happy memories to cherish.
All the best,
Jip
---
So very sad to get this news. I consider myself incredibly lucky to have had Dr. Schreuder as a graduate advisor. His enthusiasm for international forestry, forest economics, and remote sensing was truly infectious. Some of my fondest memories as a graduate student were my early morning chats with Dr. Schreuder in his Bloedel office, where the conversations would range across many topics but always contained a humorous anecdote or piece of sage advice based on his unique and incredible life experiences. I am deeply sorry for your loss.
- Hans Erik Andersen
---
Incredibly sad to hear about the passing of Gerard. He was a refreshing and wonderful contributor of intellectual knowledge to society and the world . What I appreciated about Gerard was that his interactions were always humorous and funny so that you always had a smile on your face after accidentally meeting him in the hallway. He mentored many students from around the world who became leaders in their fields. He was not afraid of addressing many tricky forestry and environmental problems that others avoided. His insights and problem solving skills were critical for a forestry profession that was being rapidly transformed. We need more people like him in this world. Cheerio. Kristiina
Kristiina Vogt
---
Dear Ally, Astrid, Torben, John, Jeanne, Jack and Caden Even in this day and age, news is slow to get to some us. I learned of Gerard's passing only about six months ago and just today, I received this wonderful memorial. My brother Marco (who also passed away when Gerard and Ally, Dean Bethel and Mrs. Bethel were with him in Indonesia) and I were fortunate to have him as our professor in a couple of our graduate school courses. He was on my Master's Degree and Doctoral Committees and later, we had the good fortune of having him as our consultant in Honduras. I was also privileged to be counted among his friends and also to have had him and Ally in our house in Turrialba, Costa Rica when I was working in CATIE. He was a wonderful teacher, friend and mentor. We kept in touch for many years until he began suffering from that terrible "maladie," the worst for someone with his intellect. I have missed him since and oftentimes still ask myself, what he or Dean Bethel would say about some particular issue. I laugh when I think of what they would say, with their very special kind of humor and sarcasm. Thank you for being a milestone character in my life, Gerard. You have just gone on ahead of us. I look forward to seeing you again.
- Jose G. Flores, Honduras
---
Dear Family, I tried to get ahold of Gerard this past January and sadly learned from a friend at the college that he had passed on, and so I'm late in my response. We met in 1973 when I enrolled in graduate school at UW and he was on my masters degree committee. Early on, I became very aware of his interests in international forestry, especially the Organization for Tropical Studies in Costa Rica for which the Dean (Jim Bethel) had responsibility. I enjoyed him as an instructor and a mentor. He was energetic, organized, and in tune with the issues facing the profession here and internationally. Although Gerard was younger than many of the senior faculty at that time, one always sensed that his contributions were valued and harmonious in that group. In the years following, we managed to intersect at some biometrics meetings or college functions and share what was going on in our lives. I shared my interactions with his brother Hans, which he enjoyed. We got together at one such meeting a dozen years ago after my wife and I had just returned from a vacation in the Netherlands. As I recounted all the wonderful experiences, gardens and museums we had enjoyed over there, Gerard finally asked…"ah but did you get out to Kröller-Müller?" I assured him that we had, and we laughed as if I had just passed an exam. My condolences to the family. He is sorely missed but will always be fondly remembered.
Charley Peterson
---